3 minute read
Nominations & Sales, Arrowfield.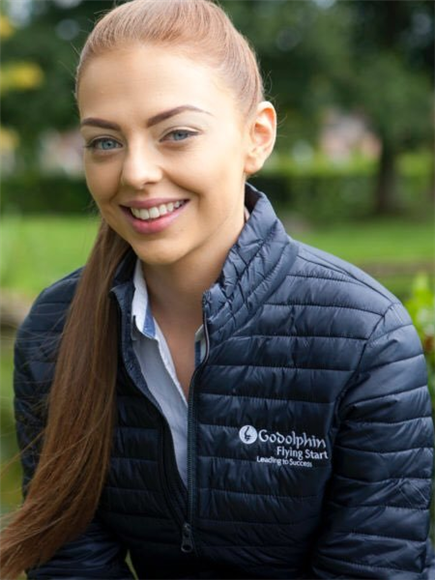 Name: Alison Brassil
Age: 25
Current Job Title: Nominations & Sales, Arrowfield
How did you get into the industry?
I had the bug from a young age. Two of my uncles are National Hunt trainers and they told me there was more money in Flat racing, so off I went! I studied Equine Science and at weekends I worked for a great local breeder and mentor, Paul McCartan, who is best known for breeding top sprinters Harry Angel and Battaash in one crop from only about 15 mares. I worked at the sales, did an internship with Horse Racing Ireland and spent a year with Shadwell in nominations before being accepted onto the Godolphin Flying Start.
What was your first job in racing?
My first proper paid job was at Coolmore's Ashford Stud in Kentucky for a breeding season – I loved it so much I ended up staying for yearling prep and the entire Keeneland September Sale, which meant I missed the first two weeks of University - with absolutely no regrets! Although I definitely didn't enjoy catching up on Chemistry, I learned a lot of valuable lessons during that time and discovered my passion for the sales.
First racing memory?
We had a mare that was born on my birthday who had a very creative (and cringey) name – Alison's Birthday. When I was about 6, we went to see her run in a point-to-point and right before the race she double-barrelled my sister and gave her a shiny horseshoe shaped bruise on her thigh. Thankfully the mare won and she didn't have a reason to cry about her leg on the way home!
Who do you most admire in racing and why?
I have a lot of admiration for John Messara. He has had an incredible influence on racing and breeding through selecting and introducing breed-shaping shuttlers like Danehill, creating strategic partnerships to introduce foreign blood to Australia, resulting in the likes of The Autumn Sun and recently Tagaloa. He also introduced initiatives like the tracking system of all horses during his time as Chairman of Racing NSW and has been the catalyst for necessary change in New Zealand racing through the Messara Report – the list goes on. Above all, he is not afraid to think outside the box, which is a very admirable trait in an industry that traditionally can be reluctant to change.
Who has been the biggest influence on your career?
Without naming a particular person, the Godolphin Flying Start has undoubtedly been the biggest influence on my career. I draw on those experiences, the mentors and network I gained every day. I was lucky enough to spend time working for incredible horsemen and women like Gai Waterhouse and Adrian Bott, pinhooker and Sequel Stallions owner Becky Thomas in the US and Michael Donohoe of BBA Ireland who all had a huge influence on my career.
What can racing do to attract more people?
I think attracting lifelong racing fans, who don't just occasionally go racing for the party, starts with education and grasping the imagination of young people. Racing organisations could hold fun workshops on racing, welfare, breeding and sales, as well as organise visits to trainers and stud farms to see mares and foals. They could target schools, sports clubs and pony clubs to convert budding Equestrians to racing fans. This would also generate more young people that want to work in racing.
If there was one thing you could change about racing / bloodstock in Australia, what would it be and why?
I would love to see a bigger focus on the longevity and enhancement of the breed, as I think there is a growing trend in breeding a sales horse rather than a racehorse in order to make a quick return. While I have huge respect for anyone that can make money from pin-hooking race fillies to pregnant mares, pregnant mares to weanlings, weanlings to yearlings etc, I think the sales ring can often become the main priority of the mating, rather than the racetrack. This is emphasised by how the stallion market is often referred to as 'fickle' in terms of popularity; there is extraordinary demand for the first season sires, only to drop off a cliff in the following seasons. The market is quick to dismiss those stallions if they do not produce early two-year-olds, even sometimes if they peaked as older horses themselves. By studying successful breeders, I think it is evident that they focus on breeding for a better, sounder racehorse, which is ultimately in everyone's interest for the longevity of the sport.
If you didn't work in racing, what would you be doing?
I would have probably done Veterinary but no doubt I would have found my way back to horses!
Favourite racehorse of all time?
Sea The Stars. His unbeaten three-year-old season captured my imagination as a 14-year-old when he won six consecutive Group 1s including the 2,000 Guineas, Epsom Derby and the Prix De L'Arc Triomphe– a route to the Arc that had never been taken before and possibly never again! Throw into that mix an Eclipse, a Juddmonte International and an Irish Champions Stakes against older horses. He never won by very far but he always just exerted himself enough to win, all the while making it look easy. He was perfection in looks, ability and pedigree and inspired me to want to work with horses of that calibre.