3 minute read
Nominations & Marketing at Coolmore Australia.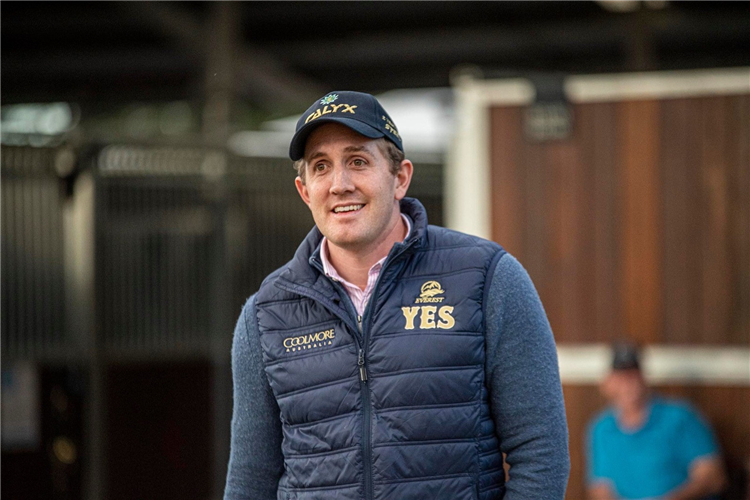 Name: Tom Moore
Age: 30
Current Job Title: Nominations & Marketing at Coolmore Australia
How did you get into the industry?
My father (Kieran Moore) was a Bloodstock Agent for many years so I was exposed to the industry from a very young age. I was always fascinated by pedigrees, sire tables and statistics and I loved analysing catalogues and form guides as a kid. When I finished school I went to work for Gai Waterhouse for a couple of years and while I was at uni worked on a number of smaller farms and assisted Dad at the sales.
What was your first job in racing?
A stable hand for Gai Waterhouse when I was 18.
First racing memory?
I remember shadowing Dad at farms and stables across the country to inspect yearlings, mares and stallions while I was growing up. A very vivid memory was watching Amalfi, a horse dad purchased for Ron Wanless as a yearling, win the Victoria Derby from home in 2001. That was hugely exciting and I think that is where I really caught the racing bug.
Who has been the biggest influence on your career?
My father obviously had a massive impact on me from a young age. He always instilled in me the importance of honesty and integrity, and would often say "it takes a lifetime to build a reputation and a split second to ruin it". I keep this in the back of my mind every day when dealing with clients.
If there was one thing you could change about racing / bloodstock in Australia, what would it be and why?
I think there needs to be a blanket solution to the issue of re-homing retired racehorses as it represents the greatest threat to our industry. The necessary blockchain technology already exists, we just need an appropriate system to be put into place whereby all horses can be independently traced, monitored and cared for once they're finished racing.
What can racing do to attract more people?
The Australian industry does a better job than any other place in the world at attracting participants but if we solved the re-homing issue that would surely help attract more.
If you didn't work in racing, what would you be doing?
I never seriously considered working in any other industry and consider myself very lucky to be working with the great people and horses at Coolmore.
Favourite racehorse of all time?
Dad and I bought The Bopper very cheaply for Kris Lees at the Inglis Scone Yearling Sale last year. He could easily become my favourite in the near future, but at the moment I will say So You Think.
Do you think COVID will have an affect on the industry and if so what will it be?
In Australia we have been very fortunate to be able to continue racing and trading in a way that is close to normal, which is something that most other industries have not had the luxury of being able to do. In the long run I think it will have a positive impact on our industry. These unprecedented times have meant that people have had to embrace new technologies, as evidenced by the online sales and virtual stallion parades that have opened up our industry to a much wider audience.