3 minute read
EA to Managing Director of Godolphin Australia, and Racing and Bloodstock Manager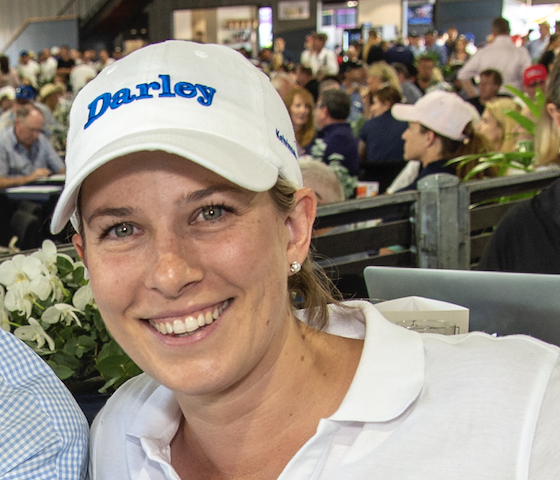 Sophie Swain
Age: 38
Current job title and time in that role: EA to Managing Director of Godolphin Australia, and Racing and Bloodstock Manager, three years. Post graduate education from the University of Waterhouse Racing & the Messara institute.

How did you get into the industry?
I started at Pony Club and continued into Eventing as a young adult. During my summer holidays I rode out for a small Gold Coast trainer.
What was your first job in racing?
My first job in racing was with McNeil Racing, a small yard near the Magic Millions complex on the Gold Coast. Interestingly, the trainer was an international pilot with Qantas and training horses was his hobby.
What is your first racing memory?
The build-up and excitement at primary school talking about the Melbourne Cup, waiting for the TV to be wheeled into the classroom for our sweep. I remember loving the grey, Subzero, winning the 1992 Cup and thanks to social media following his life with Graham Salisbury until late last year.
Who has been the biggest influence on your career to date?
My biggest influence on my career to date would be my parents. My father was extremely supportive, passionate, and fiercely competitive. If you were to ask Alan Jones AO, he can still tell you the times and records my father held as an athlete. I aspire to emulate the same qualities and family values with my children.
What is the one job you would like and why?
The one job I would love is to be a founder of a modern philanthropic organisation. Driving real change in communities and industries I am passionate about; Bob Ingham AO was a wonderful example who combined his passion and philanthropic vision to leave a lasting community legacy.
If there is one thing you could change about the racing / bloodstock industry in Australia what would it be and why?
One thing I would change today about the racing / bloodstock industry in Australia would be the training facilities and hours of operation. I strongly believe it would be the cog in the wheel to entice more skilled horsemen and women and retain good people who demand a high standard of welfare, morals, ethics, and integrity. I believe creating training centres, delaying race start times, or investing in twilight races could assist in this change.
What do you think racing could do to attract more people?
Our social licence is critical to the longevity of racing. To attract more people to racing we need to be transparent and strictly maintain the integrity of our studbook. Whether in the pub or client facing, as an industry we should be proud of our systems and processes. The registered Thoroughbred should be protected as our livelihood depends on it, administration of traceability and ownership needs to be the priority. A national approach to all aspects of thoroughbred welfare (people and horses) is in my view essential. #lovethehorse
What effect do you think the ongoing Covid pandemic will have on the Australian industry?
As an assistant I can see the effect mentally, emotionally, and physically on the industry participants, both in the office and yard. The sheer exhaustion of checking government policies and racing jurisdictions has caused increased workloads and anxiety. We are very fortunate that the industry has continued and is a testament to the intestinal fortitude of the industry participants in racing and bloodstock.
If you didn't work in racing what would you do?
If I didn't work in racing, I would use my MSc qualifications to run my own horse and dog rehabilitation practice (with a few OTT horses to ride).
Your favourite racehorse of all time?
Yabadabadoo "Bobby" taught me everything I needed to learn in racing, even how to strap a winner! I was fortunate to watch his last race and after a gallant third brought him home to retrain as an eventer. I still keep in touch with his current owner who loves and rides him albeit a little easier at his tender age of 22-year-old.