3 minute read
Star Yarraman resident finally cracks it for first champion sire award.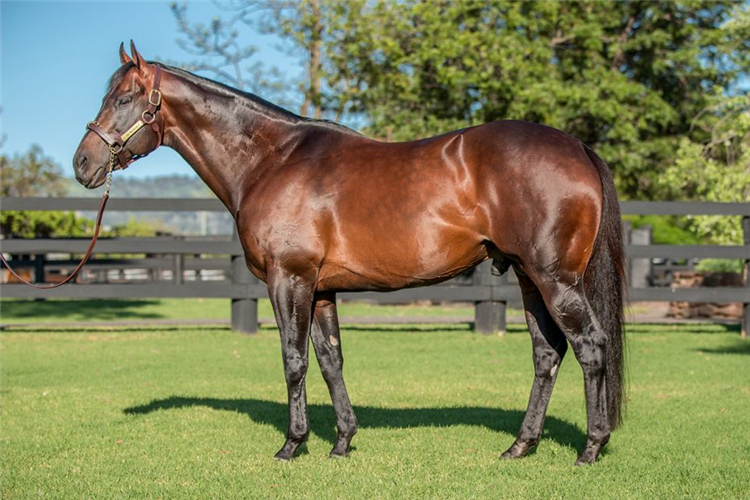 Harry Mitchell isn't even trying to pretend either he or his brother Arthur, who operate Yarraman Park, are geniuses.
If ever they had reason to, it is now, with their prized resident I Am Invincible completing one of the most remarkable rises by a stallion with coronation as Australian Champion Sire for the 2021/22 season.
But Mitchell is as amazed as anyone regarding the reputation I Am Invincible has created for himself.
"To be honest, we thought it'd be great if he made it as a good, solid bread-and-butter stallion," Mitchell said.
"I never had any thoughts of him being champion sire but that's the way it's turned out. You keep trying and sometimes you get lucky.
"It's been a great ride for our families and farm and all the people here. You don't expect it to happen to you but he's a horse everyone would love to have."
I Am Invincible got the premiership he seemed destined for the past few seasons when he prevailed in a gripping tussle with So You Think.
Heading into Sunday's final day of the season, his progeny had amassed $19,844,276, more than $500,000 clear of the Coolmore stallion to atone for four consecutive runner-up finishes.
After finishing runner-up to Snitzel in 2018, 2019 and 2020, I Am Invincible had to settle for second behind Written Tycoon last year.
"He's been around the money for numerous years now and I think it would have been sad if he didn't get champion sire one year," Mitchell said.
"He definitely deserves it and for his legacy I think it is important."
While it is I Am Invincible's first win in the General Sires Premiership, which is decided on prizemoney, it is the fourth year in a row he has had the most winners having produced 313 wins from 185 horses.
Last year he broke his own record for most individual winners in a season when 208 of his progeny won a race on Australian tracks.
Four of those 313 races in his premiership season were Group 1s, headlined by Home Affairs' wins in the Coolmore Stud Stakes (1200m) and Black Caviar Lightning (1000m), while Marabi won the Oakleigh Plate (1100m) and Lombardo took out The Goodwood (1200m).
His daughter Imperatriz also won twice at 1600m at the highest level in New Zealand.
They are results that have led to I Am Invincible becoming renowned as Australia's most commercial stallion, with yearlings selling for more than $51 million earlier this year, including the $1.9m sale topper at Magic Millions in January and a $2m yearling at Inglis Easter.
It is therefore easy to see why he'll stand for $247,500 this year.
It also emphasises what a shrewd decision it was from the Mitchells to buy a half-share from Ray Gall, who raced I Am Invincible and remains involved.
There was a degree of risk associated with that given I Am Invincible, who won five of 13 starts, didn't exactly boast the profile that would have had breeders falling over themselves to support him.
He most famous run came in defeat – a second placing to Takeover Target in the Group 1 The Goodwood – with his biggest wins the Group 3 D.C. McKay Stakes (1100m) and Listed Sir John Monash Stakes (1100m).
But being by Invincible Spirit, a son of Green Desert, who won the Group 1 Haydock Sprint (1200m), was something the Mitchells thought could appeal to Australian breeders.
Out of the Canny Lad mare Cannarelle, I Am Invincible stood for $11,000 his first four seasons, rose to $27,500 in 2014, had his fee doubled the following year, doubled again to $110,000 in 2017, jumped to $192,500 in 2018, before commanding $247,500 for the first time in 2019.
Brazen Beau, I Am A Star, Viddora, Hellbent, Oohood, Voodoo Lad, Invincibella and Loving Gaby are among the Group 1 winners who preceded his 2021/22 elite-level winners.
Set to turn 18 on Monday, I Am Invincible has been as popular as ever despite returning to his $247,500 fee after standing for $209,000 and $220,000 in the past two Covid-affected seasons and Mitchell is hopeful he has many more seasons to add to his legacy.
"We've restricted his book a little bit now because he is getting older, he's turning 18, so he's not a young horse but he looks great, is really healthy and we're delighted with him," Mitchell said.
So You Think finished almost $1.5m clear of four-time champion stallion Snitzel in second position with Nature Strip's sire Nicconi and Shamus Award rounding out the top five.
Newgate's Russian Revolution will be crowned Champion First Season Sire, a first for a son of Snitzel, Japanese star Maurice is a dominant leader of the Champion Second Season Sire award for Arrowfield Stud, while the late Redoute's Choice is again Champion Broodmare Sire.