3 minute read
Inglis was delighted with the Day 1 results from the Great Southern Weanling Sale.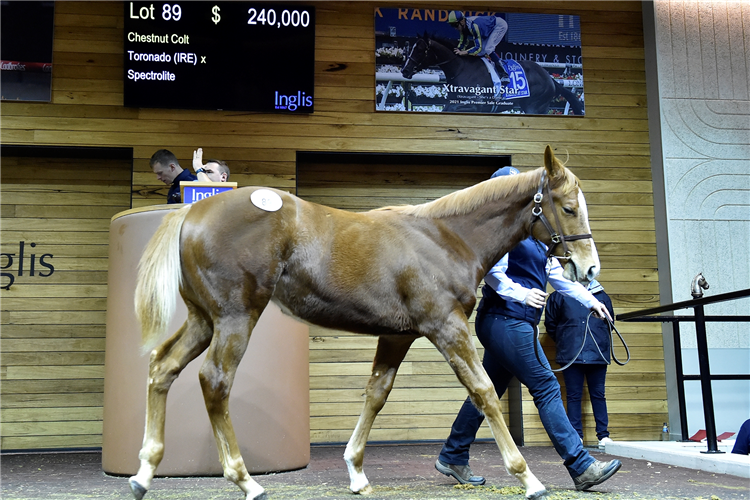 The platform has been laid for this year's Great Southern Weanling Sale to register all-time great results after a bumper first day of trade at Oaklands Junction on Thursday.
The 157 lots sold generated a gross of $7,467,000 at an average of $47,561.
That's just under $4 million less than last year's entire sale grossed when the average was $40,442. Day 1 last year saw $6,106,750 change hands at an average of $35,205.
Given the success of the sale circuit in 2022, Inglis general manager of bloodstock Sebastian Hutch expected a good day's trade but was surprised with just how successful it was.
"Vendors have been pleasantly surprised by the volume of horses that graduated into that upper echelon of what you might call 'fantastic results'," Hutch said.
"That caught us by surprise a little bit. There were some horses that buyers really latched onto that we didn't foresee prior to the sale."
Rushton Park's I Am Invincible filly out of Private Dancer was the day's top lot, selling for $280,000, while Victorian stallion Toronado had the two next highest-priced lots of the day.
A colt from Spectrolite (Stratum) sold for $240,000, which was $10,000 more than a filly out of unraced Artie Schiller mare Artielicious.
Those two Toronados were both bought by Justin Bahen, who secured five of the top 11 lots of the day and finished with six lots to be leading buyer in volume, aggregate ($1,120,000) and average ($186,667) for those who purchased multiple lots.
Rushton Park's 16 lots for $1,188,500 to make them leading Day 1 leading vendor on aggregate, with Burnewang North's $120,000 average the best of those who turned over multiple lots.
The Great Southern Sale continues on Friday with another 110 lots in the select session of the weanling sale before 17 weanlings will be sold in the general session and another 15 that comprise the supplementary catalogue.
Following the weanlings the broodmare section of the sale will take place with 79 lots to go under the hammer.