3 minute read
A strong second day ensured the 2022 Great Southern Weanling Sale outdid last year.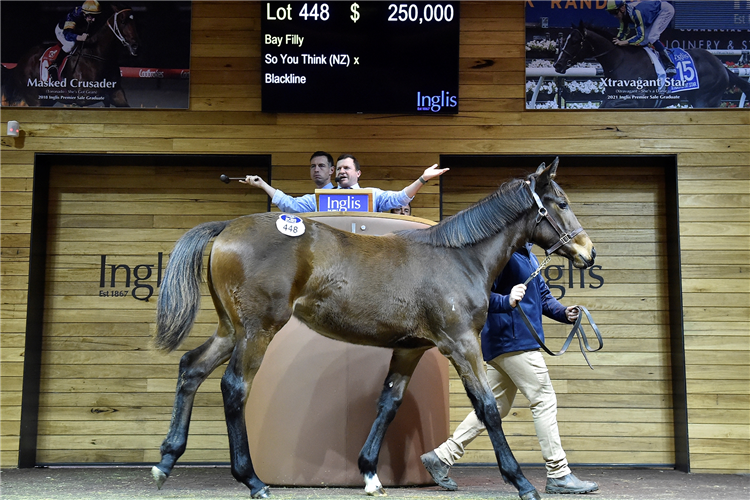 Day 2 of the Great Southern Weanling Sale did match opening day, but it wasn't far behind, leaving Inglis organisers ecstatic with the trade that took place at Oaklands Junction across Thursday and Friday.
Around $4.5 million changed hands on the abbreviated second day, when 101 lots were sold, which boosted the total amount traded to exactly $12 million.
That came at an average of $46,512 with a $25,000 median with weanling selling at a clearance rate of 78 percent.
Last year's sale grossed $11,323,750 at an average of $40,442 with a $22,000 median.
The top lot on Day 2 was the So You Think filly out of Blackline, a daughter of Blackfriars, who was offered by Musk Creek Farm as part of the supplementary catalogue and sold to Rob Roulston's Weanling Solutions for $250,000.
"She's a really nice filly by a hot sire who throws especially nice fillies, she's got a great page and was a great type so she was an obvious buy for us. That said, $250,000 was our last bid,'' Roulston said.
"It's been such a strong market, the strongest sale I've ever been to. I thought the weanlings in Sydney were strong… but for what was here, it really has been incredibly strong.
"The plan now is to put this filly back through the Inglis Premier Yearling Sale or the Inglis Easter Yearling Sale next year, given her great page and type.''
Colts by Too Darn Hot and Toronado also sold for $200,000, taking to 10 the number of youngsters who sold for at least that amount while there were an additional 35 lots who sold for at least $100,000.
Last year there were seven $200,000-plus weanlings and 25 others at $100,000 or more.
Justin Bahen bought more weanlings than anyone, spending $1,345,000 across eight youngsters at an average of $168,125, which also made him leading buyer by aggregate and average for those who purchased at least three lots.
Rushton Park's 20 lots sold grossed $1,479,000, while Burnewang North led the averages for those who sold multiple lots with six weanlings selling for $126,667 apiece.
Toronado was the most popular sire, with 14 of his 16 lots offered finding a new home at a cost of $1.6 million, while Written Tycoon led the averages for those with at least three lots sold, with his three entries selling at an average of $124,000.