3 minute read
France Faces Europe.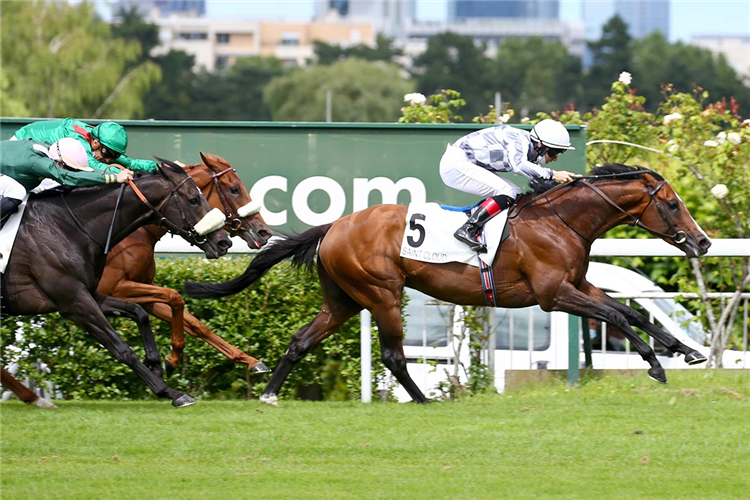 Along with Francis-Henri Graffard and André Fabre, Mikel Delzangles is one of only three French trainers to present a runner in the Grand Prix de Saint-Cloud (G1). At four-years of age, Bubble Gift will be aiming to correct the errors of his three-year-old season and be shining by the end of the year in the G1 Qatar Prix de l'Arc de Triomphe. To achieve this goal he is using this Group One as a key trial race.
At the beginning of June, the Grand Prix de Chantilly (G2) saw the emergence of two probable contenders for the Qatar Prix de l'Arc de Triomphe with the one/two placing of Mare Australis and Bubble Gift. The latter, trained by Mikel Delzangles, showed that his season was really only just starting.
As the trainer said: "His two comeback races were very good. In the Prix d'Hédouville, the race wasn't run at a fast enough pace for him to show his full potential. In the Grand Prix de Chantilly, Bubble Gift was improving, and he has been improving ever since."
Bubble Gift is an expert over the 2400 meters course. He won the Prix Hocquart (Gr2) and Prix Niel (Gr2) in 2021, with the latter being a prep-race for three-year-olds on the day of the Arc Trials at Paris Longchamp, three weeks before the big race.
Even though Mikel Delzangles has his eye on the future, he can't help but also look to the past. Of course, there are regrets but above all lessons to be learnt and taken into account. These lessons can ensure that no opportunity is missed in 2022.
"We may have some regrets with the Arc in 2021. We were not able to place ourselves as we wanted at the start, and this was detrimental to us when the sprint started. We finished eighth thinking that, without winning, we could have done much better. Our goal is to compete in the Prix de l'Arc de Triomphe again this year, by doing things differently. We started running Bubble Gift closer to the lead in the Grand Prix de Chantilly".
The Grand Prix de Saint-Cloud is ​​approached with thought by the Chantilly trainer. "Saint-Cloud will suit him perfectly. As for the going, whether it is heavy or not, it will suit him. He is an easy horse who gets along very well with his jockey, whoever he is. This Grand Prix de Saint-Cloud includes many foreign candidates but my focus going forward is especially on the three-year-olds who are not here but who will need to be watched later as they strive toward securing a place in the Prix de l'Arc de Triomphe – horses like Prix du Jockey Club winner Vadeni or Epsom derby winner Desert Crown".
The owners, the Hakam family, are Moroccans and have been breeding for fifteen years at Haras de Maulepaire in France. They have already had good performers like Bubble Smart, Ivory Spring, Sansa Bay or Dannsa Flora but are still looking for their first Group 1 horse.