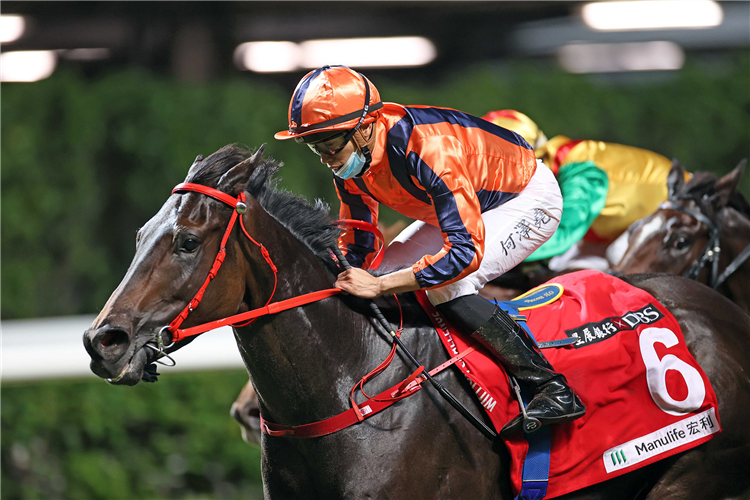 Disappointing at Sha Tin in all three legs of the Four-Year-Old Classic Series, Fa Fa steps out for the first time since finishing eighth in the 2022 BMW Hong Kong Derby (2000m), lining up in gate five with Matthew Chadwick aboard for the first time.
"He's had a bit of time off, I can't really compare him to how he was before because I've never ridden him on race day but he seems happy enough going about his business," Chadwick said.
A winner of six races – each at Happy Valley – Fa Fa is aiming to summon up his best which saw him share the spoils in this season's HK$1 million DBS x Manulife Million Challenge with Cheerful Days, who holds an entry for Sunday's (29 May) HK$3.7 million G3 Lion Rock Trophy Handicap (1600m).
"It's a race which looks to be winnable and the other horses seem to be more or less about the same level, so we just have to wait and see who comes up on the day but hopefully it's my guy," Chadwick said.
Earlier this month, the 87-rater crossed the line first in a barrier trial at Conghua over 1200m on turf in 1m 17.02s (28.6, 24.1, 24.3).
"We'll find out how fit he is on the day, he's a trier and he runs well at Happy Valley. It's not a very big field, so hopefully he won't be too far off them," Chadwick said.
Against Fa Fa (124lb) is a compact field of six others at the midweek fixture including Telecom Fighters (131lb), Savaquin (130lb), Soulmate (126lb), Gorytus (121lb), Everyone's Delight (120lb) and Apache Pass (118lb).
"He seems to go about his business in trackwork, he doesn't do more than he's asked but it looks like that's what he does in his races as well," Chadwick said.
Chadwick clocked 1m 02.5s (33.3, 29.2) aboard Fa Fa in a dirt gallop on Monday morning (23 May) at Sha Tin.
The 31-year-old rider is only 13 wins shy of the personal best (57) he rode through the 2012/13 season in Hong Kong. Overall, Chadwick has 450 wins in the city thanks to his latest success aboard Circuit Nine at Sha Tin on Sunday (25 May).
The in-form Lyle Hewitson is looking to kick on with his late-season push when he gets the leg-up on World Famous in the Class 3 Kat O Hoi Handicap (1650m) at Happy Valley.
"He's a horse who has got back into a winning groove again, so that's a positive; he has his confidence up and I thought he pulled off a nice victory last time, so I am happy to be aboard him again," Hewitson said.
Hewitson has 13 wins from the last nine fixtures, including aboard World Famous when the pair led throughout to score at Class 4 level. Since that win, Win Win Fighter who finished second to him, has come out and won.
"That's a bonus when you see those horses (who finished behind him) come out and win just to boost the form line," Hewitson said.
Wednesday's (25 May) nine-race fixture at Happy Valley kicks off at 6.45pm with the Class 3 Kat O Hoi Handicap (1650m).