3 minute read
Nine months is a period of time mothers-to-be would excitedly go through, before welcoming their bundles of joy, but would horse owners take on such a "labour of love" for a delivery of a different kind – the arrival of their new equine purchases?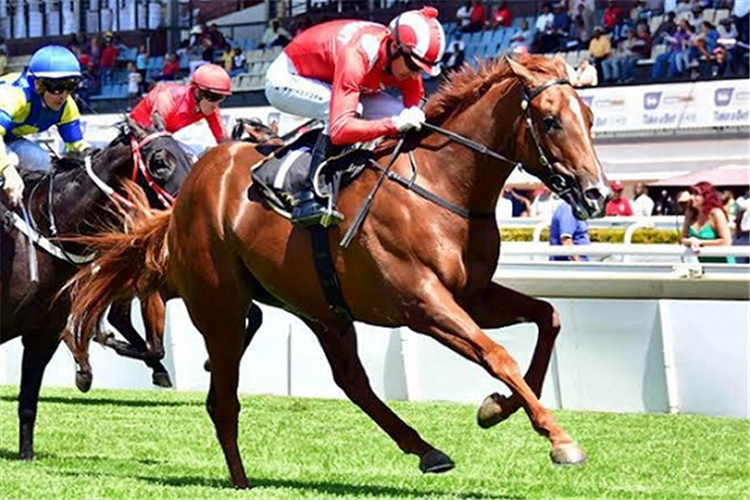 This is, unbelievably, the minimum time required to import a horse from South Africa due to the strict veterinary protocols in place against African Horse Sickness, which is endemic in Southern Africa, among other African regions.
In Singapore, the bulk of our racehorses hail from Australia and New Zealand, and door-to-door, while it doesn't take just the eight to 10-hour flight to dock in, the mandatory couple of weeks in quarantine in either country is a short hold-up in the overall scheme of things.
Alternative markets like Japan, Argentina and USA are also popular at Kranji. Give and take, maybe add in another couple of weeks or so before you can go hand-feed your new pride and joy with his first carrot.
Unsurprisingly, most Singapore owners baulk at the idea of heading to South Africa in search of a Captain Al, Var or Gimmethegreenlight, but not the Forever Lucky Stable (who raced horses like Threeandfourpence, Trading Post, Baffert with Cliff Brown) and Elvin Racing Stable (owners of Clements' Argentinian stayer Trumpy) when, through the advice of South African bloodstock agent Justin Vermaak (of Greenstreet Stable, who part-owns the James Peters-trained Street Party) they set their sights on a Gauteng-based undefeated three-year-old chestnut by the name of War Room.
Recently, the only other South African import in a long time (since the days when now-retired South African trainer Patrick Shaw was still around) was another unbeaten horse, Katak, and like Bernard Kantor, War Room 's interested buyers were the only other rare exceptions who were willing to put their precious charges through a rigmarole of quarantines around the world.
Unfortunately, they had to wait for more than the standard nine months because of various other delays on top of the roundabout itinerary. The son of Judpot was bought as a two-year-old and is now a four-year-old, not to mention a gender change from colt to gelding, and took more than a year to arrive, with the last of his three wins (all over 1000m), the Listed Storm Bird Stakes, now dating 22 months – March, 7, 2020 at Turffontein when then trained by Paul Peter.
His new trainer Michael Clements said such a long delay in getting a horse over and back to racing fitness is obviously not ideal, both for the horse's welfare and the owners' pockets, but at the end of the day, more importantly, War Room landed healthy and finally ready for his grand debut this Saturday in the last of the 12-race programme (another long wait, but it's a drop in the ocean in comparison!), the $50,000 Class 4 race over 1200m on turf.
"It usually takes nine months to a year for a horse from South Africa to reach Asia, because of the African Horse Sickness protocols," said Clements.
"They first spend three months in Mauritius, and another six months in Europe and I believe War Room stayed in France.
"There was then some delay in the shipping, which meant this one came to the stable even later after he finished his 14-day quarantine here. It was sometime in July.
"On top of that, as he's a little on the heavy side, the owners through Josh McLoughlan, had already decided they would geld him before he starts racing here. Since he was already held over for so long, they thought it might as well get done then instead of interrupting his prep later.
"So, we had to let him get over the operation before we could put some work into him. He's done well since he arrived as he's a pretty straightforward horse, he's sound and clean-winded, with no issues at all."
Still, the real reward that will make up for all those months of patience and frustration is winning races. With the naked eye, Clements believes War Room will give his owners some fun on the track, but possibly not first-up.
"He's done all his racing on turf, but from what he's shown us so far, he's handled the Polytrack well, too, which is very pleasing," said the 2020 Singapore champion trainer.
"He's strengthened up a lot, though we would have liked to see more in his training, but evidently, he's had a long time off and will benefit from that first run on Saturday. However he runs, he will keep improving with more racing.
"He's as fit as we can get him with regards to his trials (two seconds and a win – at last one - from three) and gallops.
"He had to start racing again, and we felt for a first outing, he should be competitive in Class 4."
War Room will be ridden by his barrier trial partner Oscar Chavez, who will be keen to cement his joint lead with Manoel Nunes, both on four winners on the early Singapore jockeys' premiership.
Among his opponents, the likes of In All His Glory, Brutus and Silent Partner figure among the main barriers to a win that might aptly bring shades of War Horse, that movie about the epic survival of a horse during World War I, should War Room continue on his winning streak, as if uninterrupted.