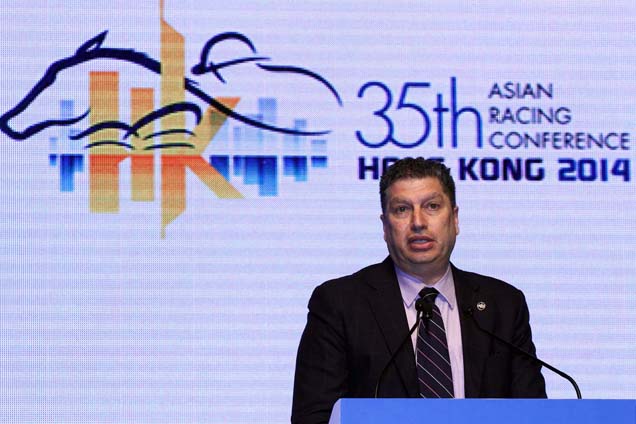 Mr Nader first joined the Club in 2007 as Executive Director, Racing, and served the Club for eight years before he returned to the U.S. in 2016. He re-joined the Club in March 2018 as Director of Racing Business & Operations and then took up the position of Director of Racing Product, Marketing and Sponsorship in August 2021. In addition, from 2018 to 2021, he was Chairman of the Board and Legal Representative of Guangzhou HKJC Race Horse Training Limited, the holding company for HKJC's new HK$3.7 billion racecourse in Conghua, China, which opened in 2018.
"Bill has been instrumental in the growth of the Hong Kong International Races (HKIR) and internationalisation of Hong Kong racing in his various roles with the Club. One of his major contributions was his effective leadership in driving a cross-divisional team to establish the Club's portfolio of commingling partnerships and the successful implementation of the dual-site operation model at both Sha Tin and Conghua Racecourses. He also plays an important role on the international front as the Chairman of the Asian Pattern Committee of the Asian Racing Federation, as well as the Vice-Chair of the International Grading and Race Planning Advisory Committee of the International Federation of Horseracing Authorities. On behalf of the Club, I would like to express my deep appreciation for Bill's excellent contributions and wish him all the best in his future career," said Chief Executive Officer of the Hong Kong Jockey Club, Mr Winfried Engelbrecht-Bresges.
The Club's Executive Director of Racing, Mr Andrew Harding also paid tribute to Bill's significant contributions to Hong Kong racing. "Bill is a wonderful team player who is committed to excellence. He has contributed significantly to racing marketing and sponsorship activities, as well as promoting racing as a sport to both racing fans and non-racing public. It is a wonderful experience to have worked with Bill. We shall miss him and wish him success in his new endeavor."