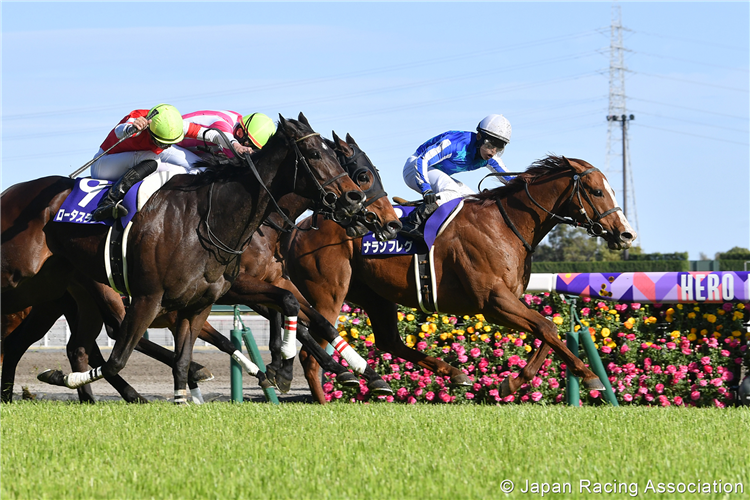 Eighth pick Naran Huleg claimed this year's Takamatsunomiya Kinen to register his first graded victory in his first G1 attempt. While the son of dirt champion Gold Allure was run mostly over dirt during his two-year-old debut season and in his early three-year-old champaign, during which he marked only one win, he has been run over 1,000-1,400m turf races since July of his three-year-old season. The six-year-old chestnut has marked four wins on turf, the most recent being the Tanzanite Stakes (1,200m) last December. His best performance at the graded level was a second in the previous Ocean Stakes (G3, 1,200m) on March 5. This win gave trainer Yoshitada Munakata his 22nd graded victory and first G1 title since he opened his stable in 1993. Jockey Kyosuke Maruta also registered his first G1 title and ninth graded win in his 16th season.
Naran Huleg broke smoothly from stall 2 and eased back to travel third from the rear. The chestnut edged forward entering the lane, taking the innermost route by the rails, threaded through a narrow opening outside tiring Resistencia and unleashed a powerful late charge after taking the front 100 meters out for his first G1 victory while managing to hold off the strong charges by his rivals by a neck.
"Racing from the rear is his usual style so I just concentrated on keeping the horse's rhythm. He has never experienced heavy ground before but handled it well. I took him through the inner course with confidence as I did in the Tanzanite Stakes. I was really happy when we were able to break free before the wire," commented jockey Kyosuke Maruta. "I'm very happy and a bit relieved to have been able to win a G1 race, thanks to Naran Huleg. Though we would have preferred a better ground, he showed his usual strong charge in the stretch against a strong field," added trainer Yoshitada Munakata.
Fifth choice Lotus Land settled around eighth, was boxed in at the final corners but soon found an opening and, although meeting traffic again 300 meters out, switched to the outside where he accelerated to join a four-horse rally to secure a runner-up position.
Seventeenth pick Kir Lord stalked the leaders in third and passed tiring frontrunners 100 meters out to lead briefly but was soon challenged by the late chargers. Though weakening in final strides, he registered a respectable third, crossing the wire a nose behind the runner-up and a neck ahead of the rest of the field.
Odds-on-favorite and last year's runner-up Resistencia rushed out and immediately took the front for a wire-to-wire victory but weakened in the last 200 meters to finish sixth.
Other Horses:
4th: (13) Travesura—saved ground around 12th, showed effort to join rally for lead, weakened in final strides
5th: (17) Meikei Yell—ran 4-wide around 7th, lacked needed kick at stretch
7th: (3) Shine Garnet—settled around 10th, met traffic 300m out, showed turn of foot thereafter
8th: (12) Eighteen Girl—sat in 17th, showed fastest late drive but was too late
9th: (6) Sunrise Honest—traveled around 15th, struggled to find clear path, quickened in last 200m
9th: (15) First Force—positioned 3-wide around 5th, dropped back turning final corner, even paced
11th: (8) Gendarme—pressed pace in 2nd, remained in contention until 100m out
12th: (18) Grenadier Guards—settled in 14th, circled wide, passed tired rivals
13th: (4) Right on Cue—chased leaders around 3rd, ran gamely up to 200m pole
14th: (14) Diatonic—was off a bit slowly, trailed in rear, showed belated charge at stretch
15th: (1) Salios—took economic trip around 7th, angled out to lane, showed little
16th: (11) Kurino Gaudi—raced 3-wide around 10th, never threatened
17th: (5) Lei Halia—sat around 5th near pace, faded after 200m pole
18th: (16) Daimei Fuji—traveled 3-wide around 12th, unable to reach contention