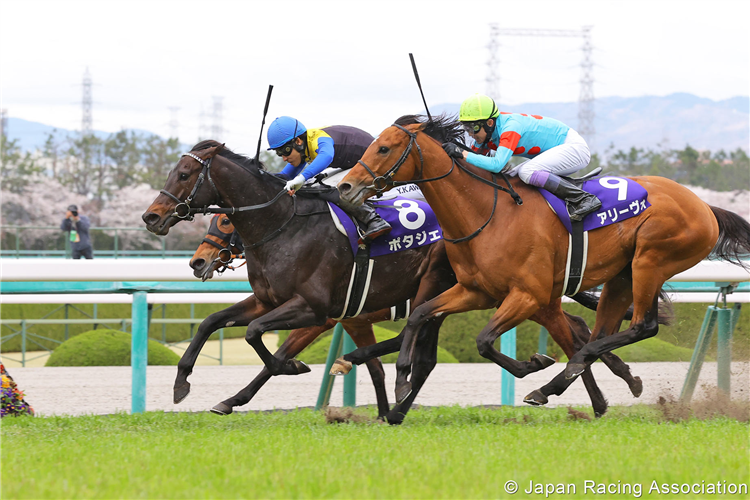 Potager upset a strong field of G1 winners which included the reigning Horse of the Year and race favorite Efforia and defending champion Lei Papale to claim his first G1 title in this year's Osaka Hai. The five-year-old son of Deep Impact was unable to make it to the Triple Crown as a three-year-old and while he turned in four consecutive wins during 2020 and 2021, his best score in six grade-race starts was a second in the Niigata Daishoten (G3, 2,000m) in May last year—he was sixth in his only previous start at G1 level, the 2021 Tenno Sho (Autumn). Trainer Yasuo Tomomichi won his 15th JRA-G1 title, his latest G1 victory being the 2021 Asahi Hai Futurity Stakes with Do Deuce, while jockey Hayato Yoshida registered his fourth G1 title, the first since with Sodashi in the Oka Sho (Japanese 1000 Guineas) last year.
Potager broke smoothly along with the rest of the field and was positioned near the front group in fifth behind defending champion Lei Papale who came with good speed to secure fourth position from gate 14, while second pick Jack d'Or set the pace for most of the 2,000-meter trip. As the field began to close in on the leader approaching the final turn, the five-year-old son of Deep Impact continued to chase Lei Papale, shifted to her outside for the bid while soon joined by Arrivo and showed considerable guts to out-win both by a narrow margin to claim his first G1 victory.
"We had a good draw so I was hoping to secure a good position today. Potager adapts well to various race developments and he was terrific in that he was able to keep up with the pace of the other really strong horses in front. He really gave his all in the end and all I could do was keep urging him on so I'm happy that we were able to win," commented winning jockey Hayato Yoshida.
Lei Papale was just a neck short in defending her Osaka Hai title after an impressive performance from an outside draw. Always prominent, she maintained her speed throughout the 2,000-meter trip, overtaking early leaders at the furlong pole and pinned just before the wire for second.
Arrivo, who had traveled in mid-field, just behind race favorite Efforia, chose not to follow that foe to the outside for the stretch run but instead found a clear path in the center lane as the top two finishers broke away from the rest of the crowd and made his bid outside of the eventual winner, finishing a close third.
Heavy favorite Efforia was unable to show much in his kick-off start of this season. Breaking smoothly and rated outside a rival in mid-division, he made his move 600 meters out, angled to the outside for a clear run turning for home but failed to find another gear and was well beaten for the first time of his career. "Efforia was not himself. We made an early move but he just didn't have anything to give at the straight. He was a bit heavy and wasn't as sharp in his movement during training last week which may have affected his performance today," commented Takeshi Yokoyama.
Other Horses:
4th: (10) Hishi Iguazu—sat in 7th behind eventual winner, showed effort but failed to threaten top finishers
5th: (4) Jack d'Or—set pace, sustained lead up to 200m marker, weakened thereafter
6th: (1) Scar Face—hugged rails in 14th, tied fastest late kick at stretch
7th: (15) African Gold—tracked leader in 2nd from wide stall, remained in contention up to 200m pole
8th: (11) Stellaria—settled around 10th behind favorite, showed belated charge
10th: (5) Akai Ito—sat 3-wide in 13th, lacked needed kick outside favorite at stretch
11th: (13) King of Koji—broke slowly, ran near rear, angled out, never fired
12th: (12) Shonan Bardi—raced around 5th outside eventual winner, dropped back turning final corner
13th: (2) Red Genesis—trailed in rear, no factor
14th: (16) Makahiki—traveled in 11th, gradually fell back
15th: (3) Humidor—took economic trip around 8th, outrun after 3rd corner
16th: (7) Win Marilyn—saved ground around 3rd, faded after 300m out