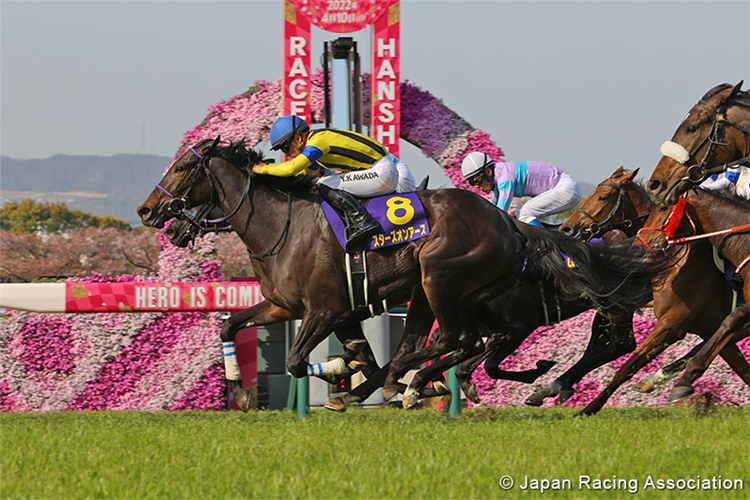 Seventh favorite Stars On Earth claimed this year's Oka Sho (Japanese 1000 Guineas) in a photo-finish over Water Navillera, capturing her first graded victory in the first leg of the three-year-old's Classics for fillies. The dark bay filly scored her first win in her second career start last October and was a neck second in both of her Fairy Stakes (G3, 1,600m) and Queen Cup (G3, 1,600m) challenges this season. Winning trainer Mizuki Takayanagi, who opened his yard in 2010, registered his second graded win and first JRA-G1 victory. For jockey Yuga Kawada, who captured the Oka Sho title once in 2014 on board Harp Star, this is his 19th JRA-G1 victory—his latest was with Danon Kingly in the Yasuda Kinen last year.
Stars on Earth traveled two-wide in mid-pack while third pick Water Navillera broke sharply to sit on the heels of pacesetter Kafuji Tetragon before the field bunched up rounding the final turn. As the fillies gave their all climbing the stretch hill, Water Navillera took command after passing the furlong pole and while trying hard to shake off the persistent Namura Clair, Stars on Earth was searching fiercely for running room a few lengths behind. Finally slipping through a gap and being bumped by Personal High while doing so, the Duramente filly displayed an incredible closing kick in the final strides to snatch the win from Water Navillera at the wire.
"I'm just so glad that she actually snatched the win at the end—I knew we had caught up but couldn't tell who'd won. I'd been aware during workouts that she was a bit difficult to control but besides keeping that in mind, the plan today was to stay in mid-pack and let her run in a comfortable rhythm. It was definitely her strength and determination that shone and gave us the win today. I'm looking forward to how she develops from here," commented Yuga Kawada.
Sixth favorite Namura Clair tracked the frontrunners around fourth on the rails and was driven to inherit the lead briefly inside Water Navillera but failed to keep up and was overtaken by the eventual winner before the wire while holding off the fast-closing Circle of Life by a neck for third place.
Race favorite and Tulip Sho victor Namur took a wide trip near the rear after breaking from the widest stall and mildly improved position before hitting the straight but lacked the final kick and finished 10th.
Other Horses:
4th: (16) Circle of Life—settled around 13th, angled out, showed fastest late kick, belatedly
5th: (5) Pin High—saved ground around 12th, accelerated at stretch, met traffic 200m out, launched another bid
6th: (4) Personal High—raced around 8th, checked 200m out, showed brief response inside winner
7th: (12) Belle Cresta—traveled around 13th, angled out at top of stretch, quickened in last 200m
8th: (3) Alluring Way—settled around 4th, met traffic at early stretch, lacked needed kick
9th: (7) Sublime Anthem—sat around 8th in front of winner, even paced
11th: (14) Presage Lift—was off slowly, trailed in rear, showed belated charge
12th: (2) Kafuji Tetragon—broke sharply to set pace, weakened in last 200m
13th: (9) Cross Majesty—tracked leaders 3-wide around 4th, gradually fell back
14th: (17) Voller Blute—was off late, raced near rear, circled wide, never fired
15th: (15) Anegohada—ran 3-wide outside winner, ran gamely up to 200m pole
16th: (10) Lilac—broke poorly, traveled near rear, unable to reach contention
17th: (13) Raspberry Mousse—positioned 4-wide around 4th, dropped back after final corner
18th: (11) Lovely Your Eyes—chased leader in 2nd or 3rd, faded after final corner