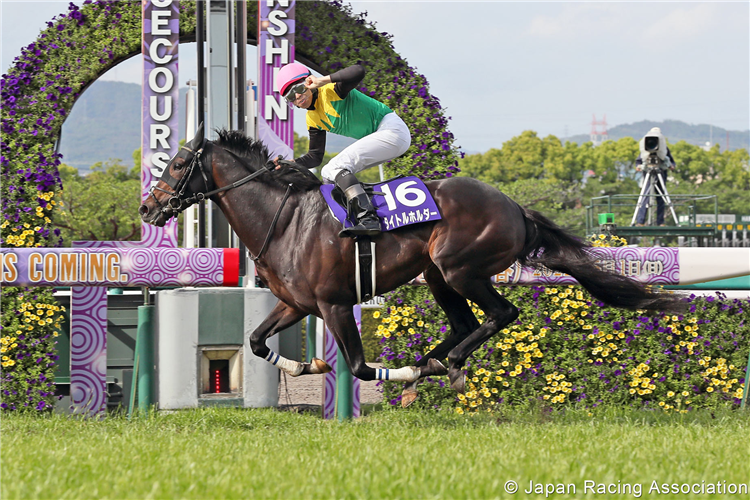 Second favorite Titleholder won this year's Tenno Sho (Spring) with the first wire-to-wire victory since Kitasan Black in 2016 to mark his second G1 win. This is the seventh time that the Kikuka Sho (Japanese St. Leger) winner has claimed the Tenno Sho (Spring) since 2015, with 2018 being the only exception. Four-year-old Titleholder concluded his three-year-old season with a fifth in the Arima Kinen (G1, 2,500m) and came off a win in his only start this year, the Nikkei Sho (G2, 2,500m), on March 26. This win marked trainer Toru Kurita's second JRA-G1 win following last year's Kikuka Sho title with this horse. Jockey Kazuo Yokoyama registered his seventh graded and first G1 victory by capturing this Tenno Sho (Spring) title which his grandfather Tomio (former jockey) and father Norihiro (active jockey) had also won.
Breaking sharply from a wide stall, Titleholder quickly assumed command to set the pace. The son of Duramente continued to lead the field, widening the gap between the rest of the field by more than five lengths at one point. While slowing down the pace at the backstretch, the bay colt found another gear at the lane and produced an impressive turn of speed that marked the fastest last three furlongs to cross the wire with an overwhelming seven-length margin.
"I felt that he was in good form when I rode him in the post parade so I just believed in him and concentrated on riding him in good rhythm. We were able to slow down the pace in the backstretch to conserve his stamina and I was not worried about the horses behind us in the last stretch. I'm happy that I was able to win this race with Titleholder, rather than being able to win my first G1 title. I think he will get stronger and stronger going forward," commented Kazuo Yokoyama.
Race favorite and last year's runner-up Deep Bond made a good break from the outermost stall and traveled by the rails in fourth. Continuing to race in good striking position, the son of Kizuna made bid rounding the last two corners to enter the lane in third, exerted a strong late charge that timed the third fastest of the field and, while no match for the winner, overtook T O Royal 100 meters out to come in second again this year.
Fourth pick T O Royal sat in third or fourth in front of the favorite on the rails, switched to the outside before the third corner (2nd lap) and closed the gap between the leader to one and a half lengths but failed to keep up with the winner's accelerating speed and surrendered the runner-up seat 100m out while holding off the rest of the field by 3-1/2 lengths.
Other Horses:
4th: (9) Heat on Beat—positioned around 9th, showed belated charge, never threatened top finishers
5th: (1) Iron Barows—sat 3-wide around 6th behind favorite, no match for top finishers
6th: (11) Meiner Fanrong—hugged rails around 9th, angled out for stretch run, even paced
7th: (13) Robertson Quay—ran around 12th, circled wide, lacked needed kick
8th: (14) Valcos—was off slowly, made headway to 9th, unable to reach contention
9th: (6) Melody Lane—settled around 7th, overtaken by rivals turning final corner, even paced
10th: (10) Tosen Cambina—trailed in rear, never threatened while improving position
11th: (5) Machaon d'Or—raced around 13-14th early, advanced in backstretch, failed to respond
12th: (3) Divine Force—sat 2nd from rear, passed tiring rivals after 3rd corner
13th: (4) You Can Smile— took economic trip 3rd or 4th from rear, showed little at stretch
14th: (8) Crescendo Love—chased leader in 2nd, used up at top of stretch
15th: (12) Hayayakko—traveled 3rd or 4th from rear, circled wide, never fired
16th: (2) Heart's Histoire—saved ground around 7th, gradually made headway, nothing left at stretch
17th: (15) Tagano Diamante—advanced to 3rd or 4th from wide draw, faded before 3rd corner
FF: (17) Silver Sonic—unseated rider soon after break