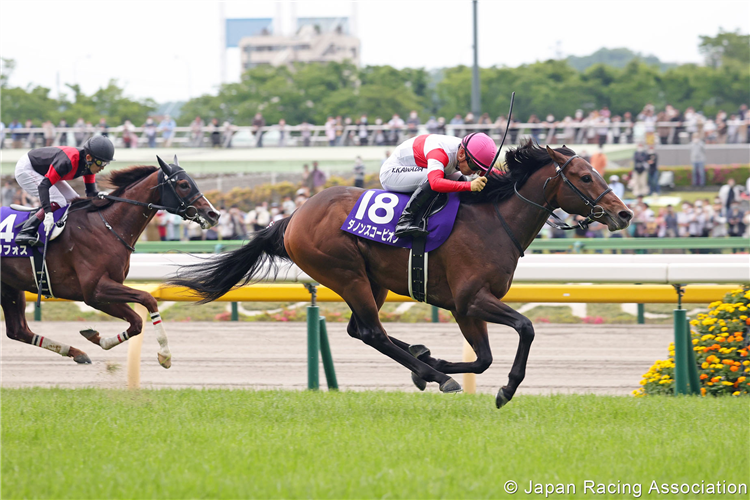 Fourth favorite Danon Scorpion scored a consecutive grade-race victory and first G1 title in this year's NHK Mile Cup. With two wins in his two-year-old debut in June at 1,600 meters and the Hagi Stakes (Listed, 1,800m) where he beat subsequent Hopeful Stakes winner Killer Ability, he concluded the 2021 season with a third in the Asahi Hai Futurity Stakes (G1, 1,600m). He was seventh in his three-year-old debut in the Kyodo News Hai (G3, 1,800m) in February but bounced back to form in the following Arlington Cup (G3, 1,600m) on April 16. Trainer Takayuki Yasuda picked up his 14th JRA-G1 title, his last G1 victory being with Danon Smash in the 2021 Takamatsunomiya Kinen, while jockey Yuga Kawada reached a milestone of 20 JRA-G1 titles after his latest win in April in the Oka Sho (Japanese 1000 Guineas) with Stars on Earth.
Danon Scorpion was unhurried after breaking from the widest gate as the early leaders rushed to secure their positions. Settling in mid-division for the early part of the trip, jockey Yuga Kawada took advantage of the wide route to gradually edge forward approaching the final turn, only having to slightly angle out to straighten his mount for the stretch run. As the frontrunners began to tire going the uphill climb, Danon Scorpion continued with to close in on Serifos who had clinched the lead at the furlong pole from an economic trip, finally pinned that foe at the 100-meter marker then managed to hold off a powerful late charge by Matenro Orion and Kawakita Reverie to prevail by a neck.
"It was a great feeling to have won in front of a big crowd like this. It was a close victory and I knew that the horses on the outside route were all coming up with a lot of force, so although I felt we had won crossing the wire, I had to be sure by watching the vision after the race. Danon Scorpion was in perhaps his best condition coming into this race so I had a lot of confidence (despite a wide draw)—he was in good rhythm and balance so I had no worries. He was very much out of form going into the Kyodo News Hai but he managed to perform well while still at the stage of improving in his last start—I think that really boosted his motivation for this race and I felt it today in his movement during the post parade. The colt has great potentials and, for me, it is relief to have accomplished the goal of making him a G1 winner and I am grateful to have the chance to ride such a talented mount," commented Yuga Kawada.
Third favorite Matenro Orion did not rush out of the gate and was content to sit well off the pace, second from last, along the backstretch. Turning wide entering the straight, the Daiwa Major colt unleashed a terrific turn of speed to sweep past his foes and almost reached the winner, just missing by a neck at the wire.
Longshot Kawakita Reverie was rated off the pace, near the rear, followed Matenro Orion who came past him on his outside, and showed impressive speed to keep up with that foe up to the wire, finishing another neck behind in third.
Race favorite Serifos was rated near the pace in fifth or sixth while securing an economic route along the rails. Continuing to hug the rails turning for home, the chestnut colt managed to inherit the lead from the tired frontrunners with a furlong to go but did not have enough to sustain his lead, succumbing to his rivals after being overtaken by the winner, finishing fourth.
Other Horses:
5th: (11) Industria—raced around 10th behind winner, showed effort while no match for top
finishers
6th: (5) King Hermes—tracked leaders around 3rd, ran gamely until 100m out
7th: (13) Jean Gros—broke poorly, trailed in rear, showed belated charge
8th: (6) Toshin Macau—set pace, sustained lead up to 200m, failed to show tenacity
9th: (8) Alluring Way—ran in 14th on rails, passed tired rivals at stretch
10th: (7) Taisei Divine—sat around 5th, showed brief effort inside winner
11th: (3) Solitario—hugged rails around 10th, lacked needed kick at stretch
12th: (9) Dante's View—raced around 12th, even paced
13th: (17) Sternatia—settled 3-wide around 9th, failed to respond at stretch
14th: (12) Sacred—saved ground in 16th, unable to reach contention
15th: (16) Purpur Ray—traveled 4-wide around 12th, never fired at stretch
16th: (15) Otaru Ever—advanced to 2nd to track leader, remained in contention until 300m out
17th: (2) Sonnet Phrase—took economic trip around 7th, showed little at stretch
18th: (14) Voller Blute—broke sharply, chased leaders in 3rd or 4th, faded after 400m pole