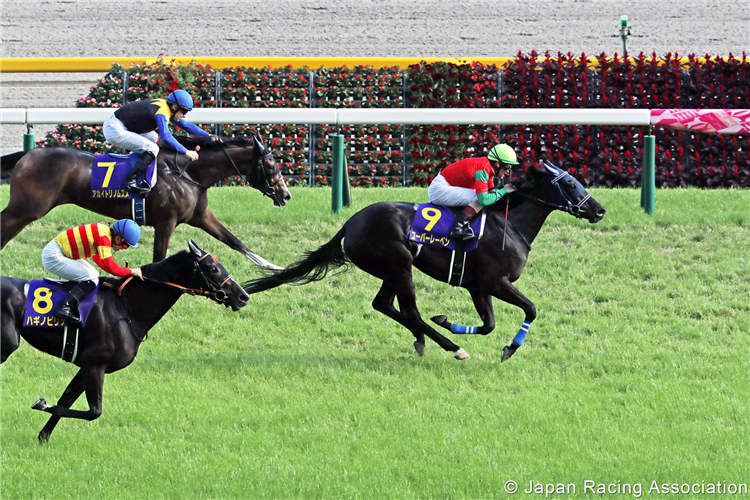 The big action spotlights the girls again this week on Sunday, May 22. Tokyo Racecourse hosts the second race of the Fillies' Triple Crown - the Yushun Himba, more commonly known as the Japanese Oaks. The Grade 1 marks its 83rd running and the prestigious event has attracted 21 nominations this year. Four of those - Sincere Wish, Contes d'Hiver, Rouge Lignage and Ho O Vanilla - are tied for the final gate and their chance to bag the winner's booty.
This year sees two Grade 1 winners among the nominees. They are Circle of Life, who won the 2-year-old filly Grade 1 Hanshin Juvenile Fillies, and Stars on Earth, who captured the first leg of the Fillies' Triple Crown, the Oka Sho (Japanese 1000 Guineas).
The Japanese Oaks is a particularly hard race to predict, as many of the runners have been untested at the distance yet. With the earlier Grade 1s run over 1,600 meters, the 2,400-meter Oaks is a big leap up, not only because of the distance but also because it's staged at Tokyo, a course known for its unforgiving demands on strength, stamina and talent.
Two official trial races for the race have been the Grade 2 Sankei Sports Sho Flora Stakes, run over 2,000 meters at Tokyo, and the Listed Sweetpea Stakes, also run at Nakayama, but over 1,800 meters. Also, the Grade 3 Flower Cup, run over 1,800 meters at Nakayama, and the Listed Wasurenagusa Sho, run over 2,000 meters at Hanshin, are known as the principal step races for the Japanese Oaks. Among the nominees, Stunning Rose, Nishino Love Wink, Art House, Erika Vita, Personal High, Sincere Wish, and Contes d'Hiver are the Top 3 finishers of those races.
The Yushun Himba (Japanese Oaks) is Race 11 on the Sunday card at Tokyo. All fillies will carry 55kg and post time locally is 15:40. This year's winner's check is JPY140 million (in the region of USD1.1 million), and record time for the race is held by Loves Only You, winning in a time of 2 minutes, 22.8 seconds in 2019.
Here is a look at some of the expected popular fillies.
Circle Of Life : One of two fillies fielded by trainer Sakae Kunieda, Circle of Life has posted two wins in her four graded-stakes bids, all over 1,600 meters. After acing the Grade 1 Hanshin Juvenile Fillies last year, she took on the Grade 2 Tulip Sho and finished third, 0.3 seconds behind Namur. Also she was defeated in the Oka Sho last out, finishing close fourth to Stars on Earth. This time will be three furlongs longer than her longest race to date, but the trainer is hoping she'll be channeling her sire, the 2014 Japan Cup winner Epiphaneia. Jockey Mirco Demuro, who captured the race last year, is expected to be in the saddle.
Stars On Earth : The highly consistent Stars on Earth has finished in the Top 3 in her six starts to date. Competing at the graded-stakes level from her fourth start, she followed up two close seconds in Grade 3 events and a surprise victory in the Oka Sho, topping Water Navillera by a mere nose. Debuted over 1,800 meters, Stars on Earth broke her maiden at the same distance next out at Tokyo. She too has a sire who shone over the Tokyo 2,400 meters - 2015 Japanese Derby winner Duramente. It was jockey Yuga Kawada who rode the Oka Sho, but with Kawada pegged for Art House this time, jockey Christophe Lemaire is expected to pilot Stars on Earth on Sunday.
Art House : Art House, a filly trained by Mitsumasa Nakauchida, has only had three previous starts and, unlike the majority of the nominees, she's raced over 2,000 meters so far and has never experienced a mile. She has also never competed above the listed-race level before and has only raced at Hanshin. This will be the first trip to east for the filly, and she'll be leaping to the racing heights from her win of the Wasurenagusa Sho, which she claimed just back from a four-month layoff. Though it was at the lower levels, she won the race strongly, partnered with current leading jockey Yuga Kawada, who has ridden both her debut win and her most recent. In between she was partnered with jockey Cristian Demuro in the Erika Sho, where she competed as a 2-year-old against colts to finish sixth, 0.9 seconds off the record-setting winning time.
Erika Vita : Another filly fielded by trainer Sakae Kunieda, Erika Vita also has only raced three times before. After winning her debut over the Tokyo mile, she took on the Grade 3 Fairy Stakes over a mile at Nakayama. Interference cost her that race and she finished in disappointing 10th. Last out in the Grade 2 Sankei Sports Sho Flora Stakes over 2,000 meters at Tokyo, however, she managed to capture the trial race and obtained the ticket to the Grade 1, despite some traffic problems in the stretch. Though jockey Christophe Lemaire rode her first two races and Hironobu Tanabe was up in the Flora Stakes, Yuichi Fukunaga is pegged for the Oaks ride.
Stunning Rose : The King Kamehameha filly returns two months after her second win of the year, the Grade 3 Flower Cup over 1,800 meters at Nakayama. Before that, she topped a field of mostly colts in the 1-win class Kobushi Sho over a mile at Hanshin. It was the first time the filly raced over longer than a mile, and her first win in a graded race from her four bids. She has scored all her three wins in racing right-handed. She has had five different jockeys in her seven starts thus far, and this time Australian jockey Damian Lane, currently riding in Japan on a short-term license, will be partnered with her. The 28-year-old Lane has notched seven wins from 40 rides since his first day of riding on April 30.
Personal High : The Yoshito Yahagi-trained Personal High has only one win from her eight starts, but so did last year's winner Uberleben. A versatile Deep Impact-sired filly is primed with a second-place finish in the Grade 2 Flora Stakes over 2,000 meters at Tokyo. She may find the extra two furlongs to her liking.
Some others to watch:
Presage Lift leapt from a winning debut at Tokyo to ace the Grade 3 Daily Hai Queen Cup at the same venue, but in the Oka Sho disappointed with an 11th-place finish. Considering it was her first trip to west, a return to Tokyo may see better results.
In her third start, Rouge Eveil suffered her first loss after jumping straight from a 1-win class to the Grade 2 Flora Stakes. In her first time at Tokyo and racing to the left, she finished in fifth place, 0.4 seconds behind the winner. Now with experience, and considering her field-fastest, final three-furlong time of 33.6 seconds despitetraffic problems in the Flora Stakes, there should be a chance for her.
Highly consistent over 1,400-1,600 meters, Water Navillera takes on her first race longer than a mile and will be racing to the left for the first time as well. With a second and third place in two Grade 1s, however, she should not be ignored. Jockey Yutaka Take will be riding on Sunday and hoping to give trainer Koshiro Take, his younger brother, a first Grade 1 victory since the former jockey turned trainer.