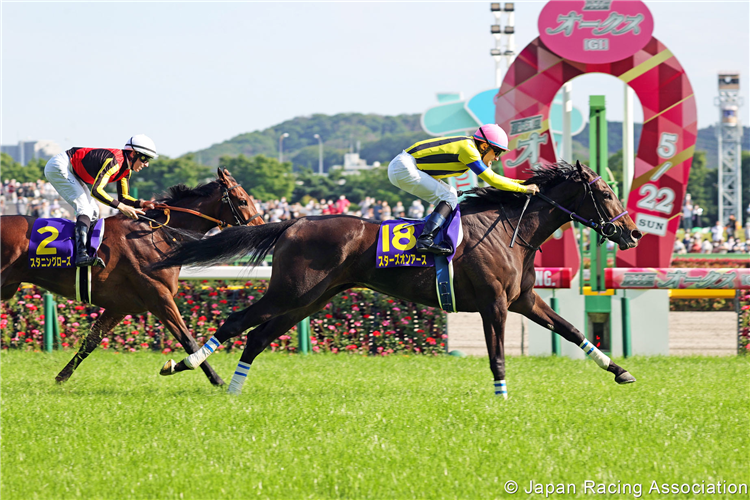 Third favorite Stars On Earth picked up her second classic title after her victory in the Yushun Himba (Japanese Oaks) and is on the road to follow Almond Eye (2018) and Daring Tact (2020) to become JRA's Triple Crown filly of this season. Trainer Mizuki Takayanagi scored his second JRA-G1 title—the first being without saying with Stars on Earth. Jockey Christophe Lemaire, who had partnered the Duramente filly for the first time, registered his first JRA-G1 win since last year's Mile Championship with Gran Alegria and 41st overall—it was his third Yushun Himba title after with Soul Stirring in 2017 and Almond Eye in 2018.
Following a delay due to a loose horse prior to the scheduled start, Stars on Earth was unhurried after a smooth break and rated in midfield around ninth or tenth position. Christophe Lemaire guided the dark bay slightly to the outside where she made her bid along the center lane, closing the gap on the leaders with every stride as a fierce battle for the lead took place in front in the last 200 meters but once grabbing the lead 100 meters out, the Oka Sho winner pulled away strongly to secure her second jewel of the fillies' Triple by 1-1/4 lengths.
"I am really thrilled to have won in front of a big crowd today—it's really not fun to win with an empty stand so I appreciate all you fans for coming. The filly was in great condition coming into the race but it requires a lot of effort to start from an outside draw, so I was easy with her in early. She stayed calm and responded really well in the closing stages so I was happy. It was her first attempt at 2,400 meters but her pedigree showed that she should be up in terms of stamina so I thought it shouldn't be a problem. She's already won at 1,600 meters and shown to handle 2,400 meters, so I think she has a pretty good chance to win her third G1 triple over 2,000 meters," commented Christophe Lemaire.
Tenth pick Stunning Rose was nicely positioned along the rails around fifth, angled out slightly for the stretch run and turned in a fine turn of foot to lead briefly at the 200-meter mark but was unable to match the strong finishing speed of the winner who quickly overtook her from the outside.
Fourth choice Namur secured an inside position behind Stunning Rose after a good break then eased further back to mid-division along the backstretch with a good view of the eventual winner on her outside. Staying to the inside coming into the final turn, the Harbinger filly closed in rapidly and rallied with the top two finishers in the last 100 meters but was unable to sustain her bid in the last strides, finishing third.
Race favorite Circle of Life showed frustration and lost momentum due to the start delay, missed a beat coming out of the gate and trailed at the very rear for most of the trip. Still with a lot of ground to cover coming into the straight, the Epiphaneia filly failed to find her usual turn of speed finishing a dull 12th.
Other Horses:
4th: (15) Pin High—raced 3-wide around 10th, accelerated between horses in last 300m
5th: (16) Presage Lift—sat in 6th in front of winner, ran willingly but no match for top finishers
6th: (4) Rouge Eveil—traveled around 13th, circled wide, showed belated charge
7th: (3) Art House—chased leaders in 3rd, remained in contention until passed by top finishers
8th: (17) Nishino Love Wink—set pace, showed tenacity until 150m out
9th: (9) Erika Vita—positioned around 7th near winner, ran gamely up to 200m pole
10th: (11) Belle Cresta—ran 3-wide around 11th, failed to respond
11th: (12) Lilac—settled near rear in 15th, unable to reach contention
13th: (1) Water Navillera—saved ground around 11th, never fired
14th: (14) Sea Glass—traveled wide around 13th, showed little at stretch
15th: (10) Love Pyro—prominent early in 4th, outrun in last 400m
16th: (13) Personal High—tracked leader in 2nd, faded after 400m pole
17th: (7) Ho O Vanilla—far rear throughout trip
Excluded from running:
(5) Sound Vivace—broke loose prior start and declared a non-runner following vet check