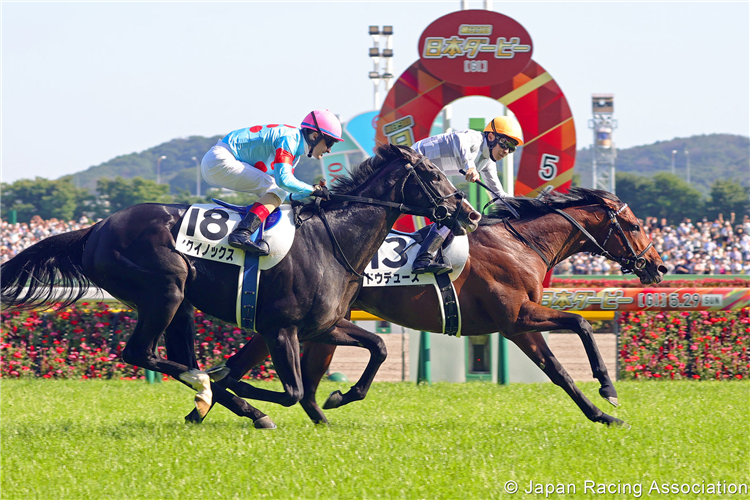 Third favorite Do Deuce climbed to the pinnacle of a total of 7,522 three-year-old's conquering this year's Tokyo Yushun (Japanese Derby) with incredible speed setting a new race record at 2:21.9. The Asahi Hai Futurity Stakes (G1, 1,600m) winner, while undefeated in three career starts at the time, was named Best Two-Year-Old Colt of 2021. Commencing this season with a runner-up effort in the Yayoi Sho Deep Impact Kinen (G2, 2,000m) in March, the Heart's Cry colt was sent off first pick and displayed the fastest late drive in the following Satsuki Sho (Japanese 2000 Guineas, G1, 2,000m) in April but finished third. After his latest victory in the Osaka Hai with Potager in April, winning trainer Yasuo Tomomichi is now the proud owner of 16 JRA-G1 titles which also include two Derby victories with Makahiki in 2016 and Wagnerian in 2018. Following last season's Asahi Hai Futurity Stakes win with Do Deuce, jockey Yutaka Take scored his 79th JRA-G1 win and record-extending sixth Derby title—Special Week (1998), Admire Vega (1999), Tanino Gimlet (2002), Deep Impact (2005) and Kizuna (2013)—and is now the oldest Tokyo Yushun winning jockey at the age of 53.
Do Deuce, a bit slow out of the gate, camped fifth from the rear and right behind race favorite Danon Beluga before shifting to the outside rounding for home. Steadily accelerating with good force, the bay colt picked off his rivals one by one, drew even with the tiring Ask Victor More 150 meters out and held on well while warding off a strong challenge from Equinox by a neck.
"This is a truly emotional experience for me and I couldn't be happier. Though my colt isn't such a good starter, we were able to sit in an ideal position so the fast pace didn't bother me. He had so much left in the tank at the final corner when I asked him for his run—he responded amazingly and took the lead earlier than planned but held on well to the wire. It's so wonderful to be able to win in front of a packed stand—you couldn't be a jockey and not dream of living this moment. The Prix de l'Arc de Triomphe should be a strong option for the owner and will probably be our next target," commented Yutaka Take after winning his sixth Derby Title.
Second pick Equinox was unhurried in third from the rear after breaking from the widest stall. Gradually switching to an outer path after meeting traffic in early stretch, the Kitasan Black colt launched his bid at the 400-meter pole just behind the winner and although timed the fastest over the last three furlongs, was a neck short at the line in pinning the winner.
Sent off seventh choice, Ask Victor More chased the solid pace set by Desierto four to five lengths behind in second, inherited the lead 400 meters out and although outrun by Do Deuce and then Equinox, showed tenacity in holding off the race favorite to finish a respectable two-length third.
Danon Beluga, race favorite and fourth in the Satsuki Sho, broke smoothly and camped right between Onyankopon and Satsuki Sho winner Geoglyph in mid-pack. After struggling to find room in early stretch, jockey Yuga Kawada guided him to clear running room and accelerated well but was too late and finished a neck from Ask Victor More in fourth.
Other Horses:
5th: (6) Pradaria—ran in 5-6th, ran gamely until 100m out, no match for top finishers
6th: (16) Killer Ability—sat towards rear in 15th, circled wide, passed tiring rivals
7th: (15) Geoglyph—positioned 4-wide in 10-11th, showed effort until 200m pole, even paced thereafter
8th: (7) Onyankopon—traveled in 10-11th, met traffic at early stretch, quickened in last 300m
9th: (9) Justin Palace—ran around 8th, accelerated but drifted to inside at stretch, even paced in last 200m
10th: (8) Be Astonished—chased leaders in 3rd or 4th, remained in contention until 200m pole
11th: (2) Seiun Hades—saved ground in 6-7th, made headway, failed to respond at stretch
12th: (1) Ask Wild More—settled around 8th, struggled to find clear path 400m out, never threatened
13th: (4) Matenro Leo—sat in 13th early, gradually advanced on rails, lacked needed kick
14th: (17) Lord les Ailes—raced in 5-6th, checked 400m out, showed little thereafter
15th: (14) Desierto—set pace, opened gap to 4-5 lengths at one point, ran out of steam 300m out
16th: (11) Justin Rock—was off slow, far rear throughout trip
17th: (10) Matenro Orion—traveled 2nd from rear, no factor
18th: (5) Piece of Eight—tracked leaders in 3rd or 4th, faded after 400m pole