3 minute read
Liberty Island wins this year's Shuka Sho at Kyoto.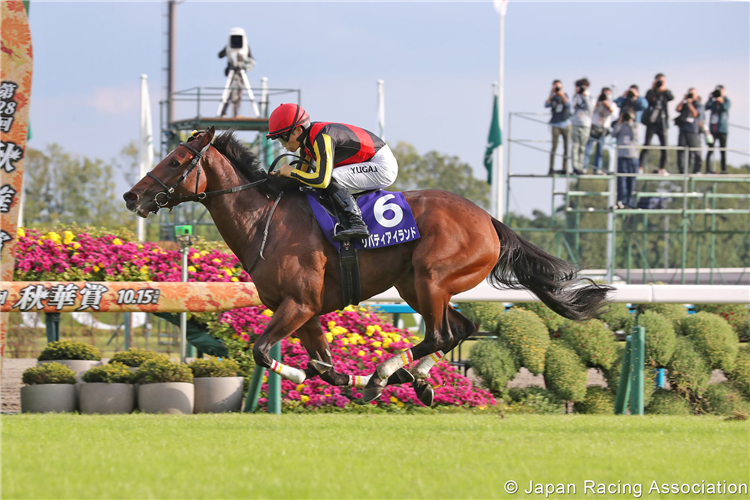 Overwhelming favorite Liberty Island claimed this year's Shuka Sho to sweep the Triple Crown races for fillies including the Oka Sho (Japanese 1000 Guineas, 1,600m) and the Yushun Himba (Japanese Oaks, 2,400m) held in spring. She is the seventh filly to dominate all fillies' Triple Crown races following Mejiro Ramonu (1986), Still in Love (2003), Apapane (2010), Gentildonna (2012), Almond Eye (2018) and Daring Tact (2020). She also extended her G1-winning streak to four including last year's Hanshin Juvenile Fillies (1,600m), which earned her the JRA Award's Best Two-Year-Old Filly title. With this race, trainer Mitsumasa Nakauchida captured his eighth JRA-G1 victory following his Yushun Himba title with this filly, while jockey Yuga Kawada marked his 25th JRA-G1 win following the Sprinters Stakes with Mama Cocha two weeks earlier and also conquered all seven G1 races for three-year-olds. Starting this year, Japanese-bred horse that achieves the fillies' Triple Crown title will receive a bonus of 100 million yen.
Liberty Island broke smoothly and settled two-wide in good position behind the leaders, around seventh along the backstretch, and made headway 600 meters out while turning the last corners wide. After taking command around the 400-meter pole, the Duramente filly found another gear to exert a strong drive along the stretch and, although threatened by the fast-closing chase by Masked Diva before the wire, managed to hold off the Rulership filly by a length margin for her Triple Crown title.
"I'm grateful that we were able to achieve the Triple Crown. She is a horse with great ability, so I placed top priority on letting her run comfortably and finding a good path for her. I was confident of her victory when we had an open space at the third corner. She has great potential, and her dreams for the future are wide open, but first of all, I would like to praise her for achieving the Triple Crown," commented Yuga Kawada.
Third pick Masked Diva broke sharply and eased back to settle around 13th. Though meeting traffic at the top of the stretch, the filly found an opening 300 meters out and dislodged a powerful late charge that timed the fastest last three furlongs to close in on the leader but was a length short at the wire to finish second.
Second pick Harper sat around fifth in front of the winner, angled out slightly turning the final corner and, while unable to keep up with the winner's speed, managed to pass the tiring frontrunners 100 meters out but missed the runner-up spot before the wire for third.
Other Horses:
4th: (5) Dura—sat around 8th behind winner, passed one by one at stretch, nose short of 3rd
place
5th: (8) Moryana—saved ground around 14th, quickened between horses until 50m out
6th: (3) Malaki Naia—hugged rails around 7th, showed effort but never threatened
7th: (18) Emu—broke poorly, trailed in rear, launched 3rd fastest late kick, belatedly
8th: (4) Kona Coast—set pace, showed tenacity until 100m out
9th: (15) Hip Hop Soul—traveled around 15th, circled wide, showed belated charge
10th: (12) Doe Eyes—settled 3-wide around 9th, lacked needed kick
11th: (13) Ravel—tracked leaders around 3rd, remained in contention until 100m out
12th: (11) Kita Wing—sat 2nd from rear, passed tired rivals
13th: (9) Mississippi Tesoro—chased leader in 2nd, faded after 200m pole
14th: (16) Pipiola—ran 4-wide around 9th, showed little at stretch
15th: (10) Grand Bernadette—positioned around 15th, even paced
16th: (1) Festes Band—tracked leaders around 3rd on rails, met traffic 100m out, dropped back
17th: (17) Soleil Vita—raced around 5th outside winner, outrun after final corner
18th: (14) Conch Shell—traveled 3-wide around 13th, unable to reach contention