3 minute read
The 168th running of the Queen Elizabeth II Cup will be held on Sunday, November 12th and it is a 2,200m outer turf event at Kyoto Racecourse.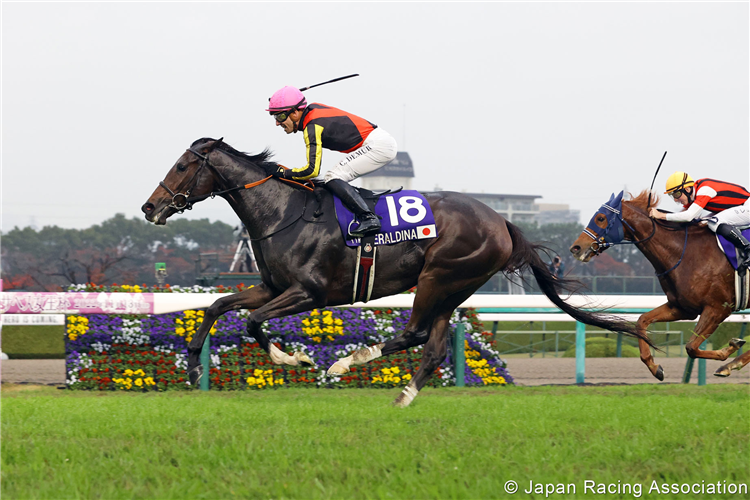 The big race this coming Sunday (November 12) is the Grade 1 Queen Elizabeth II Cup, which will return to its traditional venue at Kyoto Racecourse this year, after being run at Hanshin for the last three years. It is the first leg of the Japan Autumn International Series of races, which includes the Grade 1 Japan Cup at the end of the month.
The Grade 1 Queen Elizabeth II Cup was first run in 1976 to commemorate the late Queen Elizabeth's visit to Japan in 1975. It was originally for 3-year-old fillies and run over 2,400 meters before the Grade 1 Shuka Sho was established in 1996, thus opening up the QEII to older fillies and mares. It is now run over 2,200 meters on the outer turf course at Kyoto and became an international Grade 1 race in 1999. Last year, Magical Lagoon was the first runner from overseas in eleven years, after looking back to the great winning performances of Irish-bred, English-trained, Snow Fairy, a filly that performed so well at Kyoto in 2010 and 2011.
There will be no foreign horses this year, and the field might be just a little smaller than usual this time, with fifteen fillies and mares nominated for the 48th running of the race. Three-year-old fillies, of which three have been nominated, carry 54kg, while 4-year-olds and up have a set weight of 56kg. Prize money to this year's winner is JPY130 million (not far off USD1 million). Record time for the race at Kyoto is held by To the Victory, who won in a time of 2 minutes 11.2 seconds back in 2001. A number of this year's entries are coming off runs in the Grade 2 Ireland Trophy Fuchu Himba Stakes, which was run over 1,800 meters at Tokyo in October.
Interesting statistics from the last 10 years of the Grade 1 Queen Elizabeth II Cup include just one winning favorite (Lucky Lilac in 2020), and seven winners have been 4-year-old fillies. Nine of the last 10 winners have been trained at the Ritto Training Center in the west of Japan, while six foreign jockeys have been victorious in that same time period. Look out for a number of foreign jockeys from this weekend, when they fly in to take part in the big autumn races in Japan.
The Grade 1 Queen Elizabeth II Cup will be Race 11 on the Sunday card at Kyoto, and the final declarations and the barrier draw will be available later in the week.
Here's a look at some of the fillies and mares set to take on this year's race:
Geraldina : Winner of the race last year, the 5-year-old mare by Maurice is looking to become the fifth horse in the history of the race to win in consecutive years. She was last seen finishing sixth in the Grade 2 Sankei Sho All Comers over 2,200 meters at Nakayama in September, and before that she finished fourth to Equinox in the Grade 1 Takarazuka Kinen in June, a performance that would give her a good chance here. Trainer Takashi Saito commented: "She ran a little wide in the All Comers last time, but kept running on at the end, so it wasn't a bad race for her. Her run in the Takarazuka Kinen also showed that she's getting back to near her best. It'll be the same rotation as last year, and she's now back at the stable and on the training track, where she's been moving as usual." Ryan Moore takes the ride on Geraldina this time.
Harper : Trainer Yasuo Tomomichi is likely to have two runners in the race, as he bids for an 18th JRA Grade 1 win, and for a change, the 3-year-old by Heart's Cry won't have to deal with Liberty Island this time. Harper has only been unplaced once in six starts, and always seems to give her best in a race. The trainer stated: "She drew inside in the Shuka Sho, and it meant that when she wanted to make a move, she couldn't. As a filly with a nice big stride, it became a bit difficult and muddling for her. She recovered quickly from that race and was soon back in work, and everything's been fine with her up to now."
Brede Weg : Another 3-year-old rising through the ranks, the daughter of Lord Kanaloa recently finished second to Masked Diva in the Grade 2 Kansai TV Corp. Sho Rose Stakes at Hanshin over 1,800 meters in September. The winner that day won in record time, and the form of the race is working out well. Trainer Keisuke Miyata said: "She ran a good race last time, but the winner is very strong, as we saw when she also ran well in the Shuka Sho after that win. Brede Weg has had a break at Northern Farm Tenei, and on her return to the stable, she looks better in her coat than she did before, when the days were hot. She seems to be in good condition overall." Christophe Lemaire will ride Brede Weg in a bid for a hat-trick of JRA Grade 1 wins this autumn.
Divina : Another runner for trainer Yasuo Tomomichi, Divina scored her first win in a while last month, when making all the running to land the Grade 2 Ireland Trophy Fuchu Himba Stakes over 1,800 meters at Tokyo. "She did well last time to go off in front and win the Fuchu Himba Stakes, and by leading all the way, it was a different kind of race for her. She can be patient before the race, and the jockey has found a good way to ride her," Tomomichi said of the 5-year-old mare. Mirco Demuro looks set to ride Divina again, and will be doing his best to see out the extra 400 meters in the race this time.
Art House : The 4-year-old filly by Screen Hero will be having her first run since the Grade 3 Nakayama Himba Stakes in March. Returning from injury, she might need the race, but her previous form as a 3-year-old in the Grade 1 Yushun Himba (Japanese Oaks) and the Grade 1 Shuka Sho puts her in with a definite chance here. Assistant trainer Taku Fukunaga said: "The plan was to run her in the Victoria Mile this spring, but because she was injured, we had to pass on that. She returned to the stable from Champion Hills Farm on October 4 and things have been as expected with her since. She's moving well, and she should be fine over the 2,200 meters of this next race." Jockey Ryusei Sakai will ride Art House for the first time, with Yuga Kawada set to ride Harper.
Rouge Eveil : Running in the colors of the Tokyo Horseracing Co. Ltd., the daughter of Just a Way has had mixed results since finishing sixth in the Grade 1 Yushun Himba (Japanese Oaks) in 2022. She has finished second in her last two races, however, the latest being the Grade 2 Ireland Trophy Fuchu Himba Stakes at Tokyo in October. Recent comments from trainer Yoichi Kuroiwa were: "She didn't start so well last time, and it became difficult for her to get into the flow of the race, but she showed a good turn of foot at the finish. She came out of the race well, and it's good for her to have had her first run of the autumn without any setbacks. The longer distance of the race this time shouldn't be a problem."
Other runners include the 4-year-old Saliera, a half-sister to Salios, and she's only been unplaced once from six starts, which have seen her win three times. Jockey Tom Marquand arrives in Japan this week for what will be just his second time on a short-term license, and he gets to ride Saliera.
Returning from riding at the Breeders' Cup, Kosei Miura will ride 5-year-old mare Maria Elena, and both horse and jockey are looking for their first Grade 1 win.
Suguru Hamanaka deputizes for the injured Yutaka Take aboard Kukuna, as Take will miss the race, but is hoping to return for the weekend of the Mile Championship.