3 minute read
Kyoto Racecourse hosts the 48th running of the G1 Queen Elizabeth II Cup (2200m) this Sunday (12 November) and only 15 runners (three short of the maximum 18) are expected to start.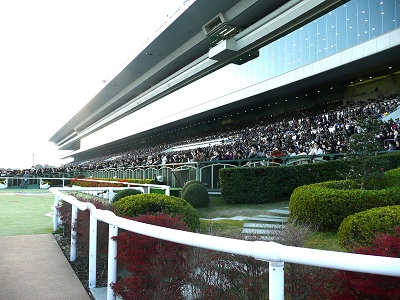 A race that served as the unofficial final leg of Japan's filly classics, the QEII Cup opened to older females from 1996 and, over the past decade, has seen only two three-year-old winners.
But, this year the race not only returns to its Kyoto home for the first time in four years, there's also a rising new star who's the talk of the town.
Brede Weg, a three-year-old by sprint champion Lord Kanaloa, has hugely impressed with her two seconds and two wins from four starts. She also dazzled when prevailing over male and older horses in the one-win class, she leapt into QEII Cup spotlight by finishing second last start in the G2 Rose Stakes (1800m) at Hanshin.
Miho-based trainer Keisuke Miyata has been preparing Brede Weg at the western training centre of Ritto, where Christophe Lemaire rode morning work on Wednesday (8 November). Brede Weg went out first thing in the morning.
"There were a lot of horses and in the first part of her workout the pace was slow and she had the bit in her teeth for a while," said Miyata. "But she picked up speed nicely under way and ran smoothly. Lemaire said she was fresh and felt good."
Lemaire, who has widened his lead in the jockey standings to five over Yuga Kawada, rode Brede Weg in the Rose Stakes and in her maiden win, and is set for the ride Sunday.
Other than her rider, Brede Weg's biggest asset for landing the JPY130 million (approx. HK$6.8 million) winner's prize is her speed. The pace of the QEII Cup is usually relaxed in the early stages. The race tends to favour those able to travel midfield until the final turn and from there finish fastest. Brede Weg has scored the top time over the last 600 metres in all her four starts.
Miyata, a newcomer who just opened his barn in 2020, has only two Group 3 wins to his name and is eyeing his first big haul. He bypassed the G1 Shuka Sho (2000m) with his sights set here. "She has had two small fractures, so even though she has great speed, I was a bit concerned about asking too much of her. I thought the QEII would be better than the Shuka Sho over the Kyoto inner 2000, which is a bit more of a difficult course," said Miyata.
The QEII Cup is run over the outer course, and though it'll be Brede Weg's first time at Kyoto, Miyata says he's not worried.
Heart's Cry-sired Harper is Brede Weg's peer and another seen as one of the top contenders. Harper was fourth, second and third in this year's filly classics and has yet to land a Group 1. However, in five of her six career starts she hasn't missed the money. She's racing over 2200m for the first time, but her second in the G1 Japanese Oaks (2400m) shows she can go the distance. She is only four full weeks off her Shuka Sho run and should see, not Lemaire, who piloted her classic runs, but Yuga Kawada in the saddle. Kawada rode her win of the G3 Queen Cup (1600m) at Tokyo.
In similar fashion to Brede Weg, standing QEII Cup champion Geraldina bypassed the classics, but she was a year older than Brede Weg and a seasoned graded stakes competitor coming off a Group 2 win when she landed last year's QEII Cup.
However, the 2022 edition was held at Hanshin and, a bit more concerning is the fact that Geraldina, now five years old, has only made the top five once this year. A lot has been asked of her since her QEII Cup win last year. That race was followed by four Group 1s, including Hong Kong's G1 FWD QEII Cup (2000m) last April.
Finally given some time off, Geraldina returned in late September for a sixth-place finish in the G2 Sankei Sho All Comers (2200m) at Nakayama. She's primed and looking to make it two in a row, this time with expected new partner Ryan Moore.
Another Maurice-sired daughter currying favour is Divina, out of the two-time G1 Victoria Mile (1600m) winner Verxina. Divina finally landed her first graded race, the G2 Fuchu Himba Stakes (1800m) at Tokyo in mid-October.
A highly excitable mare, it wasn't until Mirco Demuro (known for his prowess with "difficult" horses) was handed the reins four starts ago in the G1 Victoria Mile that Divina has brought consistently good results, finishing fourth, second, second and first on her way to stakes victory.