3 minute read
Brede Weg wins this year's Queen Elizabeth II Cup at Kyoto.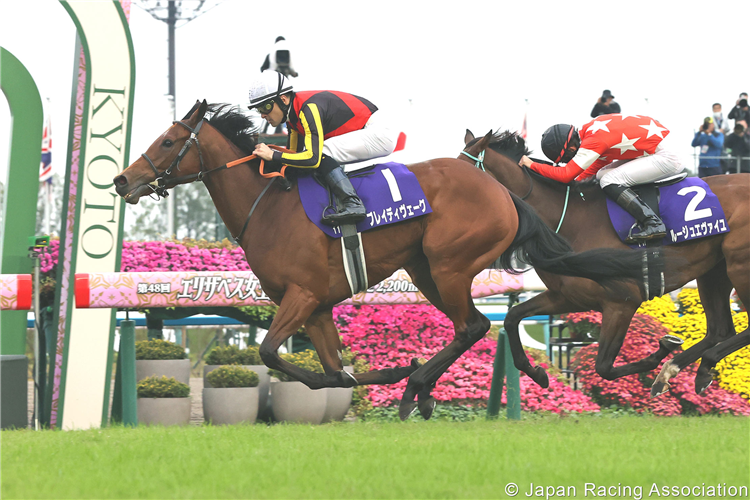 Race favorite Brede Weg claimed this year's Queen Elizabeth II Cup to capture her first graded title. Finishing second in her debut start (Niigata, 1,800m) as a two-year-old in August last year, the Lord Kanaloa filly broke her maiden in her second career start (Tokyo, 1,800m) in February this year and marked another win in the following one-win class race (Tokyo, 2,000m) in June. While marking a runner-up effort in her first graded attempt, the Rose Stakes (G2, 1,800m), on September 17, her connection avoided the Shuka Sho, the last leg of the Triple Tiara, and instead prepared her for this race, considering her two fractures in the past. She is the first three-year-old filly to win the Queen Elizabeth II Cup since Mozu Katchan in 2017 and also became the Queen Elizabeth II Cup victor with the fewest career starts of five. With this win, trainer Keisuke Miyata claimed his first JRA-G1 title (third JRA graded title), while jockey Christophe Lemaire marked his 48th JRA-G1 win following the Tenno Sho (Autumn) with Equinox and his third Queen Elizabeth II Cup title following his wins with Little Amapola in 2008 and Lucky Lilac in 2020.
Breaking from the innermost stall, Brede Weg hugged the rails in fifth, a little toward the front than usual, and continued to take the inner route rounding the final corners. The three-year-old bay broke loose from the pack passing the 200-meter pole to close in on the front two runners, overtook the front 100 meters out and easily pulled away with her strong late kick for a 3/4-length victory.
"I was a bit worried about the soft ground but it was no problem for her. We couldn't break well but were able to travel in good position behind Harper. She was calm, responded well throughout the race and pulled away strongly with her explosive kick," commented Christophe Lemaire.
Fifth pick Rouge Eveil broke smoothly from stall two and eased back to around sixth-seventh by the rails, eyeing Brede Weg in front. The Just a Way filly continued to run persistently on the heels of the winner until the wire for second place.
Third choice Harper traveled 3-4 lengths behind the front two pacesetters in third by the rails. Though overtaken by the top two finishers 200-meters out, the three-year-old filly by Heart's Cry closed in on the runner-up in the last strides to cross the wire a neck behind in third.
Other Horses:
4th: (11) Lilac—ran wide around 10th, launched tied fastest late charge, missed 3rd place by 1/2
length
5th: (7) Geraldina—advanced to 7th after poor break, showed effort but failed to keep up with top
two finishers' speed
6th: (13) Saliera—unhurried in 13th, showed tied fastest late kick but had too much ground to
make up
7th: (6) Divina—sat wide around 10th, showed response until 100m out
8th: (5) Izu Jo no Kiseki—positioned on rails near rear, lacked needed kick
9th: (8) Shinryokuka—settled wide around 9th, showed brief effort, never threatened
10th: (10) Kukuna—hugged rails around 10th, gradually switched to outside, even paced
11th: (15) Big Ribbon—trailed in rear, passed tired rivals at stretch
12th: (4) Roselite—stalked leader in second, faded after 200m pole
13th: (9) Art House—set pace, showed tenacity and maintained lead until 100m out
14th: (12) Gold Eclipse—chased leaders around 3rd, outrun at stretch
15th: (14) Maria Elena—traveled in 6th behind winner, dropped back after final corner