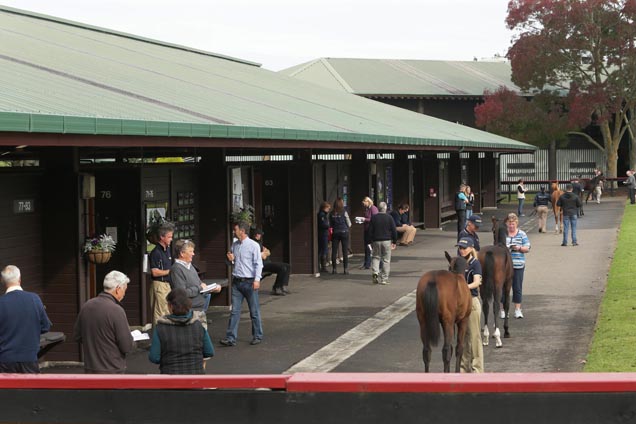 Pearl Series early bird entries set to close
Those wanting to make the most of the early bird entry fee for the 2022 NZB Insurance Pearl Series will need to get their nominations of 2020 born fillies in by next Tuesday.
After Tuesday, 31 May the nomination fee will rise from $1,150 (including GST) to $1,725 (including GST.
Administered by the New Zealand Thoroughbred Breeders' Association, the NZB Insurance Pearl Series is a Bonus scheme for fillies and mares offering bonuses for owners, trainers and nominators of almost $2.4 million and prizemoney of nearly $2.5 million on up to 200 individual races for fillies and mares over four seasons' racing.
From August 2022 bonuses will be paid out to fillies and mares that finish first, second or third in a Pearl eligible race (previously only paid to winners) and the series will be extended to cover previously registered mares up to and including their five-year-old season of racing.
A single bonus level will be offered for all Pearl races with the winning owner receiving $10,000 and the trainer and the nominator each receiving $500. In addition, the owner of the second horse will receive $2,000 and the owner of the third horse $1,000.
Further information on the NZB Insurance Pearl series can be found HERE
NZB Weanling Sale On-farm parade schedule
New Zealand Bloodstock have organised a weanling parade schedule prior to their sale at Karaka on June 17, which can be seen below:
Monday 30 May – Auckland
9AM Cambria Park at Ainsley Downs (3) (57 Bruce Road, Waerenga)
9.30AM Hallmark Stud (6) – 97 Summertime Lane, Te Kauwhata
10:15AM Jamieson Park (6) – 830 Koheroa Road, Mercer
11:15AM Cambria Park (6) – 37 Ostrich Farm Road, Pukekohe
12PM Hanui Farm (16) – 113 Kidd Road, Karaka
LUNCH BREAK
2:30PM Little River Thoroughbreds (2) 145 Hanham Road, Kumeu
Tuesday 31 May – Waikato
9.30AM Weowna Park (4) – 7972 State Highway 27, Matamata
10AM Rich Hill Stud (6) – 570 Landsdowne Road, Walton
11AM Brighhill Farm (10) – 1352 Tauwhare Road, Eureka
LUNCH BREAK
1PM Cambridge Stud (9) – 128 Discombe Road, Tamahere
1:45PM Highline Thoroughbreds (5) – 215 Peake Road, Cambridge
Wednesday 1 June – Waikato
9:30AM Leanach Lodge (4) – 114 Norrish Road, Ohaupo
10AM Curraghmore (9) – 2455 Cambrigde Road, Rotoorangi
11AM Westend Partnership (6) – 278 Ryburn Road, Ohaupo
11:45AM Melwood Farm (3) – 1425 Te Pahu Road, Karamu
LUNCH BREAK
1:15PM Platinum Bloodstock (1) – 78 Elgood Road, Ngaruawahia
1:45PM Castle Hill Farm (3) – 362A Waring Road, Taupiri
Friday 3 June – Central Districts
12:30PM HGT Bloodstock Masterton (4) – 97 Morris Road, Masterton
1PM Little Avondale Stud (5) – 114 Morris Road, Masterton
3PM – HGT Bloodstock – Palmerston North (1) – 517 Newbury Line, Bunnythorpe
View the full catalogue online at nzb.co.nz
For more information, contact NZB's Kane Jones on +64 27 274 4985.