3 minute read
It was smiles all round for the New Zealand camps after Charminton led a one-two in the $75,000 Siam Blue Vanda 2020 Stakes on Sunday.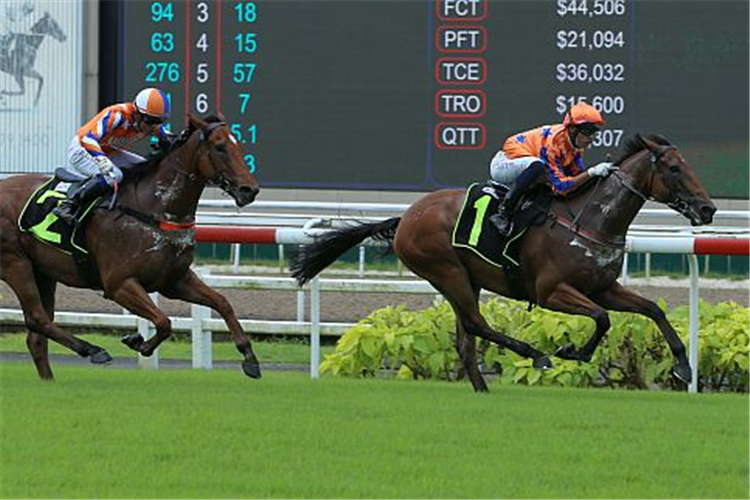 Both Charminton and runner-up Trident are trained by Kiwi trainer Donna Logan.
While Charminton is owned by the Te Akau Racing Stable led by principal owner David Ellis, newcomer Trident belongs to the Fortuna NZ Racing Stable syndication managed by John Galvin, who was on hand last week to watch King Arthur score.
Both powerhouse New Zealand outfits formed the backbone of former four-time Singapore champion trainer Mark Walker. They switched to Logan when the latter returned to New Zealand earlier this year.
Fortuna got on the front foot early doors, having already tallied up 10 winners, but Te Akau has recently caught up with Charminton their seventh winning combo with Logan.
Both Charminton (Yusoff Fadzli) and Trident (Hakim Kamaruddin) jumped smartly from their inside gates on Sunday to take up the early 1-2 spots in that order.
At the 300m, Yusoff brought out the whip and Charminton ($15), who ran an eye-catching second to Dr Kardo on debut in a Class 4 race over 1100m, hit the line strongly, never to be caught. Trident valiantly rallied but had to settle for second three-quarter length away.
Debutant Prioritize (Vlad Duric) ran on to finish third another one-and-three-quarter lengths away. The winning time in the Restricted Maiden race was 1min 10.54secs over 1200m on the Short Course.
Logan was pleased with the two promising young horses, but thought the better race experience held Charminton in good stead.
"The race experience helped him (Charminton), and the other horse (Trident) has got lots of ability as well, but not the race experience," said Logan, who currently sits second on the premiership table, four behind the leading Tim Fitzsimmons who bagged one winner in Relentless in the Group 2 Stewards' Cup (see later report).
"He's (Charminton) got the draw (barrier one), the nice run, and a great ride by Yusoff.
"He's still growing and a bit immature, so we'll look after him and we won't give him too hard a season early in his racing.
"We'll take him along quietly and we might look at a Novice (race) for him next.
"We'll see what's around for Trident and maybe a Novice (race) for him too."
Yusoff said that Charmington improved from his last run and he surprised him with the early speed.
"He came from behind to run second last time," said the Penang-born rider of his sixth winner this year.
"This time, we planned to sit behind the leader, but I was a bit surprised that he jumped so well.
"He was so fast out, and I saw that no one wants to lead, so we went in front.
"I made sure he travelled well and in the straight, I gave him a nice squeeze and he did the job.
"Compared to his last start, his run this time is better, and I feel that he's stronger.
"He can lead and come from behind, which shows that he is versatile, so there's more to look forward to."
Charminton cost NZ$65,000 as a yearling and earned A$9,340 with two placings from four starts in Australia previously. With that first win and a second in Singapore, Charminton has earned more than $50,000 for his connections.