3 minute read
Trainer Tim Fitzsimmons called and two top Australian jockeys, Vlad Duric and Daniel Moor, confirmed their rides on Relentless and Hero respectively in the $150,000 Group 2 Stewards' Cup (1600m) on Sunday.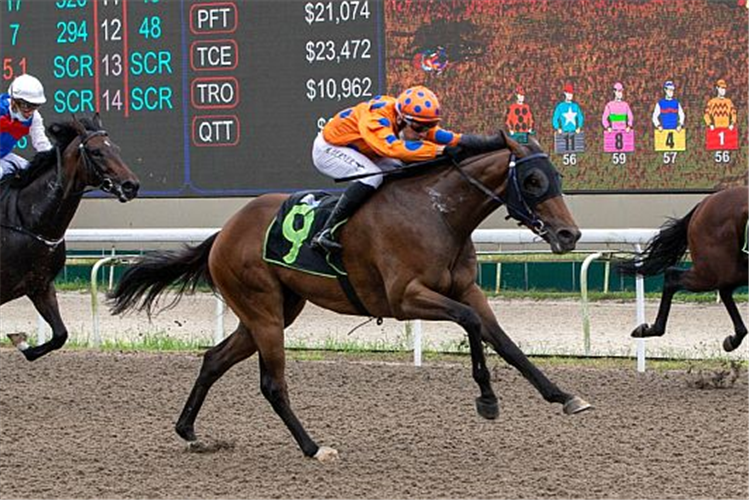 The two Australian hoops are no strangers to Kranji with Duric dominating with four straight jockey championships from 2017 to 2020 and Moor riding over 40 winners at his stints, predominantly in 2018 and 2019.
Duric jumped at the chance to head back to Singapore when granted a short-term licence (June 22 to July 17), a place he and his family had called home for about 10 years when riding at Kranji circa 2009 to 2021.
"Firstly, I want to thank the Singapore Turf Club for the opportunity to ride again in Singapore for the next four meetings," said Duric, fresh from his first day back at the barrier trials on Thursday morning.
"I left Singapore last year because of some complications with kidney stones – a bad reaction to the medication - and I had put on a lot of weight.
"I stopped riding and had to slowly get myself back into shape back in Melbourne, which took time given I had to give my body a rest and got up to 70kgs, but I'm back to a good weight now.
"It's very nice to come back to Singapore fit and healthy, see familiar faces and catch up with friends – the hot weather is great too - and hopefully I can ride a few winners."
Given Duric's remarkable record in Singapore – multiple Group wins along with his four Champion jockey trophies – you would think he could ride more than his share of winners and that the likeable Australian could get off to a flyer on Sunday.
"(Trainer) Stephen (Gray) has put me on a couple of nice maidens," continued Duric.
"I watched Prioritize (running in the $75,000 Siam Blue Vanda 2020 Stakes, a Restricted Maiden race over 1200m) trial and he looked a nice 'scopey' type, so he should run well.
"Commodore (running in the $20,000 Alibi 2017 Stakes, a Maiden race over 1200m) has some weight (59kg) to carry, but he has the form."
Duric also has two rides for Fitzsimmons – All His Glory in the $50,000 Elite Invincible 2018 Stakes, a Class 4 race over 1600m - as well as Relentless in the Stewards' Cup. He suggested that he could have a say late in the feature race if things work out.
"From the draw (barrier no. 10), I think a patient ride is needed and if the race is run to suit, I think he will hit the line strongly," he said.
"Tim has him peaking at the right time and looking forward, the (Group 1 Singapore) Derby distance (1800m) would be even better."
Duric knows what it takes to win the Derby – he won the 2020 edition (then run over 2000m) on Top Knight – but commented that there was one Group 1 race in Singapore that has alluded him.
"I was lucky enough to win most of the big races here but I've never won the (Group 1 Singapore) Gold Cup and I would love to tick that off at some stage.
"I have placed in it a few times and who knows, I might get another chance."
Moor – while not nearing the dizzy heights of Duric in Singapore – has blossomed since for the experience with a coveted stint in Hong Kong and four Group 1 wins – including his first in Australia on Sierra Sue in the Sir Rupert Clarke Stakes for ex-Singapore trainer, Trent Busuttin and his partner, Natalie Young, added to his growing resume.
"Singapore is our second home, so it' s great to be asked back," said Moor, from his car on his way to Moe (a town in Country Victoria) for rides on Thursday.
"I learned so much as a rider the last time I was here – you have to make every ride count – and I definitely grew up as a person.
"It's a cliché, but I came back a better rider."
Indeed he did with Moor – who rides for some loyal owners in Ozzie Kheir, John O'Neill and Brae Sokolski, to name a few – not only winning multiple Group 1 wins in a breakout season in Melbourne, but also getting the call-up to ride against the world's best in Hong Kong in 2022.
"Hong Kong was an ambition and I'm really proud to be asked to ride there," continued Moor.
"I'm glad I got the opportunity but it was just unfortunate I went at the time I did given Covid-19 restrictions.
"It was very hard on the family (wife Lauren, 12-year-old son Jack and seven-year-old daughter Penelope) who stayed back in Australia and with the quarantine both in Hong Kong and Australia, it was just too tough.
"But it's a feather in my cap and if they ask me back at any stage in the future, I would go again."
And what of this current one-day stint in Singapore?
"(Trainer) Tim and (owner) Peter (Lee) reached out – both good friends - so I jumped at the chance," he said.
"I did consider staying for the month but I have some commitments with some late two-year-olds in Australia and family responsibilities (including junior football for son Jack at "The Pit").
"But it's a good freshen-up for me – a few days away from the cold of Melbourne - and I can't wait to get back to Ga Hock Seafood (favourite hawker stall) and I can already taste the long neck Tiger (beer)."
Of his three rides on Sunday, Moor thinks both Fast And Fearless ($30,000 Mr Malek 2021 Stakes, a Class 5 race over 1100m) and Miracle ($30,000 What's New 2019 Stakes, a Class 5 race over 1200m) have found the right races and Hero is a bolter's hope in the Stewards' Cup.
"The thing I like about Hero is that he has some progression about him," said Moor.
"Obviously the favourite (Lim's Kosciuszko) has the runs on the board but our boy is building towards winning a good race and he will get better again over longer with the Derby in mind."
Moor was full of praise for his good mate Fitzsimmons too.
"He's flying – I speak to Timmy almost every day and what he has done in just a couple of years of training – mostly off his own bat – is remarkable," he said.
Friendship aside, Fitzsimmons knows that chasing good jockeys is an important cog in the winning formula and the next month has worked out very well for the leading trainer.
"Daniel is a good friend of the owner from Buffalo Stable and a good friend of mine, so we had him earmarked to ride Hero in the Stewards' Cup a long way out," said the Australian handler.
"Lucky enough to get the call from Vlad - who said he was heading up for a month and expressed interest - so it worked out beautifully as he's ridden Relentless before and won on him. He also knows him really well and has a good association with Arexevan racing."
'Disco' Dave Dawson, manager of Arexevan-Relentless Stable, was more than happy that Duric was on board Relentless.
"Great to have Vlad riding for us again," said the Australian expatriate.
"He has won on Relentless and was winning for us on Hint more than 10 years ago and along with (Joao) Moreira (now in Hong Kong) and (Manoel) Nunes, these three have dominated in Singapore over the last decade.
"There's no stronger rider than Vlad."