3 minute read
It was smiles all round for the China Horse Club and trainer James Peters when one of the stable favourites - Grand Koonta - got back into the winner's circle after a long drought.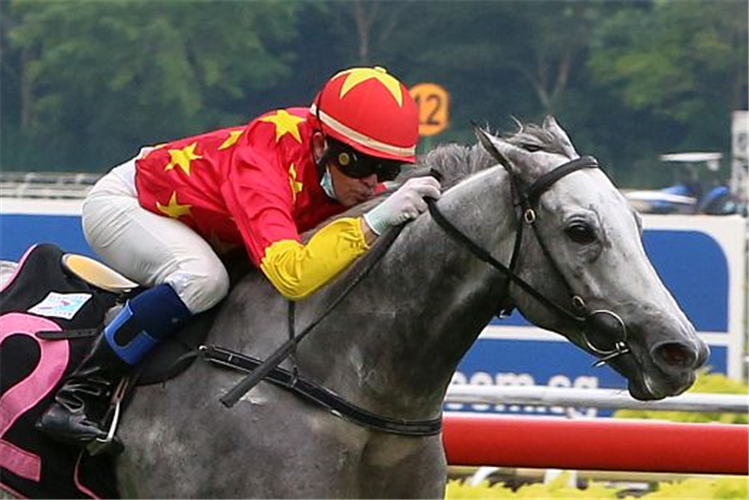 The flashy grey – who won the $100,000 War Affair 2014 Stakes, a Kranji Stakes A race over 1200m by a shade under three lengths - last saluted in a similar affair back in January 2021. While he was placed in the Group 1 Lion City Cup last year, it had been a frustrating run of outs for connections.
"It's all about race options for this horse," Peters explained.
"I don't try him anymore on the Poly(track) or over 1400m, we save him for (the) turf (over) 1200m and (even) if that means we have to spell him, so be it."
Peters was full of praise for the leading hoop, Manoel Nunes, who rode the perfect race on the Irish-bred seven-year-old.
"He's the top jockey around here," continued the happy trainer.
"It turned out perfectly. Makkem Lad bounced and put some pace on, we had the perfect draw and Manoel judged it to perfection.
"The horse has a real good turn of foot but if you start your run too far out, he'll tire, so he sat there perfect, timed his run and won really well."
Nunes was also quick to praise the trainer.
"All the credit to James. He brought this horse to the races very well today and he won quite comfortably," said the Brazilian hoop.
"The gate made all the difference but he was travelling very well and I relaxed him on the Long Course as he has a short dash."
And could he have another serious crack at the Lion City Cup (1200m) in August?
"Definitely," Nunes told the racing presenter, Scott Bailey.
"He came up very well, he's a bit old but he's in very good form."
Elsewhere on the card, it was an early double for two trainers with Tim Fitzsimmons and David Kok leading in two winners apiece by race six on the bumper 12-race meeting.
Fitzsimmons – who sits on top of the trainers' premiership with 28 winners for the season – opened his account in the opener when Fireworks ($29) won in the $30,000 Minister 2021 Stakes, a Class 5 Division 1 race with jockey Jake Bayliss onboard.
Relentless ($8) gave the stable the perfect start to the day by winning race two – the $50,000 Aramaayo 2020 Stakes, a Class 4 race over 1600m - and the young Australian trainer thinks that there is a bright future for the Australian-bred four-year-old.
"Great that he got the breaks today as he had no luck at his last two starts and he had really trained on since his last run," said Fitzsimmons.
"He'll head to the (Group 2) Stewards Cup (1600m) and then off to the (Group 1 Singapore) Derby (1800m)."
Owners from the Turf Bloodstock Sabah Stable and jockey Oscar Chavez joined David Kok for his double, when the trio combined for Leggenda ($43) in race 3 and Win Win ($57) in race 6.
Leggenda won by one length in the $30,000 Southern Legend 2018 and 2019 Stakes, a Class 5 Division 2 race over 1400m, while Win Win won by half-a-length in the $50,000 Stepitup 2015 Stakes, a class 4 Division 1 race, making it an enjoyable day for all concerned.
"The jockey (Chavez) has done a very good job," said Kok after Win Win brought up the double.
"He knows these horses well, he works them every day and I'm very happy to win for the Sabah Turf Club today as all the committee members and the chairman came here."
Chavez agreed.
"Yes, I have to thank David for getting the job done on this horse," he said.
"It's a special day for him to have the owners here. That means a lot to him on a big day like this."
The in-form Donna Logan (Stenmark and Silent Is Gold ) and Ricardo Le Grange (Pennywise and Rocket Ryane ) had to wait a little longer on Saturday, but they also trained doubles.
In the jockey ranks, Bernardo Pinheiro made his quick visit to Singapore a profitable one with a double (Pennywise and Sky Eye), while Nunes did what he does on a very regular basis and brought up another treble with Amazing Breeze in the Lucky Last.