3 minute read
King Arthur's win was just the knockout blow talented apprentice jockey Hakim Kamaruddin needed to put the Singapore champion jockeys' title race to bed on Saturday.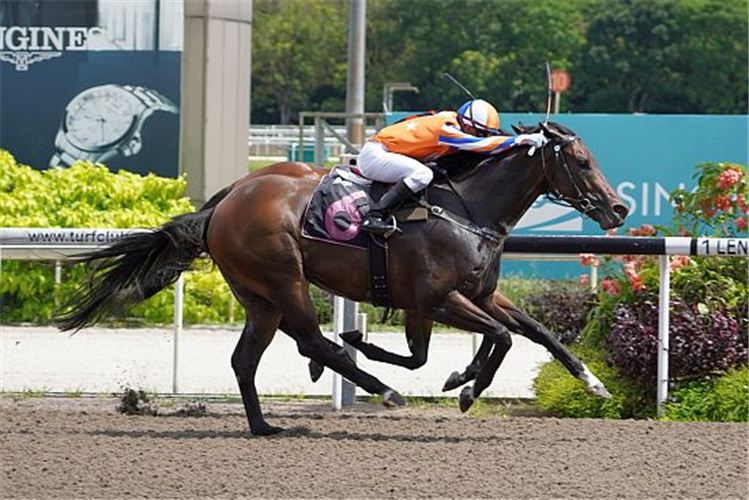 Not that the decider came off a cliffhanger. Only a Danny Beasley comeback of miraculous proportions could have denied him.
Already minted champion in the Singapore apprentice jockey ranks from a while back, the Malaysian 23-year-old was five winners clear of the Australian jockey in the senior log going into the ultimate 2021 meeting.
As slim as Beasley's chances were of catching his much younger rival, with a book of 10 rides, he could still mathematically reverse the final standings with a big haul of winners – at least six while hoping Hakim has a bad day at the office with a blank sheet.
But Hakim's sole challenger was the one who was having a muted day by Race 4, and when Hakim came along with a well-timed run on King Arthur ($21) in the $50,000 Spalato 2016 Stakes Class 4 Division 2 with six races remaining, the title was sealed, signed and delivered as race commentator Scott Bailey said, to become the first apprentice jockey to land both titles since Benny Woodworth in 1995.
Even in the unlikely event Beasley had won his next six rides, a tie on 58 winners would still hand the title to Hakim on a countback for seconds. It would not matter anyway as he went on to chalk up one more win on $45 shot Eagle Eye for trainer Donna Logan in the $50,000 Tuxedo Moon Class 4 race over 1400m four events later to take his final score to 59 winners while Beasley eventually returned home empty-handed.
Hakim's master Mark Walker, who himself clinched his fourth title even before saddling his first runner on Saturday being already beyond reach from last year's champion Michael Clements, was pleased as punch for the precocious lad.
"To win the senior and junior title at only his second year of riding, it goes to show how very talented Hakim is," said the Kiwi mentor.
"I've supported him from Day 1, just like for my other apprentice jockeys, whether it's now or in the past. I give them every opportunity, some make it, some don't.
"There is potentially so much more improvement to come out of Hakim. That's why I'm sending him to New Zealand where the opportunity to ride for Te Akau all around the country will be the making of him."
Hakim will definitely pack his two precious mementos in his bags when he flies to the Land of the Long White Cloud, but he will also have time to reflect on the few blemishes that soured the note.
The Kelantan-born rider won many races and won over many fans, but not quite officialdom. Other than the careless riding suspensions, he was rubbed out or fined on no less than five occasions this year for disciplinary breaches both on and off the track.
The latest offence Stewards took exception to was the horse head-hitting incident when he rode Motakhayyel in a race on November 14, a slip-up that cost him three months of suspension. Hakim was also the only apprentice jockey to be given a six-month licence for 2022.
But ability-wise, he could not be faulted for the vast majority of his rides since his licensing from scratch in 2020, as illustrated by his clockwork precision ride aboard King Arthur on Saturday.
Though caught three wide without cover, the I Am Invincible four-year-old was in the right place at the right time while the two joint leaders Renzo (A'Isisuhairi Kasim) and Unconquered (Koh Teck Huat) set a solid clip upfront.
At the 300m, Renzo shook Unconquered off but not Resolution (Louis-Philippe Beuzelin) who was ranging up down the middle of the straight, and King Arthur also putting it together on the outside.
Renzo was hanging on for dear life, but under Hakim's vigour, King Arthur lunged late to get the nod by a head from Renzo, with Seson (Oscar Chavez) denying Resolution of third place by half-a-length. The winning time was 1min 11.8secs for the 1200m on Polytrack.
The Fortuna NZ Racing Stable-owned galloper was notching up his second career win from 10 starts for prizemoney in excess of $75,000, bouncing back from his last-start defeat when he compounded badly after surprisingly leading a Novice event on 1200m, turf a fortnight ago.
"It was not the intention to lead at his last start, but he got worked up in the parade ring and overraced," said Walker. "He relaxed a bit better today and won a nice race.
"It's fantastic for John Galvin and his wife Jessica. I cannot thank them enough for their support."
The New Zealander head of the Fortuna NZ Racing Stable was bringing up his 19th winner this year for a close to a one-in-every-four-winners percentage in the Walker (66 winners) yard.
As usual, Galvin had an extra tidbit of information to share about his horses.
"When we bought King Arthur from Australia he was called 'Tintagel'," said the affable horse owner.
"I didn't like the name, but still looked up its meaning and it is the name of the castle where King Arthur lived – hence the name change!"