3 minute read
One man's loss is another man's gain.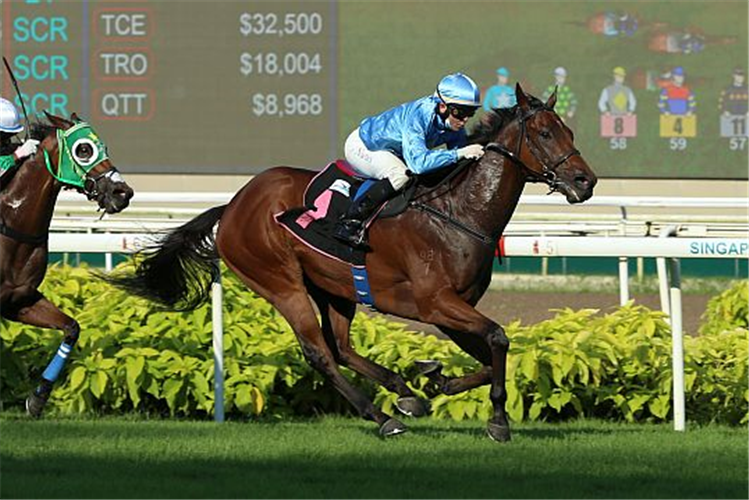 After it was revealed leading jockey Manoel Nunes would be off the scene for a while after he hurt his neck in a race fall from Alqantur in the Group 3 Singapore Three-Year-Old Sprint (1200m) on Saturday, many sent him their well wishes for a quick recovery.
But the question that was also on everybody's lips was who would replace him on Tiger Roar in this Sunday's $150,000 Group 2 Stewards' Cup (1600m).
The answer did not take too long to be revealed. It was fellow Brazilian jockey Bernardo Pinheiro.
The 26-year-old is no stranger to Kranji. He had three previous hit-and-run visits in Singapore, but only opened his account at his fourth last month when he booted home two winners (Pennywise and Sky Eye) and rode a third aboard Mr Malek in the Group 1 Kranji Mile (1600m) in three rides.
Pinheiro will now get a chance to showcase his ability further after he was granted a five-month licence at Kranji till the end of October.
After enjoying a break of three weeks, Pinheiro flew from Dubai to Singapore last Wednesday with wife Gabriela, and began riding trackwork two days later.
Little did he expect he was about to snare one of the leading chances in a Group 2 race at his very first week.
"It was a big surprise," said Pinheiro, who has been riding mainly in Dubai for the past five years and finished fourth on 24 winners in the United Arab Emirates Jockey's Premiership in the 2021/2022 season.
"Michael asked me if I was free to ride in the (Stewards') Cup on Sunday. Then he discussed with the owners and confirmed that I'll be riding for him on Monday morning.
"It's only then I knew the horse was Tiger Roar. I sort of knew it was (supposed to be) Nunes' ride, and even though I wasn't at the races on Saturday, I saw the video of the accident.
"I was very worried for Nunes because I have suffered from race falls before and I know how bad it can get. Even though I'm not close to him, I managed to get his number and we talked a bit on Sunday morning.
"I studied his (Tiger Roar) form. He has an amazing finish, so I hope for a good pace, and maybe we can follow the favourite, Lim's Kosciuzsko, in the race.
"Of course, I'll still wait for instructions from Michael on Sunday on how to ride the horse. I'm very excited, he should be one of the favourites."
With Clements away in Bali till Friday, his assistant-trainer, Michael White, was on hand at the barrier trials on Tuesday morning.
Last year's Singapore champion three-year-old was impressive at his first-up win under Nunes as his first-time partner in a Class 3 race over 1200m on June 4, but White still had two "main concerns".
With the son of Wandjina a winner of all his six races (1200m to 1800m) coming from behind, White is worried about the Short Course and trip.
"There are two main concerns, the primary one being the rail going in the Short Course 'A' position," he said.
"That favours frontrunners and horses running on the pace, but he is a horse that comes from the back.
"Also, he was first-up in the 1200m race from a long break (a fifth in a Kranji Stakes C race on August 22 last year) and then straight into the mile. It's not ideal, we would have preferred a 1400m for him.
"It's very tough for him to be running 1600m second-up and the track pattern on the day would certainly be against him, but he's in great shape and he's improved.
"His gallop on Monday morning was excellent. Nunes won on him at his last start and they trialled (sixth to fellow contender Lim's Kosciuszko last Thursday), so he is fantastic.
"We'll probably put Bernardo on the horse on Thursday or Friday for slow work.
"He could be one or two places closer as he has drawn closer in (three) and that can make all the difference in the end.
"Hopefully he can win, but in saying this, his focus and main target is still in the race (Group 1 Singapore Derby ran over 1800m on July 17) ahead of him.
"His main danger in the race is (Lim's) Kosciuszko who is going to be up in front. He (Lim's Kosciuszko) has the proven form at this level."
Should Tiger Roar win, he will hand Clements a fifth Stewards' Cup trophy after Fairy Tale (2004), Revolte (2008), Alibi (2017) and Siam Blue Vanda (2020).