3 minute read
More often than not, the racing prowess of a racehorse declines over time as age catches up with them, but to their human counterpart, age is but a number, as it is the case for newly-licensed trainer Mahadi Taib.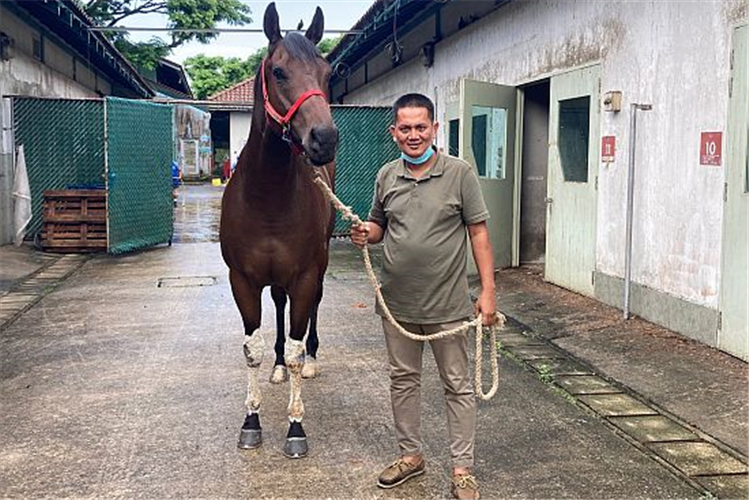 The 50-year-old Singaporean is the latest addition to the Kranji training ranks after he was granted stabling facilities by the Singapore Turf Club early this month. To be granted an 'A' grade trainer's licence at his age meant that he "beat" even trainer Leslie Khoo, the eldest trainer at 68 years of age, and who began training in his own right at the age of 48 in 2001.
Not exactly an achievement in itself, but like Khoo who brought up his first winner for the season with his 101th runner, Melody Fair, last Saturday, it was the "never-say-die" attitude that Mahadi has that kept him going since he started from scratch as a syce to ex-Bukit Timah trainer Buang Abu Bakar at the age of 17.
"My father, Taib Duri, used to be a syce with trainer Keith Daniel and the late Douglas Dragon (father of ex-Kranji trainer, Leticia Dragon) at Bukit Timah racecourse," said Mahadi who will be celebrating his 51st birthday in November this year.
"When I was 11 or 12 years old, my father would bring me to the horses' barn during school holidays and I would watch them, pat and play with them.
"Sometimes, I would stay at the quarters (provided accommodation for staff) with my father. After completing my NS (National Service), I told him that I liked horses and I want to work at the stables.
"I started as a syce with (ex-Kranji trainer Mohd) Yusof's father, Buang. He won the Singapore Gold Cup (with Freedom Fighter II in 1983) and he would share some advice on how to look at the conformation of a horse, and because I was interested, I started learning from there."
Mahadi lived and learned. His love for horses kept growing as he worked for Yusof after fulfilling his National Service duty, and also New Zealand trainer Paddy Busuttin at Bukit Timah.
Mahadi then joined trainer Michael Clements in 1998 where he gradually rose to the rank of a stable supervisor, before obtaining his assistant-trainer's licence in 2009. The steep learning curve would have been daunting to some, but a mentor like the Zimbawean-born handler has certainly helped pave the way to where he is now.
"I think Michael is one of the best trainers I know," said Mahadi, who has nine children and two grandsons with wife Melati Abdullah.
"I learned a lot from him and he's a big influence on me. Michael is a very nice trainer, he's very detailed, from the horses' feed to their training and to getting feedback from the track riders.
"He would bring me down to the tracks early morning and teach me about the right time to gallop a horse, say if there's a heavy rain the night before, the Polytrack would become harder, then maybe it's not suitable for horses to gallop on, so he would rather the horse gallop another day.
"There was one time in December during the (racing) break, Michael told me he was going overseas for three weeks. I was his assistant-trainer then and he gave me a "challenge", saying he wants to see that the horses look fit and are ready to run by the time he's back.
"It was the best time for me to put what I learned to work. They were repairing the tracks that time, so only Track 4 was opened. I needed to maintain the horses' fitness, so I kept running down to the feed room every day to adjust their feeds to make sure the horses don't get too fat!
"There were around 60 horses then and there's only me and one stable supervisor.
"But when Michael came back, he said that all horses looked good and he was very happy. I was very happy to hear that. The fact that he put his horses in my care showed that he trusted me."
Besides Clements, Mahadi has been a right-hand man to five other trainers, namely Theo Kieser, Young Keah Yong, David Hill, John O'Hara and Jason Lim over the past 13 years.
He has accumulated a wealth of knowledge and experience under his belt, gone from strength to strength. Words of affirmation from the trainers made him consider about training in his own capacity.
"I joined KY Young for a year after working for Kieser for eight years, that's when I started to think about becoming a trainer myself," revealed Mahadi, who stays in Woodlands.
"KY encouraged me, but I thought I still needed to learn more, so I tried to build my connection with owners from there. I count myself lucky to be able to find some supporters.
"I only applied during my two years with John. He said I did a good job from the way I managed his horses. Of those, many were going through 'wear and tear', but yet they still won races.
"He said it's time for me to go, that it's 'trial and error' for everything and that you never know if you never try.
"Every trainer has their own perspective on horses, but ultimately they are aiming for the 'gold', they want to win races.
"They all taught me a lot. To me, they have their own styles of training but are successful in their own ways."
Mahadi has stepped up to the plate every time he was tasked to run the show in the stables while the boss is away, and he is now ready to take on the biggest challenge in his career.
As he waits patiently for his current string of 23 horses, mostly transferred over from Lim, to settle into his new stable by the end of the week, as well as three more new horses to join from overseas by July, he has already made plans for his debut.
He would saddle his first two runners, Jungle King (previously known as Try Mak Mak) and Qaraat at the Group 2 Stewards' Cup meeting next Saturday, albeit in a Class 5 race (1100m) on the Polytrack and another one in a similar grade, but over 1200m on the turf.
"(Jockeys) Ronnie Stewart will ride Jungle King and Tengku (Rehaizat) will ride Qaraat," said Mahadi.
"I have (jockeys) Saifudin (Ismail) and Tengku riding trackwork for me, and also senior track rider, TR Barnabas. I knew him since I worked with Michael, he's a very hardworking boy.
"My owners are mostly Singaporeans. James Ng (Ching Ying from Yellow Stable) has six horses with me now, and he has two more new horses coming over from Australia in July.
"My family is very supportive and very happy for me when I got my licence and stable. Thank god I am able to work all the way up from a syce to a trainer.
"There are times it gets tough, but I love challenges.
"I have been around horses since I was young. Till today, some of the syces here are whom I grew up with. It's like a "kampung spirit" (closely-knitted community in local context). You don't get this same 'feeling' elsewhere.
"Racing is my passion, and although I'm only starting out now, I hope to win a big race someday too."