3 minute read
Nebrass confirmed the form of the Gr3 DStv Gold Vase when holding off a late challenge from a game Silver Host with Out Of Your League in third ahead of Before Noon in fourth to win the R600,000, Grade 3 Marshalls World Of Sports Gold Cup (3200m), South Africa's feature staying race, at Hollywodbets Greyville on Saturday.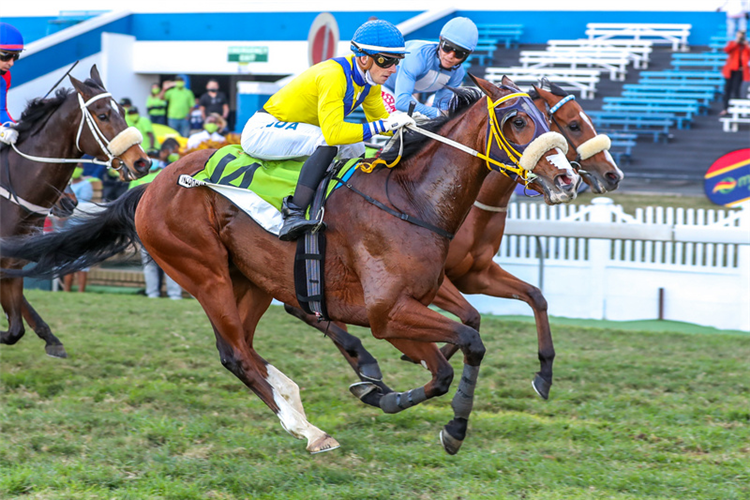 Champion jockey Lyle Hewitson rode a faultless race, aiming for the apex of the first bend and slotting in nicely two off the pace. Well placed Nebraas , travelled a little hard from there on as last year's winner Paths Of Victory tried for a repeat, but once turned lose at the top of the straight, Nebraas went clear of the chasing pack. Silver Host was one from last turning for home and took a bump crossing the subway but had turned on the afterburners. He only went down by a neck, the 5.5kg swing in the weights possibly the difference between the two.
"It's amazing how racing can be," said Hewitson. "You saw my Group one winner when everything went wrong in the space of 100m and she got me out of the fire and got up on the line and then this race that went absolutely perfect and he won well."
"He's been asking for the ground for a while," confirmed trainer Sean Tarry who was saddling his second Gold Cup winner.
"But as you can see, he won't let the bit go so I just felt the whole time that he wasn't ready for it, wasn't ready for it and the more time I was giving him he was actually disappointing us.
"So, I had to take the bull by the horns and throw him in the deep end in the Vase and he swam remarkably well. We've always known that he was a staying type and we were pretty confident today," Tarry concluded.
Newly crowned Champion Trainer Justin Snaith, after a day of disappointments, had his fortunes turn as Jet Dark came alive under S'Manga Khumalo to win the $600,000, Grade 1 HKJK World Pool Champions Cup (1800m). Second was Catch Twentytwo with Do It Again running another game race in third after a coming together wit Got The Greenlight halfway up the home straight.
Jet Dark, after victory in the Gr1 L'Ormarins Queen's Plate beating Rainbow Bridge and Do It Again , disappointed in the Gr1 Hollywoodbets Gold Challenge, both Grade 1's, but Snaith admitted afterwards that Jet Dark probably needed the run in the Gold Challenge.
"This horse, he looks the part. You don't fluke the L'Ormarins Queen's Plate. It's not a race that you win by chance. You have to beat a lot of top, top horses and his first run back he just needed the outing. Had to gallop him at Scottsville and he jarred himself up. I was just so glad that we got him 100% for this race," he said.
The category of Equus Champion Sprinter was blown wide open as Pearl Of Asia caused a major boil over in the R500,000, Grade 1 Mercury Sprint (1200m) with hot favourite Rio Querari finishing a well beaten fourth. The minor placings going to Al Sakeet, MK's Pride and Ultra Magnus.
A win for Rio Querari would have cemented his place as Champion Sprinter but on a day of many upsets, it was not to be.
Bohica, Singforafa and Ultra Magnus set smart fractions up front with Al Sakeet and Pearl Of Asia seemingly out with the washing, second last and last.
The field spread across the track in the charge for home with Ultra Magnus and MK's Pride going hammer and tongs up the inside rail and Rio Querari making steady progress up the centre.
However, Serino Moodley must have felt like Moses facing the Red Sea as the field parted and he got a perfect passage through accompanied by Al Sakeet. The opposition was treading water over the final furlong as the pair scythed through to the line.
"This horse was working up a storm at home and I told Mr Hill that I would not be surprised if this horse popped up today," said Moodley.
Shannon Hill, standing in for his father confirmed, "He missed the break but the last 400 to finish he can really turn it on."
Pearl Of Asia was Moodley's first Grade 1 winner and was a tonic for trainer Robbie Hill who has been battling Covid for the past two weeks.
Hewitson leaves these shores next week to take up a contract in Japan and he can put the R400,000, Grade 1 Thekwini Stakes (1600m) on his CV after a cracking ride on hot favourite Rain In Holland. All appeared to be going smoothly until the top of the straight.
"I overcame the draw beautifully did no work," said Hewitson.
"She's such an easy ride, one off with no cover was no problem for her. Of course, I noticed that the pace was pretty slack but I didn't want to take it up and get chased by an inferior horse and waste petrol.
"So, I though just wait until the 700 and build up the revs. I tried to get her going at the top of the hill but unfortunately the pacemaker lugged off left and carried me a bit deep into the straight. My main danger slipped up the inside and a horse comes around me and puts me in a tight spot. In the space of 200 m everything's gone from smooth to terrible and only very smart horses can get you out of trouble from there," he said.
Tarry concurred. "The way the race panned out they went way too slow and she's a staying type filly and when everything quickened up, I knew she would be in trouble. But testament to her ability she pulled it out of the flames."
Rain In Holland snatched it on the line with Kaylene and Supreme Quest two short-heads back.
Good Traveller shrugged off a couple of hard luck races to run out a comfortable winner of the R400,000, Grade 1 Premier's Champion Stakes (1600m). Grant van Niekerk bounced him out of the gate and was quickly onto the fence. From there on it was plain sailing for Glen Kotzen's runner who finished well clear of rank outsider Honokalani who just got the better of William Robertson in a driving finish for the minor placings.
"Last time he was three wide from a tough draw," conceded Van Niekerk. "When he was in the entries, I told Mr Kotzen, I actually begged him. I said please run him I think he's a huge runner.
"I was in the perfect position and everything work in my favour from my 13 draw, one off and two back. I couldn't have asked for a better position. From there it was pretty simple and straight forward," concluded van Niekerk.