3 minute read
Cody Dorman, who was an inspirational supporter of Cody's Wish, has passed away.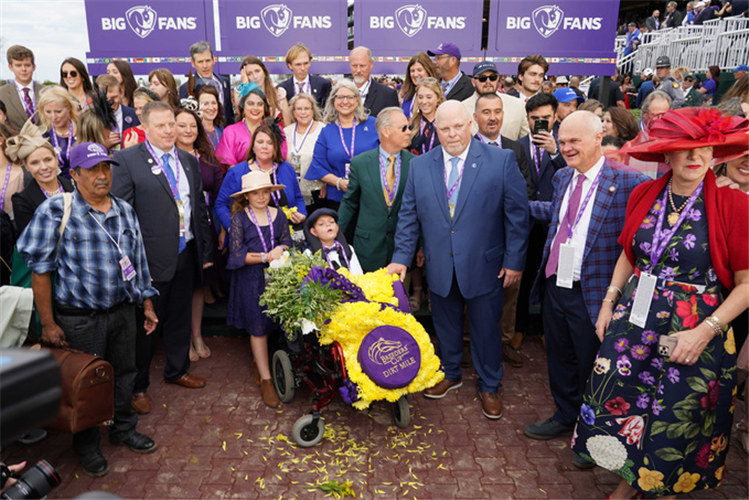 The eleven-time winner Cody's Wish was named after Cody Dorman, who suffers from a rare genetic disorder called Wolf-Hirschhorn syndrome, meaning he cannot speak and is wheelchair-bound.
Cody Dorman first met the bay colt in 2018 when he was a foal at Godolphin's Gainsborough Farm, through Keeneland's Make-a-Wish programme.
Cody's Wish walked up and placed his head on the young boy's lap, quickly forming a bond between the Godolphin team and the Dorman family.
Cody Dorman, 17, was present at Santa Anita on Saturday to watch his equine hero bravely defend his crown in the Breeders' Cup Dirt Mile but suffered a medical emergency on his way home to Kentucky.
A statement released to Godolphin by parents Kelly and Leslie Dorman, read: "We are heartbroken to share the news that our beloved Cody suffered a medical event on our trip home to Kentucky and he has passed away.
"On Saturday, Cody watched his best friend, Cody's Wish, display his usual perseverance and toughness in winning a second Breeders' Cup.
"Those are the same characteristics Cody has shown time and again for the 18 years we were blessed to have him.
"We have been completely amazed to experience the impact Cody has had on so many people, through the journey that this wondrous racehorse has taken us all on.
"From Churchill Downs to Keeneland, to Saratoga to Santa Anita this weekend, we could not move 20ft without someone stopping to tell us just that.
"With Cody's diagnosis at birth, we always knew this day would come, but we were determined to help Cody live his best life for however long we had him.
"Anyone who has seen him at the racetrack, especially around Cody's Wish, understands that in many ways he taught us all how to live, always keeping a positive attitude and being more concerned about those around him than himself.
"As people of faith, we are comforted in the knowledge that Cody has gone home. We pray that he watches over us all, especially Kylie, the best little sister in the world.
"We are sincerely grateful for all those who have shared this journey with Cody and our family. The joy that his interactions with Cody's Wish have brought him over the last five years is indescribable. We will rely on those memories to help us through an unimaginably difficult time."
The Breeders' Cup organisation paid their respects and, in a statement, added: "The entire Breeders' Cup team is devastated by the news of Cody Dorman's passing yesterday.
"His story captured our hearts and minds, and his strength, spirit, and determination were fittingly embodied by his namesake's commanding performances in his honour.
"We send our sincere condolences to the Dormans, who gave our sport so much by welcoming us into their family."