3 minute read
Paul Nicholls' Stage Star survived a final flight scare to land the Paddy Power Gold Cup at Cheltenham today.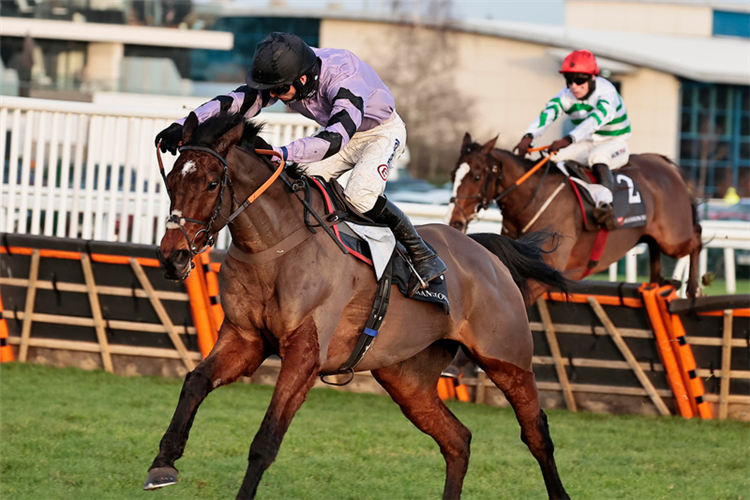 The Paul Nicholls-trained Stage Star won the Grade 1 Turners Novices' Chase at The Festival back in March and was always towards the head of affairs in the competitive handicap chase.
The son of Fame And Glory looked to have an unassailable lead but he blundered badly and nearly unshipped Harry Cobden from the saddle. However, Cobden quickly gathered the six-year-old and up and he continued to stay on strongly up the Cheltenham hill. Old Grade 1 Turners Novices' Chase rival Notlongtillmay once again chased the selection home, but he was four lengths adrift of the 9/2 favourite at the line, who was the first successful market leader in the two-and-a-half-mile Premier Handicap chase since Tranquil Sea in 2009.
Il Ridoto finished another eight lengths back in third.
Paul Nicholls said: "He has to go left-handed so there was no point going anywhere else with him and the Ryanair will be the aim now. He jumps left so he has to go that way and Harry said if he is in front turning in, he won't get beat. He gave that a brilliant ride. That was fantastic.
"He has definitely improved on last year's form. He has won off 155, and he has won a tad cosily, even with a mistake like that, and that puts him right in the mix for the Ryanair and that is what will be his target. If he didn't run before then I wouldn't lose any sleep over it.
"I'm not going to go right-handed with him, and that limits us a little bit where we go, but that is not a worry.
"You just like training big winners, and we all put a lot of work into it. Although we have had a plenty of winners, we have had plenty that have not run that well.
"Everyone keeps saying we are doing really well, but in my mind, we are a long way off where we want to be. The good ones keep winning and that is what counts.
"I thought that was the end of it then [when he hit the last] but he has picked up and stayed on well and that just shows what a good horse he is.
"I think it was a hot race, and he needed to take a step forward from last season, and he has obviously done that. He jumped brilliant baring a mistake at the last. It was just one of those things, and if he jumped that quick, he would have won more comfortably.
"He has been a bit of a challenge as he is a horse that you can't take away for a gallop. He has been at home and been nowhere and it is just getting enough fitness in him to be ready first time out today.
"You can't take him away as he would melt, and he is just one of them you don't need to take away.
"I just thought looking at him in the paddock if he ran as well as he looked then he was going to win. I'm thrilled with him and the whole team getting him ready for today. From the moment we came in we targeted this race. "