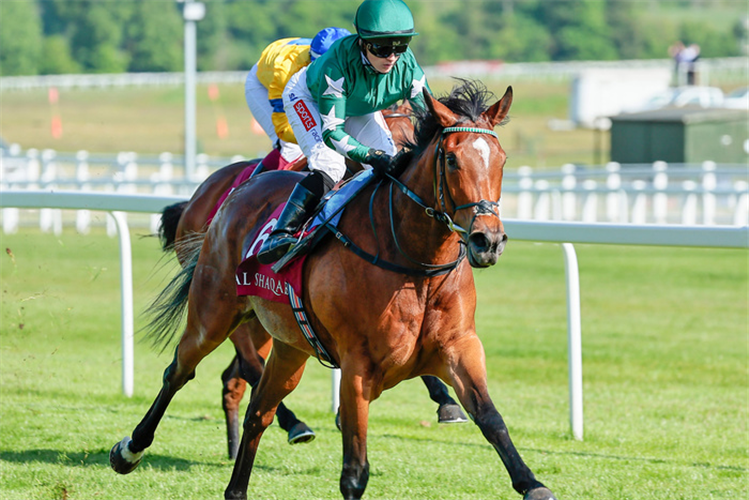 On board the Gosdens Nashwa who started favourite both girls did not put a foot or hoof wrong and held off challenges from Agave and then at the end from La Parisienne but they could not pass although it was close. Husband Tom Marquand said while he would have liked to have won he was just as delighted that Hollie could do it. John Gosden said after that the mantle was passing to the younger generation and that soon it will be Thady and Hollie who take the headlines. There was no mention of Dettori in that sentence.
Nashwa's owner Imad Al Sagar thinks that there is more to come and after a break she will stay in training.
La Parisienne is by Zarak and with another father & son training team, the Lerners, and was in the experienced hands of Gerald Mosse who gave the 22/1 sho.t and excellent chance. Rosacea ran well to take third ahead of Agave.
Earlier the Paul de Moussec had a great finish despite there being only 4 runners when the Aga Khan's Everan just got the better of favourite Tribalist in a head-bobber.
The Prix du Bois over 1200m went to the Fabre-Peslier team with Belbeck 10/1 with Lava 12/1 second and Havanna Angel third.
After the excitement of the Diane we had the Bertrand du Breuil where Dja Français 8/1 won from favourite Dilawar and Jeri 8/1 third. Our pick Goldistyle was 4th.
The Prix du Lys went to Simca Mille by Tamayuz on 3/1 from Virtual Rock 16/1 and then the more favoured runners followed – Martel, Master Gatsby and Garachico.