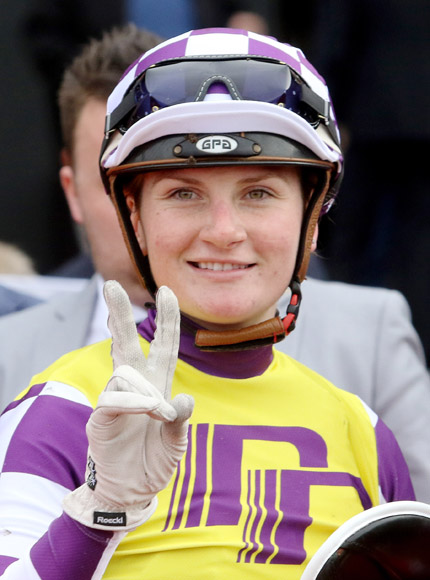 It's hardly news that Kah can ride. She won her first of three premierships in Adelaide as an apprentice back in 2012/13 and rode over 150 winners at 24% in 2017/18. And now Kah has established herself at the top of the tree in Victoria where she not only leads the Melbourne premiership but was the leading jockey over the Melbourne Spring Carnival in 2020. She brings quality as well as quantity.
This hasn't come without the appropriate fanfare but it feels like that fanfare falls short of doing Kah justice. Most winners 'for a female' or first premiership 'for a female' is noteworthy, but Kah hardly needs that caveat attached to her achievements.
That she is a good person, hard working and brave, may all be true but they are also true for many who are not as successful. Then there is the dreaded 'she's just a freak!' - uuggh, the absolute state of it...
No doubt this comes about because identifying jockey skill is very hard.
It has long been said that a jockey's most important skill is the ability to get on the back of fast horses. It would hardly matter if it was Zac Purton or me in the saddle if the horse in question was a 50-rater in a Cox Plate. It won't be winning. At the other end of the spectrum, Black Caviar, who was wonderfully handled by Luke Nolen, would still have been a megastar had her partner in crime been Jackie Tse.
Jockeys need good horses a whole lot more than horses need good jockeys. Jockey skill obviously exists, there is a heirarchy of jockeys, but seperating horse from rider is no easy task.
There are different ratings and systems that attempt to do so, and some probably do a reasonable job, but it seems to be something easier to intuit than quantify.
You, me and the punter down the street all know that James McDonald, Damien Oliver and Jamie Kah are better than the average rider but, given total winners is more about the horses than the riders, just how much better is hard to say. It requires the playing field to be levelled. We need a base expectation from which to compare realisation. If we had that we could answer the question much the same way that strokes-gained works in golf.
We can use the betting market to arrive at expected winners - and many sharp punters do - but a ratio of winners against expected winners tells us as much about the market as it does the jockey, as the jockey is factored into those expected winners. The difference isn't (all) skill, and it's noisy, but it is interesting info.
A quick look at this measure shows why punters cheer 'back Kah, head to the bar!" as she has given punters ~1.18 winners for every one they have asked from her. We would expect this to regress as the sample increases, and the marketplace catches up on the Kah-boom, but there is surely some skill in that 0.18.
This stacks up well with her nearest rival in the Melbourne premiership race, Damian Lane, who is riding ~1.23 winners for every expected winner and the legendary jockey Damien Oliver who (no doubt largely a victim of his own success) is returning 0.83 winners against expected winners this season.
Another imperfect but interesting number is the performance of the horses that she rides. Horses that Kah has jumped aboard this season have run on average 2.2lbs higher on the Timeform scale than the start prior under another rider.
Again, this number is impacted by variables beyond just jockey skill but across a range of jockeys it does map close to what most would expect.
The median or middle value is probably a better guide here as horses tend to go backwards in greater chunks than they improve. The sample is left-skewed and the median is a more 'typical' answer than the average. A look at this group also fits nicely with prior expectations.
The table below shows Kah going on has typically seen horses improve their Timeform rating by 3lbs run-to-run which again sits favourably with other prominent names that she could be fairly, even favourably, compared.
| | |
| --- | --- |
| Jamie Kah | +3lbs |
| William Pike | +3lbs |
| Damian Lane | +2lbs |
| James McDonald | +2lbs |
| Damien Oliver | +0lbs |
| Hugh Bowman | +0lbs |
Across a range of jockeys this scale is loosely +4/-4 with +4 being as good as there is (of those calculated Zac Purton in Hong Kong is the top dog at +4) and -4 being the not so hot.
So horses this season have typically improved 3lbs for the addition of Jamie Kah and in Australia no one is improving horses any more than that. This leads to the thinking that no jockey is going to make more of the right opportunities as no jockey is any more capable.
Jamie Kah's quest to win the Melbourne jockeys premiership isn't a tale of her overcoming the odds as the first female winner. It is a tale of her landing the odds as the most talented rider in the game.