3 minute read
Racing and Sports set the scene ahead of the opening day of Royal Ascot 2022.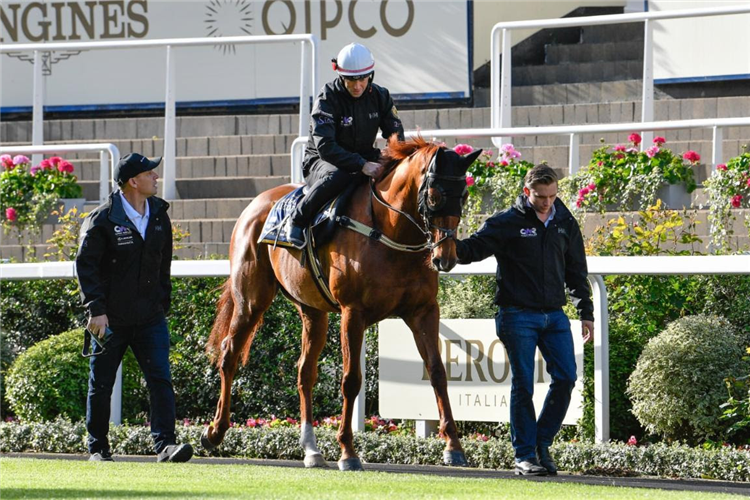 The Royal Meeting invariably starts on a high note; the Queen Anne that sets in motion five of the best racing days of the year so often home to top-class performers and performances – and 2022 looks no different.
Following the Royal Procession, we move on to the Baaeed Procession. Baaeed (as fun to say as he is fast) is unbeaten in in seven, his past three at Group One level, and Racing and Sports ratings make his last five ratings 124-128-126-128-130.
His biggest rival is just as solid (on turf… always run him on turf Saeed...) but Real World's ratings array highlights his (and the others) problem. 120-121-122-123-122.
Throw these two arrays into a Monte Carlo simulation and Real World comes out with a grand total of zero wins.
Of course, the future is not simply cherry-picked from the past, and things both could and should be a bit more complicated for Baaeed, but it does speak to the lopsided nature of the race.
As Timeform's David Johnson wisely observed on the platform for wise observations, Twitter dot com: "processions are dull, and visually, 130 horses beating 120 horses looks like an 80-horse beating a 70-rated one. Only thing you can really sell is genuine competition."
Punters want competition and that is exactly what they get in the King's Stand. Baaeed may be the horse of the opening day, but the King's Stand is the race of the day; the clash between the American Golden Pal and Australia's Nature Strip rich with layers that the Queen Anne lacks.
Let us peel back some of those layers, starting with who these two sprinting heavyweights are.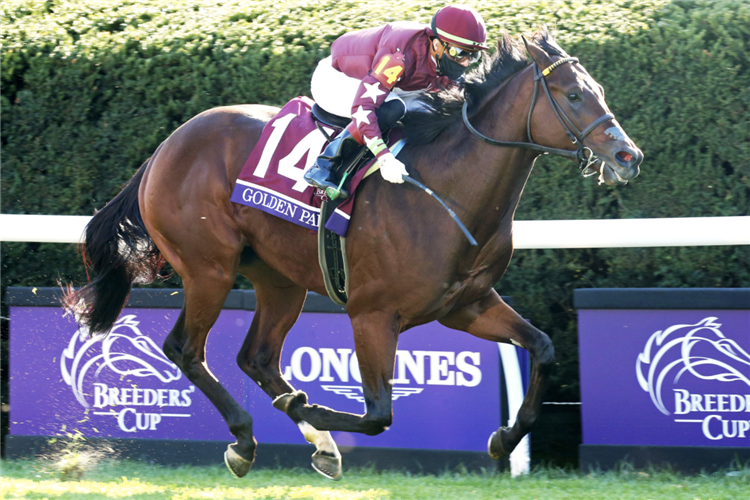 Golden Pal is not new to the British racing scene. He has been to the Old Dart twice; beaten in the Norfolk at the Royal Meeting in 2020 and again below his best when a mediocre midfield in the Nunthorpe at York last season.
It has been smooth sailing since, however, with three wins in as many starts; a Breeders Cup Sprint in November matched (in ratings terms) with his Shakertown win at Keeneland in April. Racing and Sports Ratings for those three runs read: 122-125-125.
Keeneland in April has precedent. Lady Aurelia and Wesley Ward (who trains Golden Pal) used Keeneland as a springboard to a King's Stand romp in 2017 – her 57.45 that day right alongside Miss Andretti's blistering 57.44 in 2007 at the top of the King's Stand times table.
Nature Strip is the best sprinter Australia has produced in the in the post BC era; the era following the salmon-silked goddess of Australian sprinting, Black Caviar.
None have been deified like her since but, in that span, we have seen flashes of brilliance from the likes of Yes Yes Yes, Flying Artie, Exceedance, Classique Legend, Bivouac and now Home Affairs; longevity from accumulators like Buffering, Redzel and Santa Ana Lane; and top-notch combinations of the two from Chautauqua and Lankan Rupee; but none were better angels than our Nature.
Nature Strip was rated 118+ after just four starts. 33 starts down the road and he is still reaching new highs; rated 130 after winning a third straight TJ Smith Stakes.
While this will be Nature Strip's first foray onto what is being called the 'world stage' the global standing of the TJ Smith (among other Australian sprints) is no less. As pointed out in the Timeform review of the 2022 TJ:
"No race in Australia has taken as much winning as the TJ Smith in the 14 years since Apache Cat ran to 126 to win in 2008. It has only been won with a lower rating on three occasions since. That was the first real 'Group One' performance in the race since Mahogany ran to 128 in the first first edition in 1997. The race changed in 2008 and globally no sprint race has taken as much winning in the years that have followed, by Racing and Sports' measure at least.
It is one of four true sprinting championships in Australia together with its spring cousin, the Everest, and Flemington's VRC Classic and Lightning. Nature Strip has won three of those four this season and was unlucky to lose the other."
The travel may be a new challenge, but the competition isn't - that challenge belongs to the other 17.
In 2003 Paul Perry and his Choisir cast the die and marched on the King's Stand. Legions of Australian sprinters have since followed him across the Rubicon. 18 of them have returned a median finishing position of fourth having gone across with a median rating of 122.
Nature Strip is not at the median, he belongs to a subset of now six who turned back on the motherland with a rating of 125 or better behind them.
It is no coincidence that that six are all Lightning Stakes winners. Australia's premier 1000m test is arguably (and I would argue it confidently) the premier short course contest in the world and the results of this group in the King's Stand speaks of its strength:
Choisir (sets sail rated 126) = First
Takeover Target (sets sail rated 125, 126, 127) = First, Fourth, Second
Miss Andretti (127) = First
Scenic Blast (127) = First
Nicconi (125) = Fourth
Not only is Nature Strip the best of these but he has run to 125 or better 10 times; and in four of his past five where his ratings read: 127-128-125-109-130.
That 109 catches the eye; good as he is, Nature Strip can miss.
This imperfection is part of what makes Nature Strip the character that he is.
The Japanese ideal of Wabi-Sabi is to appreciate flaws and to cherish age. Nature Strip is a horse to cherish for these qualities and we can all appreciate the added dare of travelling a seven-year-old gelding capable of missing big with little real upside beyond the sporting.
The modern world vasty over values reason and rationality and it should be applauded to see it thrown to the wind.
Golden Pal and Nature Strip are the world's two best sprinters. Their place here outlined we now move on to all matters tactical. The race promises to be something to behold.
Golden Pal will be partnered with Irad Ortiz Jr and Nature Strip with James McDonald. No jockey in America has had as big an impact in Group One races as Ortiz in modern times. In Australia, no jockey comes close to J-Mac for top level impact.
Their meeting on these terms is as significant as the clash of horses beneath them.
Here our heavyweight fighter's analogy comes in handy. This fight will be fought, like all good stories, in three parts.
Ortiz and Golden Pal will be looking to get their shots in the opening third – few (if any) have speed from a standing start to match Golden Pal - but Nature Strip and McDonald are no strangers to absorbing early pace; 10 bouts with Eduardo the perfect seasoning for this test.
The pressure will be on Nature Strip physically and McDonald mentally.
It has been well documented that the way to crack Nature Strip is to do it early. There might not be a horse in the world better equipped for this task than Golden Pal but there is no jockey better equipped than J-Mac to counter.
J-Mac (and all jockeys for that matter) would do well to listen to legendary basketball coach John Wooden: "Be quick, but don't hurry!"
He may be vulnerable to losing his flow in the first third, but Nature Strip is the ultimate counterpuncher.
If he can find his rhythm through the first third, then the second is where Nature Strip and J-Mac can turn the screw on Golden Pal and Ortiz.
While Golden Pal looks to fill his tank for the final stand Nature Strip and McDonald must make his lungs burn. It is here that Nature Strip wins his races. If Golden Pal hasn't left a mark early, he will need defences he is yet to show to repel the Aussie now.
The task in the final third is the same for both. Shots thrown and shots absorbed; now open the nostrils wide and reach down for more.
Bullies from the flat tracks of America and Australia have a great record up the Ascot incline but it still serves to chuck out the weak ones.
There are plenty of wives' tales and wisdoms around that stiff Ascot finish, but a simple comparison of times illustrates it well.
The Lightning and the King's Stand is a comparison fit for purpose, similarly won, often by similar winners, and pace is rarely anything but true.
It has been 15 years since Miss Andretti set a new record on a new Ascot in the King's Stand of 2007. Since - and including - that day the median time of the King's Stand has been 59 seconds.
In the same span, the median time of the flat five of the Lightning has been 56.94; a difference of just over two seconds.
Speed, as the ratio of distance over time, can be figured as (roughly anyway) 17.3 metres per second and therefore the King's Stand requires effort between 35 and 36 metres beyond the Lightning.
A stiffer test, absolutely, but Nature Strip's best ratings in recent times have come in races won in 70, 69, 69 and 72.3 seconds. He shouldn't be curling up at the end of 59.
Similarly, Golden Pal's Keeneland wins that sandwich his Breeders Cup success were over five-and-a-half furlongs and, with a run in, saw him exerting for 63 and 62 seconds.
Nature Strip and Golden Pal will have both absorbed and thrown plenty by this point, but both can and should get home, correctly handled by their world-class handlers. They will be vulnerable. Lesser horses will be out to snipe, but the heavyweights shouldn't falter.
And just think, there are still four more days to come.