3 minute read
The 2021 Melbourne Cup was won by Verry Elleegant, trained by Chris Waller and ridden by James McDonald.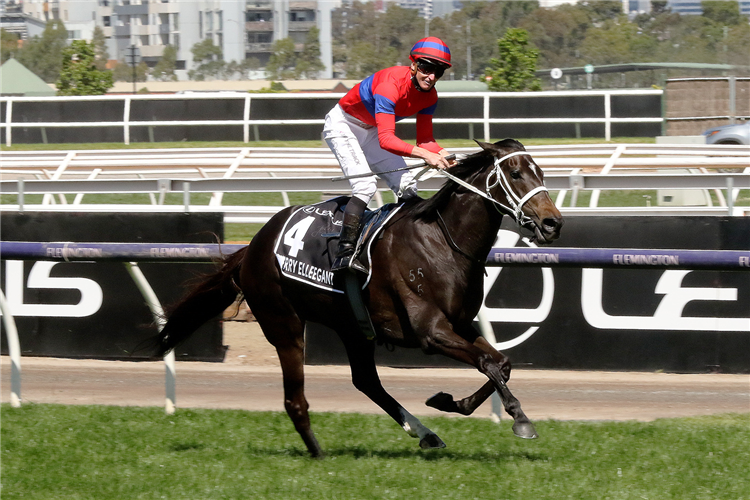 Verry Elleegant, reigning Australian Horse Of The Year and winner of now 10 G1 races, has bolted in with the 2021 Melbourne Cup.
The class told as all three placegetters carried 57kg as she beat the favourite Incentivise and Spanish Mission.
She gave Australia's leading trainer Chris Waller his first Melbourne Cup.
| | | | | | | | | |
| --- | --- | --- | --- | --- | --- | --- | --- | --- |
| Finish | No. | Horse | Trainer | Jockey | Margin | Bar. | Weight | SP |
| 1 | 4 | VERRY ELLEEGANT (NZ) | Chris Waller | James McDonald | | 18 | 57kg | $18 |
| 2 | 2 | INCENTIVISE | Peter G Moody | Brett Prebble | 4L | 15 | 57kg | $2.90F |
| 3 | 3 | SPANISH MISSION (USA) | Andrew Balding | Craig Williams | 4.4L | 14 | 57kg | $10 |
| 4 | 22 | FLOATING ARTIST (GB) | Ciaron Maher & David Eustace | Teodore Nugent (a) | 4.6L | 10 | 50kg | $11 |
| 5 | 6 | THE CHOSEN ONE (NZ) | Murray Baker & Andrew Forsman | Damian Lane | 10.6L | 5 | 54kg | $31 |
| 6 | 16 | GRAND PROMENADE (GB) | Ciaron Maher & David Eustace | Kerrin McEvoy | 12.6L | 20 | 52kg | $15 |
| 7 | 7 | DELPHI (IRE) | Anthony & Sam Freedman | Damien Oliver | 13.35L | 3 | 53.5kg | $19 |
| 8 | 9 | SELINO (GB) | Chris Waller | Ron Stewart | 13.45L | 23 | 53.5kg | $81 |
| 9 | 21 | TRALEE ROSE (NZ) | Symon Wilde | Dean Holland | 16.7L | 12 | 51kg | $21 |
| 10 | 19 | SHE'S IDEEL | Bjorn Baker | Craig Newitt | 17.2L | 19 | 52kg | $101 |
| 11 | 1 | TWILIGHT PAYMENT (IRE) | Joseph O'Brien | Jye McNeil | 19.45L | 2 | 58kg | $13 |
| 12 | 17 | MIAMI BOUND (NZ) | Danny O'Brien | Patrick Moloney | 21.45L | 16 | 52kg | $151 |
| 13 | 23 | GREAT HOUSE (IRE) | Chris Waller | Michael Dee | 21.85L | 7 | 50kg | $26 |
| 14 | 24 | SIR LUCAN (IRE) | Gai Waterhouse & Adrian Bott | Glen Boss | 21.95L | 17 | 51kg | $26 |
| 15 | 5 | EXPLOSIVE JACK (NZ) | Ciaron Maher & David Eustace | John Allen | 23.2L | 4 | 54kg | $51 |
| 16 | 14 | MASTER OF WINE (GER) | Michael, Wayne & John Hawkes | Fred Kersley | 24.2L | 6 | 52.5kg | $91 |
| 17 | 15 | PONDUS (GB) | Robert Hickmott | Ms Rachel King | 24.6L | 1 | 52.5kg | $21 |
| 18 | 13 | CARIF | Peter & Paul Snowden | Blaike McDougall | 25.35L | 8 | 52.5kg | $101 |
| 19 | 11 | KNIGHTS ORDER (IRE) | Gai Waterhouse & Adrian Bott | Daniel Stackhouse | 25.65L | 9 | 53kg | $101 |
| 20 | 12 | PERSAN | Ciaron Maher & David Eustace | Luke Currie | 28.9L | 11 | 53kg | $31 |
| 21 | 18 | PORT GUILLAUME (FR) | Ben & JD Hayes | Harry Coffey | 33.15L | 22 | 52kg | $101 |
| 22 | 10 | JOHNNY GET ANGRY (NZ) | Denis Pagan | Lachlan King (a) | 41.15L | 21 | 53kg | $91 |
| 23 | 8 | OCEAN BILLY (NZ) | Chris Waller | Damien Thornton | 53.15L | 13 | 53.5kg | $31 |