3 minute read
If anyone should know how difficult it can be to qualify a galloper for the Battle of the Bush Final, it is inaugural winning trainer Olivia Cairns.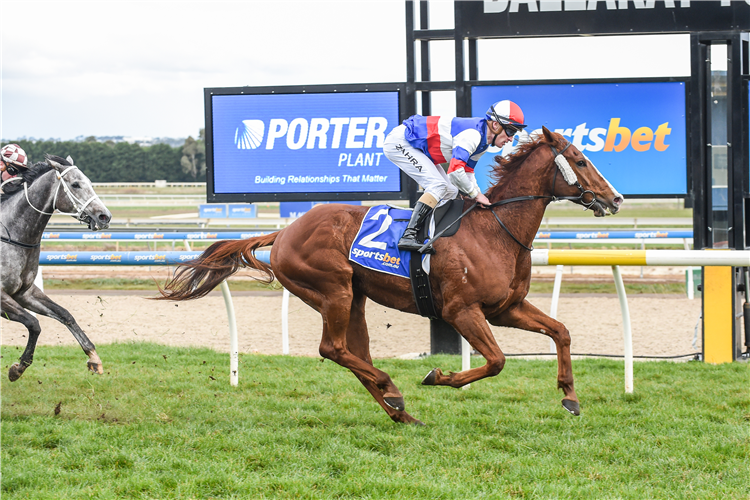 The experienced Mackay-based trainer has been a constant throughout the years of the popular concept, winning the first-ever running of the Final with Mason's Chance back in 2018.
While it was all smiles on Final day back in 2018, Mason's Chance needed to run in five different qualifiers that year before eventually booking his ticket to the big dance.
Around 12 months later they were back in the BOTB Final with Stellar Knight – who like Mason's Chance – was ridden by Justin Stanley.
Unfortunately, they could not make it back-to-back victories in the show-piece regional race, finishing almost seven lengths behind the winner.
The Cairns stable are back with another chance in 2022, the consistent Ammoudi Bay winning through to the decider through the Home Hill qualifier on Saturday afternoon.
There is every chance the barn may have a second runner come Final time, as well.
Ammoudi Bay's stable mate and inaugural champion Mason's Chance contested the Emerald qualifier on Saturday – where he ran fourth – with a number of other qualifiers suitable for him in the coming weeks.
"It is not an easy race to get into, people think it is just a case of winning a qualifier, it is not that at all," Cairns said about landing a galloper in the Final at Eagle Farm.
"You need to have the five country runs before going into a qualifier, it is tough to have five country starts and then win a qualifier, it is not easy and it takes time.
"You need to allow for a lot of things and this horse, Ammoudi Bay, was always going to be a good candidate for a series like this."
Ridden by Townsville's Scott Sheargold, Ammoudi Bay wore down Mishani Rebel in the closing stages of the Home Hill qualifier, scoring by half-a-length as the well-backed favourite.
Trips to South East Queensland are nothing new for the six-year-old chestnut gelding, running fifth in the Country Cups Challenge Final last year, before having two more spins around Eagle Farm in Benchmark races, where he ran well on both occasions.
Cairns – a former jockey – says the southern journey last year helped the son of Starcraft.
"We left him down there after his good Country Cups Challenge campaign last year and he spelled down there at Canungra," Cairns said.
"He has become a different horse."
Sheargold and Cairns combined to collect a winning double at Home Hill on Saturday and the hoop believes Ammoudi Bay will be more than competitive in the Final in late June.
"It did make it a lot easier how quick they went in a smaller field," Sheargold said on winning the heat.
"I did have a little chuckle to myself going past the three furlong marker, I just needed a run and I got it and he was too good.
"He is up to a field like he will meet in Brisbane."
In the other BOTB heat contested over the weekend, Emerald horseman Raymond Williams put his sprinter Ahwahneechee in the Final for the second straight year.
Ridden by legendary hoop Craig Williams, Ahwahneechee finished third in the 2021 decider.
He is in as great a form as he was last year right now after bolting in at the Emerald qualifier, blowing away the field by almost six lengths in a dominant display.
Heavyweight hoop Paul Hamblin piloted Ahwahneechee on Saturday.
Hamblin won the 2020 edition of the Country Stampede Final with Hard Stride.
Qualifiers for the BOTB Final will be run this coming weekend at Chinchilla, Cloncurry, Nanango and Quilpie.
The popular series comprises 16 qualifiers, culminating in a Final at Tattersall's Tiara Raceday at Eagle Farm on Saturday, June 25, 2022.
The Final will be raced for $200,000 in 2022.