Race Result:
1st: D'Aguilar (B Egan/P Payne) - $5
2nd: First Accused (L McNeil/S Brunton) - $5.50
3rd: Mr Exclusive (B Mertens/M Brown) - $18
Winning Time: 1:23.81 Last 600m: N/A
Margins: Half Neck x Short Neck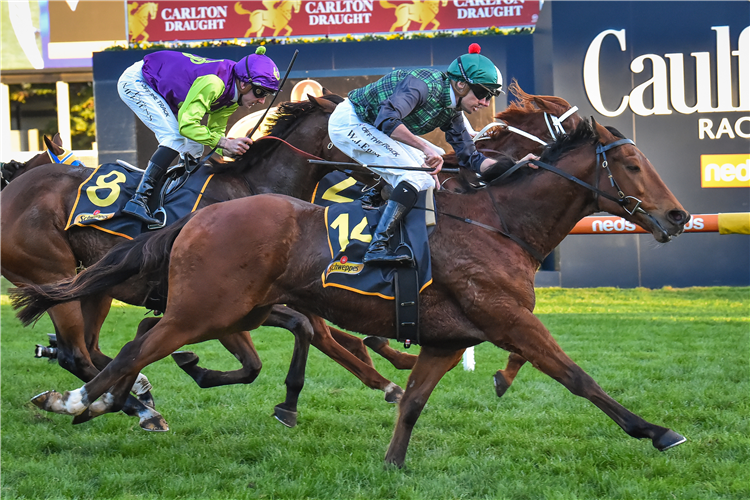 This horse does his best work first-up!

Big win from D'Aguilar to close the Caulfield program pic.twitter.com/Osxez1Oj56

— Racing.com (@Racing) May 28, 2022
Winning Trainer: Patrick Payne (no stable representative available for interview)
Winning Jockey: Billy Egan
Tactics: "I just had to ride him to suit him and how the race was unfolding."
The horse: "I think he's pretty talented and honestly don't know how far the ceiling is with him because he's only had a short career even with how old he is. With improvement you never know where he's going to go now."
Horse's soundness: "His last two preparations (there's been) no issues at all so all guns blazing now."

FP
Silk
Horse, Age & Sex
Sire & Dam
Jockey
Trainer
SP
WT

1st

14. D'AGUILAR (AUS) 6yo G


HIGH CHAPARRAL (IRE) - SPINA ROSA (AUS)

BILLY EGAN
PATRICK PAYNE
$5.00
57.5kg
Mrs D E McCauley & Farmhouse Holdings Pty Ltd (Mgr: P Payne)

2nd

2. FIRST ACCUSED (AUS) 4yo G


TURFFONTEIN (AUS) - KEEP ON TALKING (USA)

LOGAN MCNEIL
SCOTT BRUNTON
$5.50
57.5kg
A P Scanlon, A J Eaton, S B Sullivan, R A Field, Mrs L M Schwaiger, B E Schwaiger, J P Schwaiger, R J Burridge, E Scott, F D McCrossen, Mrs V J McCrossen, Mrs M A Notman, S P Brunton, R S Robinson, A L Colgrave, Hardway Equine (Mgr: P W Hexter) & Blow The Trumpet (Mgr: M Hornsey)

3rd

8. MR EXCLUSIVE (AUS) 6yo G


MAGNUS (AUS) - PURPLE BUTTERFLY (AUS)

BEAU MERTENS
MATTHEW BROWN
$17.00
58.5kg
Browns & Kirks (Mgr: S D Brown), Mrs E D'Abaco, B D'Abaco, A T Kritikides, Cranley Street Brothers (Mgr: A J H Hicks), Mrs L M Brown, B J Evans, Mrs N Edwards & A Edwards
4th
5. PAUL'S REGRET (AUS) 5yo M


CANFORD CLIFFS (IRE) - DENISON STAR (AUS)

JOSH RICHARDS
PETER CHOW
$13.00
57.5kg
5th
3. ZOIST (AUS) 4yo G


ZOUSTAR (AUS) - HOIST (AUS)

CELINE GAUDRAY
T & C MCEVOY
$13.00
57.0kg
6th
7. FALLS (NZ) 6yo G


NIAGARA (AUS) - WINDSORCLASS (NZ)

DAMIEN OLIVER
MICHAEL KENT
$26.00
58.5kg
7th
13. GOOD AND PROPER (AUS) 5yo M


SHOOTING TO WIN (AUS) - GRAND PROSPECT (AUS)

DAMIEN THORNTON
M J ELLERTON
$13.00
56.0kg
8th
4. MORRISSY (AUS) 6yo H


SNITZEL (AUS) - EXTENSION OF TIME (AUS)

JAMIE MOTT
SIMON RYAN
$41.00
59.5kg
9th
1. ADELAIDE ACE (NZ) 5yo G


SAVABEEL (AUS) - AMPIN (NZ)

ETHAN BROWN
LINDSEY SMITH
$21.00
60.5kg
10th
15. CAMBOURNE (AUS) 4yo G


REDOUTE'S CHOICE (AUS) - DYNA SLAM (USA)

ALANA KELLY
MICK PRICE & MICHAEL KENT JNR
$5.50
55.0kg
11th
10. KEATS (IRE) 5yo G


GALILEO (IRE) - AIRWAVE (GB)

LAURA LAFFERTY
MICHAEL MORONEY
$26.00
54.5kg
12th
12. MARITANA (AUS) 6yo G


KUROSHIO (AUS) - BESANT (AUS)

CARLEEN HEFEL
JULIEN WELSH
$16.00
55.5kg
13th
6. KHOEKHOE (AUS) 4yo G


TURFFONTEIN (AUS) - WALVIS BAY (NZ)

TATUM BULL
MATT CUMANI
$8.50
56.0kg