3 minute read
An extra furlong-and-a-half stands between Rough Habit-winner Dark Destroyer and success in this edition of the Queensland Derby.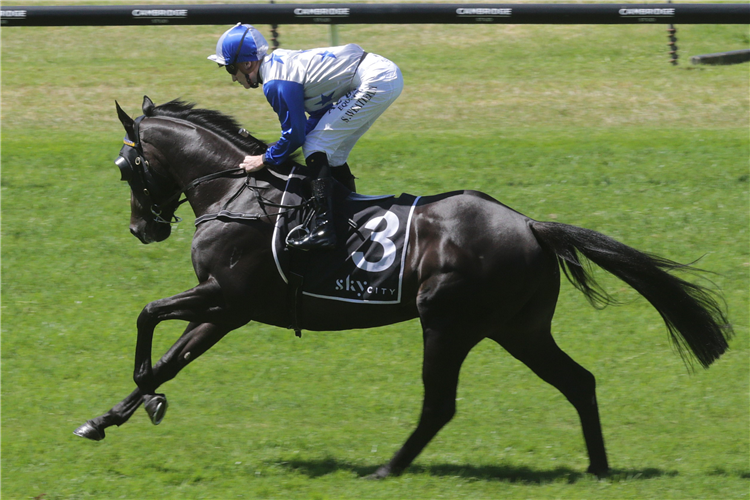 Dark Destroyer was on trial at the longer trip in the Rough Habit - run over 2143m this year having been switched from Doomben to Eagle Farm - and in a well-run race he saw the journey out strongly.
A rating of 108 sits on the high side of Rough Habit winners and it sits atop the ratings heading into Saturday's Derby where he is just one of six to have run beyond 100.
And in the case of Dark Destroyer that peak doesn't sit alone. It is backed up by a strong array of ratings around the same level.
So, with the form question largely answered, we look to the distance – perhaps Dark Destroyer's main hurdle on Saturday.
We can look to his pedigree in search of clues. His dam, All Can Party, doesn't offer us much; beaten in four maidens and barely competitive in any of them. Her siblings were most effective around a mile but, like All Can Party, they were rarely effective at all.
Dark Destroyer's sire Proisir gives is more to look at. He was a rated 121; a figure he produced at both a mile and 2000m in stirring duels with Dundeel, but he was very fast and, had we seen more of him, he may well have proven most effective at a mile.
His progeny have followed suit. A look at his top performers hints as much. The star sprinter Levante is joined by milers Riodini, Yonce and Belle Plaisir along with Dark Destroyer.
A ratio of winners and runners over different distance adds more gusto to the hypothesis.
25% of Proisir's progeny have won racing around the mile. That holds tough into middle distances with a winners to runners rate of 23% around 2000m. Once we press up beyond 2200m we see a drop. 14.8% winners to runners at staying trips.
If Dark Destroyer is soft late we can look to those behind him in the Rough Habit – headed by Paternal who seems sure to find himself well fancied having stayed on strongly into second there and doing so on the back of a similar performance in very testing conditions in the Frank Packer Plate at Randwick prior.
It is worth noting that Paternal's close was a steady, staying close and that he didn't produce flashy splits that made him look better than the winner on the day. The result was a fair one, but Paternal seems a sure stayer at the slightly longer trip and is the one best placed to take advantage if Dark Destroyer can't get home.
Menazzi and Southern Stock both ran well in the Rough Habit for the home team and seem sure to see out the longer trip; but they have form questions to answer as they sit a ways short of what has typically been required to get involved in a Queensland Derby.
And so the market reaches past them and back to New Zealand to find the other key chance, Pinarello, who comes via a Group Two win at Pukekohe last time.
That followed a fifth in the New Zealand Derby, which leaves little doubt around stamina on face value. A deeper look shows that the Derby in New Zealand was hardly a true test at the trip, slowly run and poorly won, and Pinarello's last start win also came in a very slowly run race. And over a plain maiden in second.
Questions to answer! Pinarello answers the former with his pedigree. By Tavistock and out of a Zabeel mare from a strong family.
The form question is a bigger query but perhaps that pedigree can be read to say that slowly run races have hidden what is potentially his greatest asset, strength and stamina.
A career best will surely be required but there is plenty of potential for just that and it could well be something to bet on.