3 minute read
A daughter of Zoustar topped this year's Magic Millions National Weanling Sale.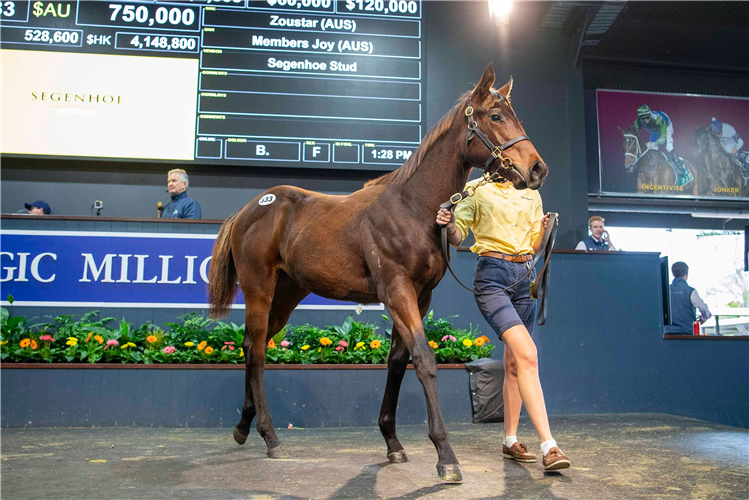 The equal highest-priced filly ever sold at Magic Millions National Weanling Sale headlined a bumper second day of selling at the 2022 edition, which concluded on Friday.
John Kelly's Cloverfield Bloodstock went to $750,000 for a daughter of Zoustar and Members Joy, which equalled the previous best price paid for a filly at the sale, which was for a daughter of Fastnet Rock and More Valour at the 2018 offering.
The Zoustar filly is a sister to the colt who sold for $350,000 at last year's National Sale and this year became a $550,000 Inglis Easter yearling and Kelly said the filly was a strong chance to be reoffered next year.
"She's a lovely filly out of a very good racemare who's a good broodmare by a champion stallion…they cost what they cost," Kelly said.
"She was a lovely mover and she had a great head. Just basically a very nice filly.
"She'll come back here next January maybe and we'll see how we go."
Three colts – two by Frankel and one by I Am Invincible – were the other half-million-dollar weanlings on Day 2, which helped boost the sale gross from $9,970,000 at the close of Day 1 to $22,127,500.
The sale average sat at $83,083 on Thursday night, which was up to $90,686 by Friday night, while the median rose from $52,000 to $55,000.
Last year's sale, which featured the unreserved Shadwell Stud dispersal sale, grossed $31,724,500 at an average of $105,048 with a $52,250 median.
"I thought today was a very, very strong day's trade and any lot of any quality sold well above the vendor's expectations," Magic Millions managing director Barry Bowditch said.
"It was incredibly strong, it was incredibly buoyant and I thought the vibe out there and the competitive nature in the market was fantastic to see.
"To end up with an average of well over $90,000 – if you take last year's sale out of the equation, which was something of a one off – it's well and above any average we've had at a weanling sale anywhere in Australia."
Trilogy Racing bought more lots than any other buyer, spending $924,000 across seven weanlings, while Justin Bahen's $1,485,000 spend across six lots was the highest gross.
The leading buyer on average for those who bought at least three lots was Silverdale Farm and Shrone Bloodstock, who combined for three lots at $300,000 apiece.
The sons of Frankel who were the sale's two highest-priced colts at $650,000 and $560,000 helped Coolmore be the leading vendor by gross ($2,070,000), while Telemon Thoroughbreds led the averages for those with at least three lots sold after selling lots for a total of $720,000.