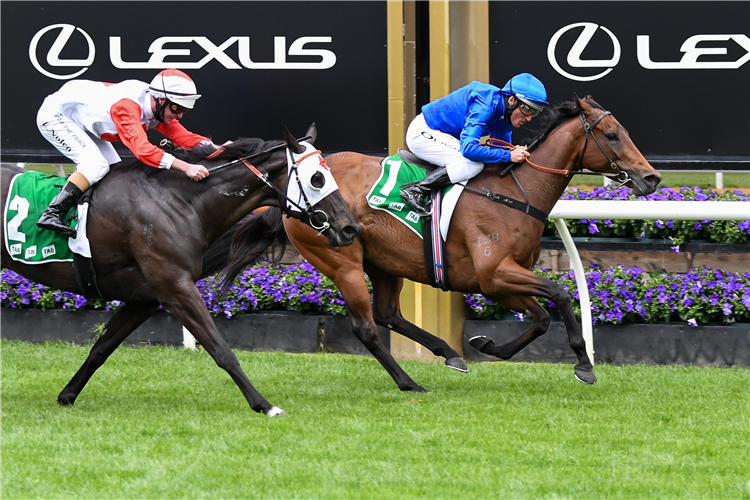 Settled back in the field behind a strong early tempo, Colette with Damien Oliver aboard stayed nearer to the inside on straightening and weaved through runners for a slender success over the fast closing Mystic Journey.
"That's just about the ride of the season for mine," winning trainer James Cummings said. "She's a proper racehorse, isn't she?"
"She had 'follow me over a mile' written all over her and a good track was no problem for her today and she weaved through them beautifully. (She) Let down like a serious Group 1 horse and I think she deserves all the accolades she gets."
The Hallowed Crown mare had produced improvement with each run this campaign and went into Saturday's Empire Rose Stakes off a last start success in the Group 2 Tristarc Stakes at Caulfield a fortnight earlier.
Originally on a Caulfield Cup path, the diversion away from the staying feature has reaped dividends with the potential of more to come this spring.
"She got herself back together when it didn't all work out for her after the Caulfield Cup and the guys had her in great shape a fortnight ago for the Tristarc," Cummings said.
"She's been an absolutely beautiful mare for the stable and she's well loved. We'll consider, it must be said, the seven day back-up in the Mackinnon.
"She's backed up once before in her like for a Group 1 in the Oaks and it would be able to see her in the form and the shape that we needed her to be. The rain forecast on Thursday wouldn't hurt.
"She's a horse that, I think, we're entitled to be very proud of."
Colette in winning the Empire Rose Stakes becomes the fourth horse to claim the Tristarc Stakes-Empire Rose Stakes double, following in the footsteps of Mingling Glances (1993), Typhoon Tracy (2009) and Red Tracer (2013).
Her victory gives rider Damien Oliver his fourth Empire Rose Stakes success, the most of any jockey.
"I missed this mare last time unfortunately but I rode her earlier in the campaign and she was heading towards the Caulfield Cup," Oliver said.
"She had a little set back and didn't quite get there but it was nice to get back on her.
"There is not much of her, but she has a tonne of heart and it was a great win.
"She was off the bit most of the way, she didn't really travel, but there was strong tempo in the race and she just kept finding the line.
"She got a beautiful run through and it is nice when you are on one that is going quicker than the gaps. I peered up when I straightened and I could see Tofane up there and I thought 'I know it's going to take me everywhere I want to go.'
"She got the split and she was great in the end."