3 minute read
Well-known Queensland media man Nathan Exelby is a constant at the track and has all the inside information as we head into another big weekend of racing in the Sunshine State.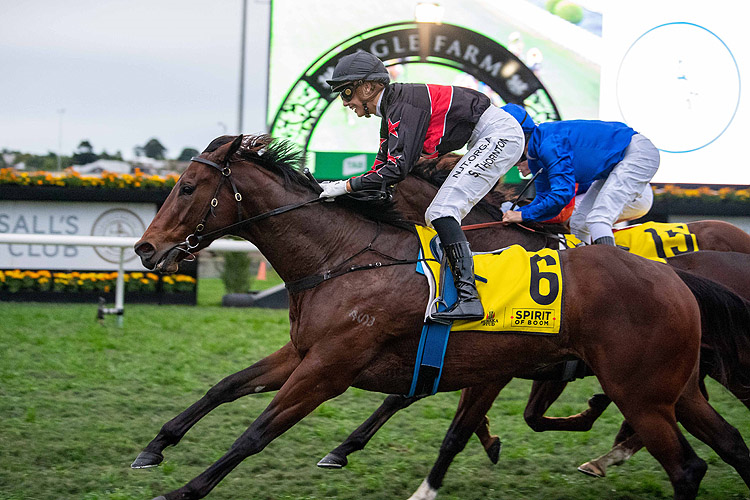 MILLIONS A FIRM FAVOURITE FOR PUNTERS
COOLANGATTA has dominated Magic Millions discussions ever since she ran away with the Gimcrack Stakes last October and now she's out to add to an enviable record for favourites in the $2m race on Saturday.
In 35 MM 2YO Classics run to date, favourites have won 16 times (45%) and often at good odds.
Backing every one at a flat stake is showing more than 40 per cent profit (when taking into account the odd instances of equal favourites).
The last two years have been blowouts for punters, with AWAY GAME ($41) and SHAQUERO ($13) from two of the country's biggest stables getting under the guards of market framers.
Some of the big names to win this race as favourite include SNIPPETS, BOLD PROMISE, CLAN O'SULLIVAN, GENERAL NEDIYM, TESTA ROSSA, ASSERTIVE LAD, EXCELLERATOR and SUNLIGHT.
CAPITALIST holds the distinction of being the shortest priced winner of them all, starting $1.40 when he won in 2016.
Bold Promise, General Nediym and Testa Rossa are the other winners of the race to have started at odds-on.
Now let's look at some of those hotpots that failed to live up to expectations on MM day.
The first was RED RANCHER back in 1989, falling into third behind Sunblazer after going to the post as a 7-4-on ($1.57) pop.
SNITZEL 'bettered' that mark when he managed just third to BRADBURY'S LUCK in 2005 as a $1.50 chance.
Others to start shorter than $3 and bite the dust include subsequent G1 winners HASNA ($2.25, 7th), SNOWLAND ($2.50, 10th), ST. COVET ($2.35, 2nd) and GOLD ACE ($2.25, 2nd).
Champion stallion NOT A SINGLE DOUBT started $2.40 when he was knocked over by DANCE HERO in 2004, while PAPRIKA was $2.30 when second in 2009.
AIM ($4.50, 8th) and SWIFT WITNESS ($3.50, 10th) are the two most recent horses to add their names to the beaten favourite file.
Which side of the coin will Coolangatta fall on this weekend?
Market framers are seemingly cooling on her at the moment, with the Maher-Eustace trained filly out to $1.95 with TAB after coming up with gate 13 on Tuesday.
RUSSIAN CONQUEST is holding her place as second pick at $7.
I've been torn as to which way I would go, but I've now come around to being in the Coolangatta corner.
I don't think she went as well at Doomben as she did at Randwick, but she was first up, softened up early and not suited by the wet surface according to her rider, yet still came away to win comfortably.
Ciaron Maher's comments after her work on Tuesday suggest the stable has her exactly where they want and that we are likely to see a better filly at the Gold Coast on Saturday.
On the Randwick rating, she's a clear winner of the race, so even if she lands somewhere between that debut and the Doomben run, she's a probable winner.
I think close to even money is a fair enough price to gamble on her and the way the market is trending, you might get better than that.
WILL FIRST-UP GAMBLE PAY MILLIONS
GIVEN Magic Millions is a 'grand final' day for most, few horses attempt to win one of the day's features without a lead-up run. Fewer are successful at it.
So Tony Gollan will count the Magic Millions Snippets' as perhaps his best training achievement to date should ISOTOPE land the prize first up in the $1m Sprint on Saturday.
The daughter of Deep Field goes into the race 273 days between runs.
Gollan had originally planned to go into the race first up, then had a change of heart and accepted for the Nudgee Stakes at Doomben on January 1.
But when the heavens opened and the track worsened to a Heavy 10, Gollan decided the best option for Isotope was to scratch, rather than risk her on such testing ground off the long break.
That means she now reverts to the original plan of trying to win the Snippets first up.
Isotope will be in rare company, but not on her own, if she can win first up at the Gold Coast.
Since 2012, there have been 35 horses go into the big features on this day (all races excluding the Maiden and 1800m event) without a run in the preceding 70 days. Three of them were successful.
There have been 23 attempt those same races off a 90 day break and only two won.
Even those with just 50 days or longer between runs have a poor record, with the stat being five from 45 attempts.
Darren Weir had a day out in 2016 when LUCKY HUSSLER (63 days) and MAHUTA (56 days) won at the 'Coast' coming off Melbourne spring campaigns.
But that's a little different to what Isotope is trying to do, having not raced since April.
EGYPTIAN SYMBOL won the F&M race for Bjorn Baker in 2019 off an 84 day break and in 2017, TESTASHADOW was able to land the prize for Gary Portelli and connections in the 1400m Cup off a 98 day break.
But the most notable first-up performance on MM Day in the past decade was TARGET IN SIGHT, who was able to win the Snippets in 2017 for trainer Joe Pride, having not raced for 217 days.
So there is a precedent for Isotope to be successful.
But can she give away recent race fitness to the likes of AWAY GAME, who is preparing to exact revenge on the 2020 Gold Edition Plate after a slashing first up run at Caulfield?
Other contenders this weekend that fall into the same boat include JAMAEA, who was scratched from the same race as Isotope on New Year's Day.
She hasn't had as long off as Isotope, but is now facing the prospect of going 1400m first up off 112 days, having only ever had one attempt at the trip.
DOES SHE HAVE THE GAME TO WIN AGAIN
AWAY Game is attempting to replicate the feat of DRIEFONTEIN, who won the 2YO Classic before coming back a couple of years later on this day to win the Fillies & Mares.
Adding to the similarities between the pair, Driefontein – like Away Game – had run third in the MM Guineas in between.
ELEVEN ELEVEN is another familiar name on Magic Millions day and he's seeking a three-peat when he runs in the 1400m Cup on Saturday.
The Greg Hickman-trained five-year-old was elevated to be winner of the MM Guineas two years ago after ALLIGATOR BLOOD's disqualification and then last year he fended off wildcard entry SOXAGON to win the Cup.
So, he's shooting to join INVINCIBELLA (F&M) as a three-time winner on MM Day.
Other competitors this weekend seeking multiple Magic Millions wins on this day include THE ODYSSEY and CHAPTER AND VERSE (QTIS), KRONE (F&M) and AIM (won the Guineas last year, now runs in the Cup).
DESLEIGH SOLID IN CHASE FOR CUP GLORY
THERE has been plenty of debate about the decision to run APACHE CHASE in the Cup over the QTIS, but it shouldn't have come as a surprise to anyone.
Desleigh Forster had been up front for some time that the Cup was the most likely option and after the Buffering, she all but dismissed a start in the QTIS (a race worth the same, but over the slightly shorter course of 1300m), with all energies concentrated on the Cup.
I must admit, I thought Forster would waver and opt for the QTIS after weighing up the respective merits of each field (even with 61kg in the QTIS vs 59kg in the Cup), but to her credit, she has been solid the whole time and didn't even bother with an acceptance in the QTIS race.
When the final acceptances were finally published around midday on Wednesday, the 21 gate in the Cup wouldn't have been the result connections would have been hoping for. He will come into 16 after scratchings, but his chances will come down to how hard Jim Byrne has to press in that first 600m to get across.
I gave him little hope of winning the Buffering after the rain arrived, so under the circumstances, I thought it was an outstanding effort to finish third behind KEMENTARI.
A probable firmer surface will be in his favour this time and he's sure to still give a big sight, even though he's taking on tougher rivals than would have greeted him in the QTIS.
To be frank, I am finding the Cup a near impossible assignment and have it marked around $10 the field.
WALLER ARMY ALWAYS HAVE A SAY
SINCE the Magic Millions turned into a $10m day in 2016, two trainers have been dominant forces.
Chris Waller has won eight races worth $1m or more, while Tony Gollan has won five.
Waller has trained a double in each of the last four years and had his biggest payday 12 months ago, when SHAQUERO won the $2m 2YO Classic to give the stable its first success in the race, with BLACK ON GOLD having won the Subzero earlier in the day.
Gollan has matched Waller in the past two years, with VEGA ONE (Cup) and OUTBACK BARBIE (QTIS) winning two years ago and then JONKER (Snippets) and KRONE (F&M) saluting last year.
Together, they have 18 acceptors for this year's MM showpiece.
Waller looks well placed to continue that run this year, having the market cornered in at least a couple of races on Saturday.
Sorting through the Waller contingent is never easy … go back to last week's TAB Wave and it was the second elect from the stable (at least in the mind of the marketplace) that secured the prize.
TAB Wave winner WHEELHOUSE now lines up against RELOADED and BIGBOYROY in the 1800m race.
BROOKSPIRE and KIKU give the stable a double shot at the F&M, while NUDGE, SAMBRO and OSCAR ZULU run in the Cup. BLONDEAU and TYCOONIST have tickets in the Snippets, while STARMAN is the only Waller runner in either of the big two events this weekend, facing the starter in the Guineas after demolishing lesser rivals on the Coast last week.
J-MAC WILL BE TOAST OF THE COAST
WITH respect to the jockeys since the prizemoney went skywards in 2016, it's a three-way tie.
Brenton Avdulla, Hugh Bowman and James McDonald all have three wins apiece.
Based on his book this weekend, McDonald looks well placed to edge ahead and continue what has been a remarkable first half of the 2021-22 season for him.
BEST BETS AT THE GOLD COAST
Devil's Throat - R1, $6.
Save Warmth $3.20.Outlandos - R3, $8.
Away Game - R5, $3.50.