3 minute read
Trainer and jockey quotes following Halvorsen winning the Standish Handicap at Flemington on Saturday.
Race Result:
1st: Halvorsen (Jamie Kah/Robbie Griffiths & Mathew de Kock) - $7.5
2nd: It'sourtime (Fred Kersley/Danny O'Brien) - $3.4
3rd: The Astrologist (Damien Oliver/Leon & Troy Corstens) - $5
Winning Time: 1:08.66 Last 600m: NA
Margins: Long-head x ¾-L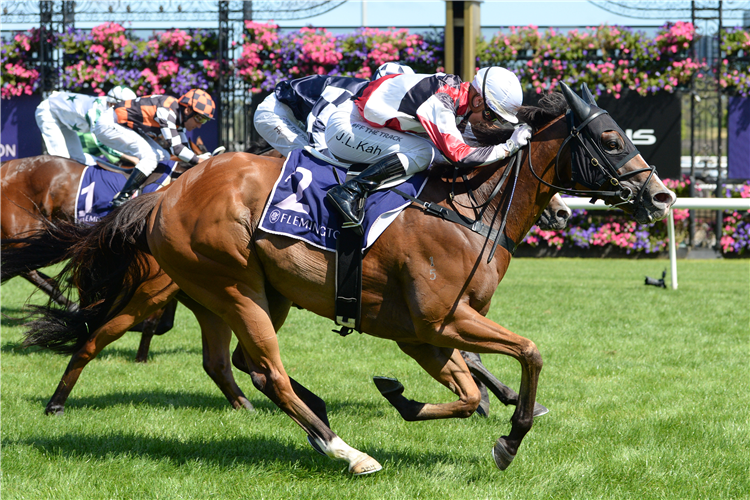 He's done it again!

Emulating the efforts of Super Impressive in '03 & '05, Halvorsen claims the Standish Handicap for the second time in three years.@GriffithsdeKock @jamieleekah07 @FlemingtonVRC pic.twitter.com/eeWfp5HPlU

— Racing.com (@Racing) January 15, 2022
Winning Trainer: Robbie Griffiths & Mathew de Kock (Reid Balfour speaking)
The horse: "He's been in the stable a long time now and he delivers every preparation and he's a great horse to have. He's going every bit as well (as when winning the race two years ago), he had that one preparation where he didn't come up. He ran in the Newmarket that year and he just didn't come up so we gave him a good long spell and we're seeing the results.
On to the Newmarket?: "I guess so, we'll see how he comes through today but probably map a path through to that race again, if he runs to this sort of form he'd be some sort of hope in it hopefully. The Oakleigh Plate is a possibility but he'd probably find it a bit tough against the weight-for-age horses in a Lightning Stakes.
Winning Jockey: Jamie Kah
On the win: "Robbie thought he was ready to peak today and he was, he gave me a beautiful ride. He's a tricky horse to ride, he said you just have to wait, wait and I really wanted to push the button but I had to wait a bit longer than I usually would but he had plenty left and he gave me a lovely ride.
I think he only has that short sprint, if you let him go too soon he doesn't find the line as well - it's difficult because you feel you've got so much underneath you I'm glad I waited and it was a good result in the end