3 minute read
Trainer and jockey quotes after the TAB Silver Bowl Series Final at Flemington on Saturday won by Arran Bay.
Race Result:
1st: Arran Bay (P Stokes/Z Spain) - $5.50
2nd: Cardinal Gem (G Begg/B Egan) - $2.35f
3rd: Literary Magnate (M Williams/D Holland) - $8.50
Winning Time: 1:37.78 Last 600m: NA
Margins: Long Head x 2-¾ Lengths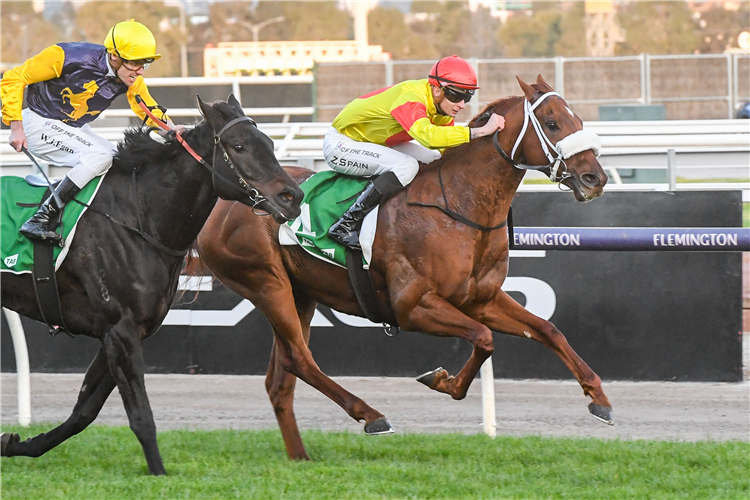 Arran Bay makes a statement!

He takes out the Silver Bowl Series Final for @pstokesracing. pic.twitter.com/XAwdPudqCo

— 7HorseRacing (@7horseracing) July 2, 2022
Winning Trainer: Phillip Stokes
On today's tactics: "We decided to go forward today. I was pleased for Zac, he got suspended on this horse two starts ago, but he knew what to expect today and that was good. I'm very happy for the owners, he's got a lot of talent this horse, but he's been doing a lot of things wrong so it's very pleasing to get the result today."
On his unlucky campaign: "A couple of times there he should have won and he hung then the other day we decided to try and get some cover and it just didn't pan out. The team have done a great job with him back at home, he's been on the back-up and he's come here and bounced and done a great job."
On his future: "He can only get better this horse. He's an All To Hard, he'll just keep improving, so we'll give him a break now and bring him back for the later part of the spring."
Winning Jockey: Zac Spain
On the importance of the win: "He's a bit of a tricky horse and I'm just rapt to get that win on the board with him because he's well overdue. He deserved that. Hé's a hard horse at home, he can be very tricky, and the team does a fantastic job with him. Phil, being the trainer that he is on the back-up - he's very smart - and it worked out very well today.
On Arran Bay's quirks: "He can just shy and pull and carry on a bit, he's just a big baby still. Even in his races, I thought he was going to go straight as anything today but it wasn't until that last 150m that he wanted to hang in, which I was wary of because he can do it pretty badly. Today I thought he was going to go straight and then just last minute he decided to duck in but once I pulled the stick through to the left he straightened up and he was strong all the way through to the line."
On Zac's immediate future: "I'm actually having a break, just for three weeks I'll go away. It was good to get that win on the board before I boot off and have a little freshen up and come back and be ready for the spring and hopefully find a couple of fast ones and ride Group winners in town."