3 minute read
Trainer and jockey quotes after the Lexus Banjo Paterson Series Final at Flemington on Saturday won by Monbaher.
Race Result:
1st: Monbaher (Matt Cumani/Brett Prebble) - $5
2nd: Mimi's Award (Ben & JD Hayes/Blaike McDougall) - $9
3rd: Horrifying (Mark & Levi Kavanagh/Bill Egan) - $5.50
Winning Time: 2:46.44 Last 600m: NA
Margins: Half-head x 1-½ Lengths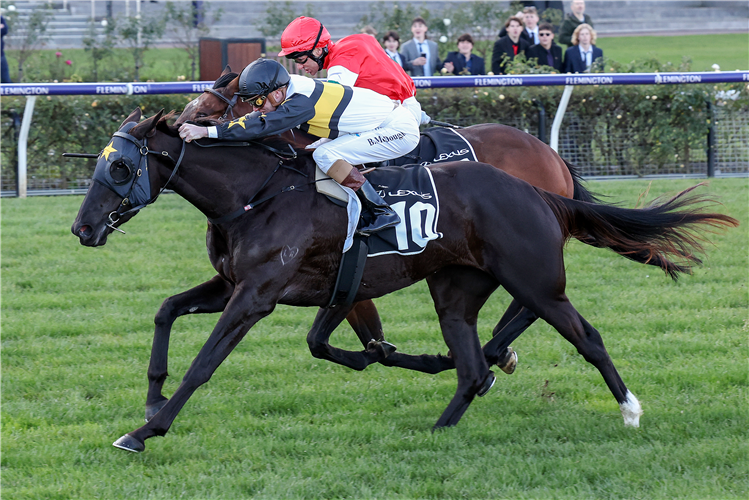 Mimi's Award gets the chocolates!

The Mare secures her first win in over a year for @lindsayparkrace pic.twitter.com/jJ3JrFzzcJ

— 7HorseRacing (@7horseracing) July 2, 2022
Winning Trainer: Matt Cumani
Not the way to win: "It's a shame to win them like that and to be honest I hadn't noticed watching it which means I need to get my glasses on. Watching the head-on, he did take him out off his line in the last 50 (metres). He did have to correct him a bit, pull him back out and then go.
"I'm delighted for the horse, delighted for the owner. He's been a fantastic horse so far and I think he could have won a coupl;e more actually if things had gone slightly differently. This race worked out quite well for him. They went a decent tempo. They did slow it up a little bit which was a bit stop and start which didn't suit him. He's a horse that likes as far as you can go, he likes heavy ground.
"I think he's one we might carry on with and maybe go to the Flemington Cup in a couple of weeks.
"I think the 2800 metres will be perfect."
Winning Jockey: Brett Prebble
Ön the horse and the run: "He's still a bit of a baby in the mind, the horse. I took a bit of a sit today and I got off the second horse's back and I got on the favourite's back and I thought, 'come on, take me into it', but he didn't take me into the straight.
"If I stayed on the back of Blaike (McDougall, rider of Mimi's Award) I probably win easily and it looks like a really nice win.
"I think he's a horse that's still learning his trade, he gets a longer distance and he gets deep ground so this time of year you could see him putting a few wins together."
On the protest: "I actually didn't feel it (interference) out there and the owner said to me, 'are you going to protest?' He didn't touch me really as such, but he just kept taking me off my course.
"We've got the luxury of having a look at the video before you put a protest in now and as soon as I seen it, it was a 50/50 chance so I thought why not. It was a justifiably decision that they made."