3 minute read
Barcaldine hoop Brooke Richardson has branded Echo Point the best galloper she has ridden in her time in the Central West.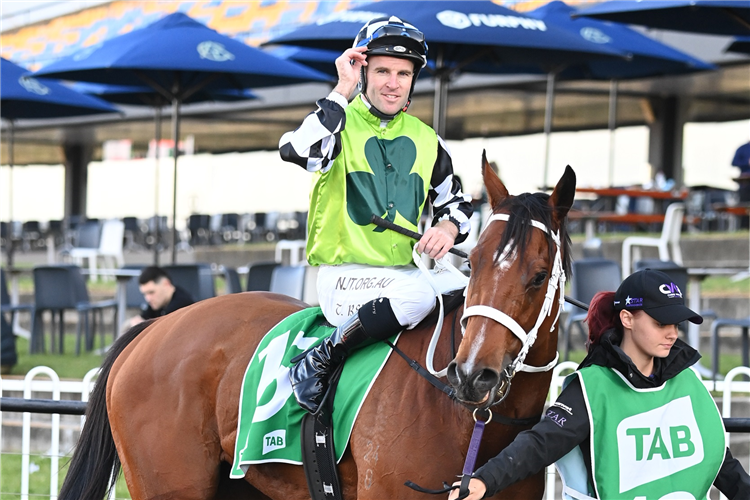 And, race caller Andrew Watts – who doubles as Longreach's president – reckons Todd Austin's gelding is the leading horse in the area at the moment.
"Echo Point went bang – this is the best in the bush, ladies and gentlemen," Watts proclaimed as Echo Point claimed Saturday's Outback Racing Showcase Final at McKinaly.
The former Gai Waterhouse and Adrian Bott-trained Sebring gelding has been on a winning spree since moving to the Sunshine State, claiming five of his seven starts, including the first Birdsville Cup of 2022 before adding the Outback Racing Showcase Final.
The annual Final is a popular series in the region, with a $30,000 purse on offer for the 1500 metre event under Open Quality Handicap conditions.
To be eligible to compete in the Final, a horse must have earned points in a minimum of one of the heats and a horse must have competed in a minimum of three races at country races in Queensland over the last year.
Echo Point qualified for the Final on his new home track of Barcaldine in late April before putting on a galloping lesson at McKinlay on Saturday, blowing them away by more than five lengths as the short-priced favourite.
The Outback Racing Showcase Final brings together the top bush middle-distance horses from the Central and North West districts of Queensland and Echo Point did it with ease.
Brooke Richardson has been in the seat in each of the gelding's last four victories and believes there is still more to come.
"He has well and truly proven his ability and he has never just fallen into a race; he has always won it by a fair way, he has always put a margin up on his win's," Richardson, who is the mother of young son Rylan, said.
"He continues to do so, he has not slackened off his since he has been out here, he has just improved.
"In McKinaly, probably form wise a couple of those horses was some of the better ones he has been up against so far.
"I think he has plenty of ability and I do not think we have reached his full potential yet from his first win, he just keeps improving.
"He has more in the bank."
The 28-year-old Richardson has collected metropolitan winners earlier in her career and thinks Echo Point is the top horse she has ridden since relocating to the bush.
"He is the best one I have ridden in quite a long time, definitely," Richardson said.
"Good ones like this do not come out here very often and with his nature, that is what makes him such a good horse, he is so well manured and his nature is so soft.
"He makes the job really easy; he is a professional and really nice to ride in a race."
The Austin stable and their loyal group of owners were tipped into Echo Point by jockey Quayde Krogh, who previously worked for Waterhouse and Bott.
Krogh also worked for Austin much earlier in his career and after riding Echo Point and realising he was up for sale, he suggested to his first boss – Austin – that he would suit racing in the Central West.
The connections of Echo Point are having a charmed run of late with another from their team – Star Of O'Reilly – set to contest this Saturday's Battle of the Bush Final in Brisbane.
Star Of O'Reilly has not finished out of the money in his nine starts for Austin, which has included four victories.
Star Of O'Reilly will carry the equal top-weight in Saturday's $200,000 Final and be ridden by stable hoop Ric McMahon.
Richardson collected a winning double at McKinaly as well as two other minor placings.
"The track was beautiful," she said.
"It is in the middle of nowhere but the track was awesome, I would compare it to Cloncurry's surface.
"It is nice."
Echo Point's stunning triumph made it back-to-back victories in the feature bush race for Austin.
The 2021 Final was won by Austin's winning-machine Sizzalating before his retirement.
Sizzalating won an amazing nine straight races, including the Final of the Outback Racing Showcase.
Having won his last four trips to the races, connections will now consider heading to provincial level at Rockhampton with Echo Point while also having an eye on the second Birdsville Cup of 2022.
There will be two Birdsville Cups this year – after the famous race was not won in 2020 and 2021 - with the second to be run in September.
Premier bush trainer Austin – who leads the Queensland country premiership this season – has two chances in this week's BOTB Final, Star Of O'Reilly set to be joined by Kedleston.
Richardson pushed to partner Kedleston in Saturday's decider at Eagle Farm but connections opted to go with champion Sydney jockey Tommy Berry .