3 minute read
Dubbo trainer Brett Robb is adamant unbeaten youngster Gallant Star is not just a country horse and is quietly confident he can rise to the challenge at Randwick on Saturday.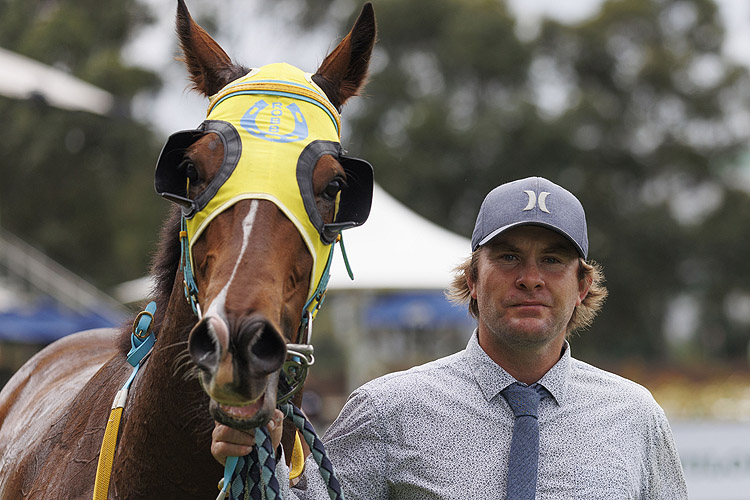 The two-year-old had trialled a couple of times for Annabel Neasham when he was purchased by owners David Ringland and Kerry O'Keeffe with next year's Country Championships in mind.
He was sold as a yearling for $200,000 but Ringland paid $32,500.
He will probably still be aimed in that direction but Robb said the future will be in some way shaped by how he performs in the Home Affairs At Coolmore Handicap (1100m) as he has been virtually untested winning both starts on his home track, including the latest against older horses.
So Robb figured it was time to find out how good he is.
"One of my owners wanted to buy us a horse to target the Country Championships and we went through a few on the Inglis online and David came up with a couple including this one,'' he said.
"I looked at the trials and thought it was a bit of a risk. I was out riding a couple of breakers and he rings me up and said we bought that horse, I asked how much he paid and he said $32,000 and I was a bit nervous then.
"I remember when he got off the float and was a big, strong, level headed horse and didn't get around like a two-year-old. We gelded him straight away and put him out for three or four weeks.
Robb believes the reason Gallant Star didn't look too appealing when he watched his Sydney trials was the fact he was a colt and suspected the size of his testicles caused him issues and he wasn't willing to stretch out.
That changed once they were no longer a factor and Robb soon saw the horse's potential.
"When we cut him the vet said they were very big, whether he was pinching them I don't know,'' he said.
"I was worried how docile he was but when you work him he turns into a real racehorse. He's very well put together, he's a big ball of muscle.
"I had a rap on him because I'd been working him with horses I was taking to town like Boom Boom Basil and I still hadn't let him off the bridle."
A debut win in the Silver Goblet at Dubbo by a widening four lengths saw him start $1.40 when he met older horses at his second start a couple of weeks later and again he wasn't pushed to win.
On the back of those wins he's earned over $43,000 and heads to town as a $5.50 chance with TAB on Thursday, and pressing for favouritism.
"Clayton (Gallagher) got off and said he's going to go better when something can test him. That none of these horses out here can test him,'' Robb said.
"He did it a both ends and made really light work of it. I thought he deserved to go down there.
"The Zoustars love the wet. I'll tell Clayton to ride him on instinct, he knows the horse back to front so I'll leave it up to him."
Robb noted that Gallant Star is listed as a $34 chance in the $1.3 million The Kosciuszko later this year, which is a big nod to the gelding's potential after just two starts.
He still feels the Country Championships is the right long term target.
"If he went down there and won you'd probably make other plans,'' he said.
"I saw they have him at $34 in the Kosciuszko. You'd be thinking about having a go at it.
"He is very good. I do want to give him a break, but how long for and what races we want to go for we don't know."