3 minute read
To borrow a line from one of Sylvester Stallone's Rocky movies, it's not how hard you get hit it's how hard you can get hit and keep moving forward.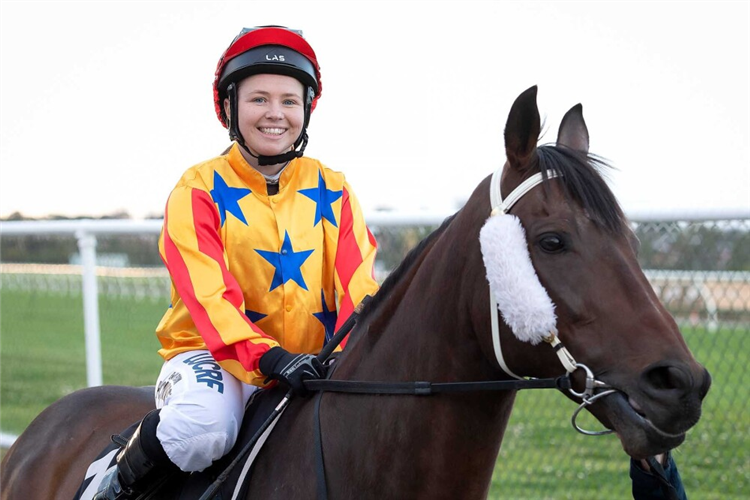 Jockey Renee Forrest is a living embodiment of that. Small in stature big in heart, she's suffered as many hits as any other rider in Australian racing.
Multiple falls, multiple injuries, multiple setbacks, but to use a boxing reference again, she refuses to lay down or be counted out.
Even during the darkest days of her lengthy and painful rehabilitation from a bad back injury, Forrest never lost her desire to get back in the saddle.
Being away from racing far longer than she expected or could accept gave her a chance to look at life beyond horses and she wasn't exactly inspired by what was ahead of her.
But there is a silver lining. Two years since she was last legged up on a horse, Forrest can finally see light at the end of the tunnel and is just weeks away from making an inspired comeback to riding.
When asked why she was so determined to get back in the saddle and potentially risk further injury her response was simple and heartfelt.
"I love what I do, there's no other reason," Forrest told The Races WA.
"I want to go out on my own terms, I don't feel satisfied yet with what I've done.
"I've been a fully-fledged jockey for seven years and I've probably ridden 3 ½ years of that seven years.
"I've been unlucky with injuries but the fire is still there and I want to go back to doing something that I've loved.
"I can't see myself doing anything else.
"I've had two years to think about another job and there isn't another job that I'm interested in.
"Nothing can give me the same thrill and excitement of being a jockey.
"I love what I do and I love working with the horses."
Jockeys have no choice but to be mentally and physically tough to survive the rigours of racing. Riders understand the risks involved.
If you're knocked down you get back up, brush the dust off and get on with it. There's no time for self-pity and feeling sorry for yourself.
Forrest, well renowned for her courage, has managed injuries before, but following her latest accident she knew she was in a world of pain.
She was headed for the 1100m starting gates at Northam and came crashing down when her horse bolted and ran through the back fence.
The horse came out of the incident unharmed, but scans later revealed Forrest sustained severe back injuries.
A gruelling two year fight to regain her fitness and health had just commenced.
Forrest's pain was so acute that it not only prevented her from doing what she loved most, but it also affected the quality of her life.
Completing the simplest of daily tasks that are second nature for anyone else, was intolerable and unbearable.
Fed up that her recovery was not going smoothly, Forrest's distress was so dire she even contemplated risky spinal fusion surgery.
It was at that point when Forrest admitted she was at the crossroads and at her lowest ebb professionally and personally.
"I went to the doctor but was told I would have to wait a minimum of 12 to 18 months before a surgeon would be willing to fuse my back," Forrest said.
"I had my mum with me and I just starting crying and said I just can't go on like this, I'm done, it's taken a toll on me.
"Even simple things like trying to vacuum my bedroom and standing to wash my dishes, you can't do little things like that without being in pain.
"I couldn't even walk along the beach, the sciatic pain going down my leg was too much.
"I was basically told I would just have to deal with it."
Dealing with it she did-and more.
Forrest kept up her physio and hydrotherapy sessions under the expert guidance of Trevor Lawrence in Dunsborough, swore off alcohol and undertook a strict diet that saw her shed 15kg.
The spectre of back surgery still hovers over Forrest's head, but the first flicker of hope that she had turned the corner came three months ago.
"I got the clearance to ride up to two horses at track work, providing how my back was feeling," Forrest said.
"After a few weeks it was coping so I got it up to four and then I slowly got it up to a little bit more after that.
"It almost got to the two year mark and it started to feel better, I thought it would hurt more riding, but it didn't really hurt at all.
"I was a little muscle sore, but it wasn't affecting my back much at all.
"I thought if my back can handle it I don't need the surgery.
"I hope it stays the way it is now and I can keeping moving forward and not backwards.
"It's a pretty daunting thing to have your lower back fused when you're not quite 30.
"It's something they say I'm going to need to get done and it's just a matter of when."
By her own admission Forrest is stubborn by nature, but it's that obstinance and single-minded attitude that's helped her overcome all obstacles.
She has doggedly defied and gone against the concerns of family and friends, but admits her next comeback could ultimately be her last.
"All my family and friends think I'm absolutely stupid and none of them wanted me to come back," Forrest said.
"It's a gamble and that's why this is probably my last crack.
"My body has been through a fair amount of injuries since starting race riding.
"I've had a run of bad luck, but I've passed my medicals, my weight is down to 54kg after getting up to 69kg.
"It's been a long road back and I don't want anything to interfere with that.
"It's so close, but yet so far."
Forrest's final hurdle is to ride 12 trials to the satisfaction of Perth stewards.
Her journey commences at Belmont on Monday.
With more than 200 winners to her name, Forrest said she's content to go anywhere in search of further opportunities, whether it be in town, the country or provincial areas.
"Everyone in racing knows my work ethic and how hard I work," Forrest said.
"I'm willing to travel anywhere to ride and will snap up the chances that can come my way."