3 minute read
After aborting a Country Championships tilt earlier this year, trainer Scott Collings is hoping Ten Bells can put her name into the Kosciuszko picture with a strong first-up performance at Canterbury on Wednesday.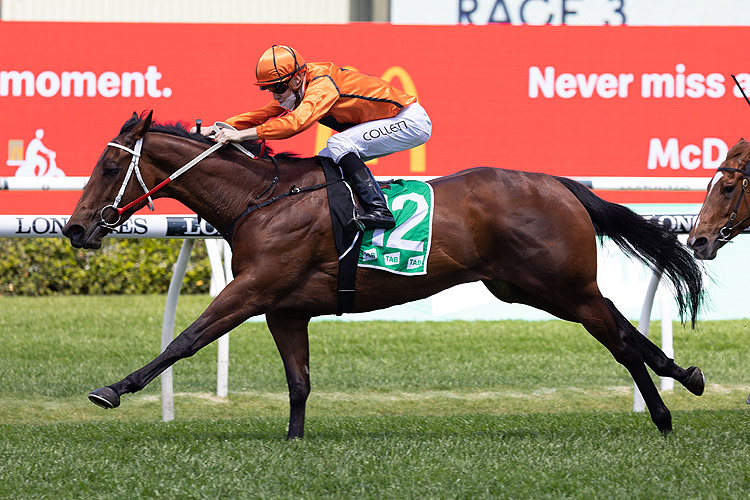 The mare, a winner of four of her six starts, was a leading contender for the South East Championships at Nowra but a barrier mishap forced Collings to miss the series and focus on the spring.
The Goulburn trainer feels it was the right move and sees no reason why she won't produce her best in the Ranvet Handicap (1100m).
"The Kosciuszko is the ideal target but we've got to perform very well on Wednesday to continue to be looked at,'' Collings said.
"We'll assess her to see how she comes through it but if she did win or run very well we might have another run.
"I'm thinking more than likely she will if she comes through it well enough. There's no good sitting around and waiting.
"We had a few negotiations last year for the Kosciuszko and in the end I thought it was easier to go in the TAB Highway on the same day."
Ten Bells hasn't raced since winning the Highway on TAB Everest/Kosciuszko day last year.
It was in her planned return in a race at Canberra on January 21 that Ten Bells connected with the back of the starting gates a few times, sustaining a minor injury and forcing her to be scratched and sent back to the trials.
A lacklustre trial two weeks later was enough for Collings to pull the pin on the campaign.
"It wasn't a serious injury but we thought it was time she went to the paddock and cleared her head because it was very unlike her to get fractious in the gates,'' he said.
"She'd been up a long time waiting for the Country Championships so it was a good time to give her a nice break. At this stage she appears to have benefitted from that."
On the back of two relatively quiet trials, Collings said Ten Bells is ready to go and with an inside alley and Hugh Bowman in the saddle is quietly confident she will be very competitive.
Ten Bells was $4.80 favourite with TAB on Tuesday for her return and $26 in the all-in market on the $1.3m The Kosciuszko.
"She's all on track, she has a very good first-up record and both of her city wins have been over 1100m. We're expecting her to run very well,'' he said.
"She's very versatile, we'll leave it up to Hugh but normally when she's first-up she races a bit fresh so I'm tipping she'll be in the first four in the run.
"I think she will run really well, she's done nothing wrong in her two trials even though she wasn't asked to do too much."
Tickets in the Kosciuszko draw are available for $5 each via TAB outlets and the app until September 7 with 14 winners, who win the right to select a horse in the $1.3m race and share in the prizemoney, drawn two days later.