3 minute read
Flemington major race winner Prometheus is eyeing one more triumph before retirement, and it's not on the track, but as Best Thoroughbred Horse in Training at the Ekka.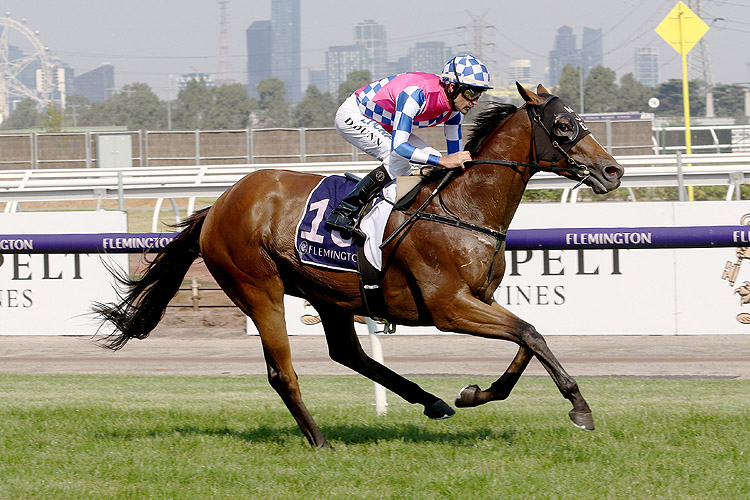 Prometheus, who claimed the $150,000 Grand Mile Handicap over 1600 metres at Flemington, is one of half a dozen racehorses Toowoomba trainer Maddy Sears has entered in Thoroughbred class judging at the Ekka.
Racing Queensland is a major sponsor of the People's Show and also Champion Thoroughbred Gelding, Champion Thoroughbred Stallion, Champion Thoroughbred Mare and Supreme Champion Thoroughbred classes at the Ekka.
Judging across the Thoroughbred section starts Monday in Ring 1, with Maddy entering her thoroughbreds in several classes, including Open Mare 4YO and Over and Gelding, Any Age.
For Prometheus, who also won at Eagle Farm, and Conglomerate, who won at Toowoomba's Clifford Park three starts ago, they'll be making their first appearance in the Main Arena.
"They are both being spelled at the moment, and we are deciding whether to retire Prometheus as he is a nine-year-old," Maddy said
Another recent winner Montana Lady and reliable sprinter Illiciate Affairs, who has won two and been placed a further six times from 13 starts, are also among Maddy's hopefuls.
Entering horses at the Ekka is a joy for Maddy who has been attending the annual event since she was two years old.
While Maddy will be there Monday, she's forever grateful for her mother Leigh who has plays a big hand in helping to get horses to the Show.
She said the opportunity to present racing thoroughbreds to the public has been part of the driving force behind her entering the Ekka.
"It's a chance to show the quality of the racehorses we have in the stable and how well they are presented every day, even though they are in training," she said.
"It will change people's perspective on racehorses and going to the Ekka and showing horses is something I love doing.
"I've been showing horses and riding at the Ekka since I was two."
While Prometheus, Conglomerate. Montana Lady and Illiciate Affairs, to name just a few, will appear only on Monday, former Stradbroke Day race rivals Hopfgarten and Ecuador will team together in a nightly spectacular as champions of the Off-The-Track program.
The two black-type winners will take part in All The Pretty Horses Equine Experience in the Main Arena at Ekka under the command of master horseman Dave Manchon.
Hopfgarten was trained by Robert Heathcote and won the-Listed Wayne Wilson over 1600 metres at Eagle Farm in June 2018 - his second Wayne Wilson - and two Group 3 races.
Ecuador won three Listed races and ran a gallant second to Winx in the Group 1 Epsom Handicap over 1600 metres at Randwick.
Since retiring, Ecuador has been tried in several disciplines, including showjumping and dressage, by proud owner Bianca Argyros.
He was competent without starring unlike his time on the racetrack and is now Bianca's pride and joy.
"I don't think I could live without him, he's my prized possession and I'm very protective over him," an upbeat Bianca said.
"I wanted to go down the showjumping, eventing path... so we dabbled in everything."
Another Queensland Off-The-Track star retired harness pacer My Shadow Strike, who raced three times at Ekka, returns to the Main Arena as part of All The Pretty Horses Spectacular.
Besides the nightly show, Hopfgarten and Ecuador will be star in the twice-daily 'Horsing Around Show' conducted by master horseman Dave Manchon. Manchon is the mastermind of All The Pretty Horses.
'Horsing Around Show' will be staged at 11am and 2pm, in the Show Ring, located near Gate 4 (near the corner of Brookes St and O'Connell Tce).
Racing Queensland's Education Team will also be promoting exciting and fulfilling career opportunities in racing in the sunshine state on Monday, August 8.
They will provide the public with opportunities to try their hand at riding a mechanised horse simulator stationed opposite Stockman's Rest.